Dwayne Johnson Confirms 'No Chance' He'll Return to 'Fast and Furious'
Dwayne Johnson is far from the first professional wrestler to transition from the ring to the big screen. But the actor — who rose to fame as WWE's "The Rock" — blew past all his peers to become one of the world's biggest stars. Johnson has starred in countless Hollywood hits, including several installments in the Fast and Furious franchise. Now he's given his most direct answer yet regarding whether he'd return to those movies alongside Vin Diesel.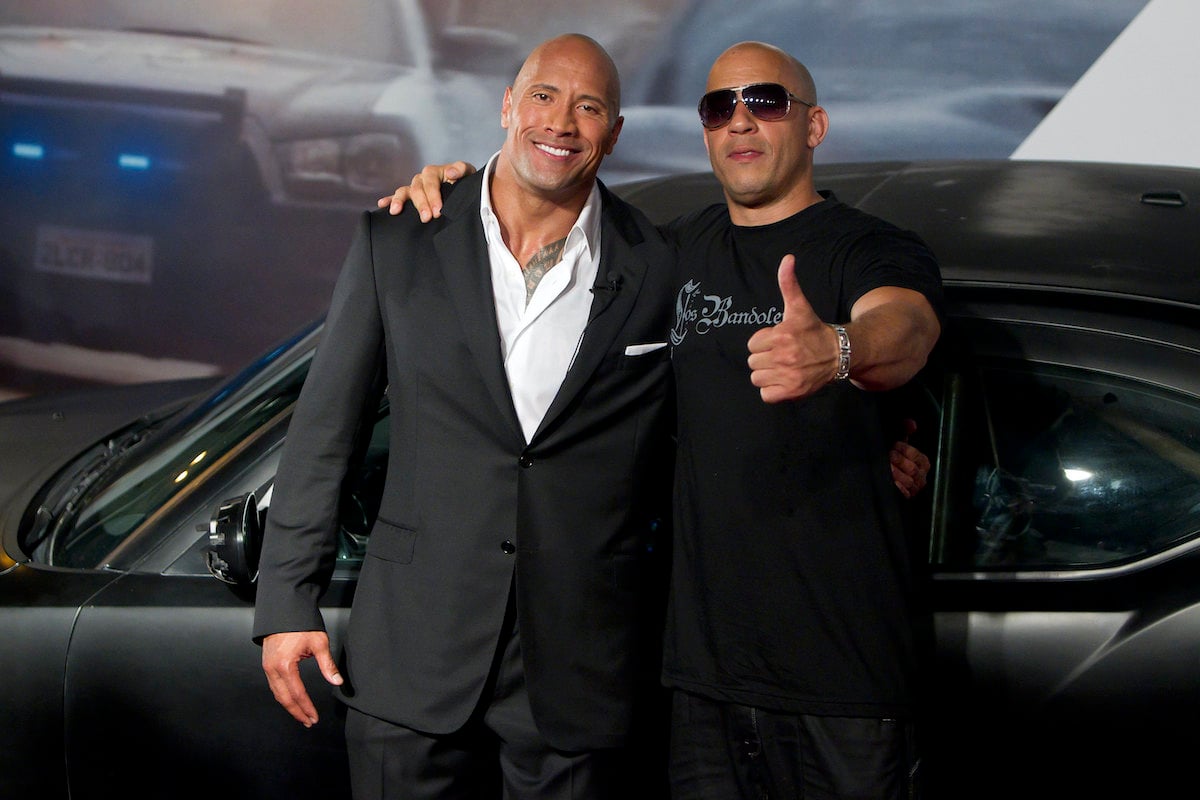 Dwayne Johnson had a falling out with 'Fast and Furious' star Vin Diesel
Diesel, Paul Walker, Michelle Rodriguez, and Jordana Brewster kicked off the long-running action series in 2001. And what started as a Point Break-style thriller about street racing evolved into a globe-trotting espionage epic. These days, the Fast and Furious movies are more akin to mythic superhero films than anything. That expansion really kicked off when Johnson joined the franchise in 2011's Fast Five, the first to earn a Fresh rating on Rotten Tomatoes.
And so it went, with Diesel, Johnson, and the rest of the ensemble for a few more installments. Then ultimately, the two men had a falling-out, and 2021's F9 was the first in the franchise where Johnson doesn't appear. Since then, Diesel took to social media to publicly invite Johnson — whose Fast and Furious character co-led the spinoff film Hobbs & Shaw — back for the tenth entry. But Johnson seems adamant that his decision is already made.
The actor confirms whether he's considering returning to the franchise
In an interview with CNN, Johnson addressed rumors he might come back for Fast and Furious 10. That movie, as previously reported, will apparently be the first half of a two-part finale to the franchise. It is currently scheduled to hit theaters in May 2023. But fans shouldn't count on Johnson's Hobbs to pop up. In fact, the actor told CNN that Diesel's post surprised him, feeling like they had already settled the question of a possible return for Johnson.
"This past June, when Vin and I actually connected not over social media, I told him directly – and privately – that I would not be returning to the franchise… and said that I would always be supportive of the cast and always root for the franchise to be successful, but that there was no chance I would return…

Vin's recent public post was an example of his manipulation. I didn't like that he brought up his children in the post, as well as Paul Walker's death. Leave them out of it. We had spoken months ago about this and came to a clear understanding. My goal all along was to end my amazing journey with this incredible Fast & Furious franchise with gratitude and grace. It's unfortunate that this public dialogue has muddied the waters.
This sentiment is, of course, consistent with what Johnson has been saying all along. If anything, Diesel's public call for his former co-star to return probably made the already-remote possibility of reconciliation even more unlikely. After all, if what Johnson said is truly accurate, Diesel's last-ditch effort does seem more than a little desperate.
Dwayne Johnson doesn't need the 'Fast and Furious' series anymore
But to be fair, it makes sense for Diesel to feel he should go to extremes to win Johnson over. After all, the Fast and Furious franchise only began ascending to the height of its popularity after the latter brought his charisma (and fan base) to it. And now that Johnson has left the series, it appears that luster started to fade. F9 earned the poorest critical reception of any installment since before Fast Five. And the box office reflects that dip as well.
Fast Five marked a new height for the franchise, which Fast & Furious 6 built upon. And Furious 7 and its follow-up, The Fate of the Furious, were the first — and, so far, only — installments to cross $1 billion worldwide, according to Box Office Mojo. In the case of F9, the movie performed well, with $726 million worldwide even during a pandemic. But there's little to turn Johnson's attention back to the main franchise and away from Hobbs & Shaw 2.