Elizabeth Olsen Didn't Think Scarlet Witch Would Ever Get the 'WandaVision' Storyline Happening Right Now
WandaVision broke the Marvel drought some fans had and filled the void that came after Spider-Man: Far From Home. While the premise was pretty odd at first — since it was marketed as a genre, 50s sitcom starring Wanda Maximoff and Vision — it has since become the talking point of the internet every Friday. And looking back at an old interview with Elizabeth Olsen, she once gave interest in a storyline pretty similar to what she's getting right now. [Spoiler alert: Spoilers ahead for WandaVision]. 
Old footage resurfaced on Twitter of Elizabeth Olsen sharing her desired Scarlet Witch plot 
RELATED: 'WandaVision': Children Could Be What Brings Wanda Maximoff's Reality To Fail
On Feb. 4, the Twitter account Marvel Facts (@MarveIFacts) shared a press junket interview that Olsen and co-star Aaron Taylor-Johnson did for Avengers: Age of Ultron. The interviewer asked what Olsen would want to see Scarlet Witch do next, and Olsen got pretty wistful thinking about the future. 
"I mean, my favorite is House of M, but that would never happen," Olsen said. "But if she could have two fake babies and everyone tell her that they don't really exist and then her just go nuts, that would be unbelievable, but I don't think they're gonna do that."
And even though she said she thinks it "might be a little too dark for the Marvel universe," Wanda losing her mind is her "favorite thing in the comics."
And now, several movies and years later, and Wanda is the lead in a mini-series with Paul Bettany's Vision and a scenario pretty dang close to that one is indeed playing out.
Of course, years later, and 'WandaVision' is doing something similar to the 'House of M' comics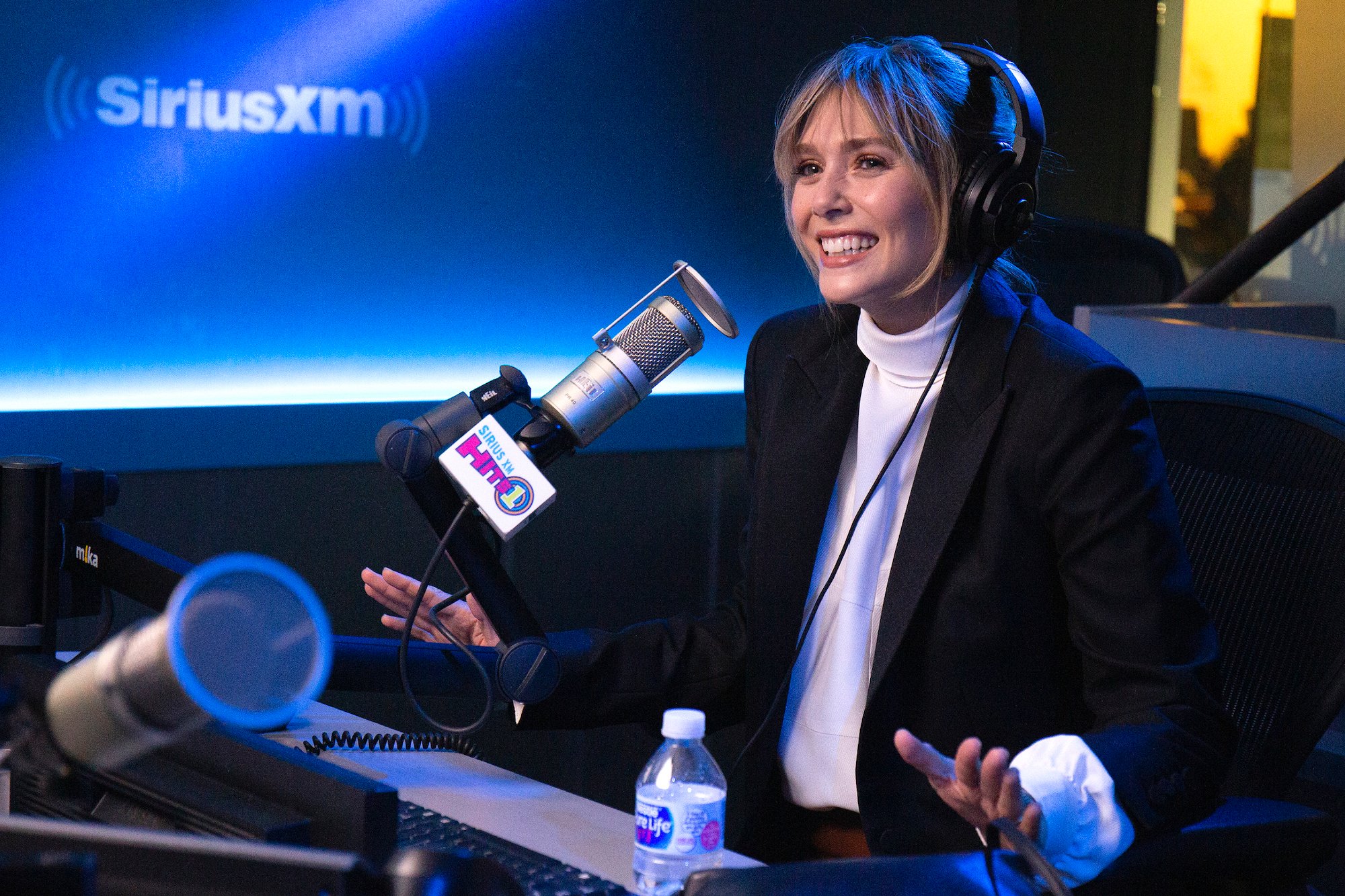 In the House of M run of the comics, Wanda does have her two boys, Tommy and Billy, just like in WandaVision, right down to the names. And since Vision is a synthezoid in both the comic and the Marvel Cinematic Universe, he can't "father" a child.
She uses magic to create these kids, so they're really not "real" even though they're real to her. So Olsen noting that the twins are "fake" is hinting at that. She actually uses parts of Mephisto in the comics, which is what brings him into play with a lot of fan theories for WandaVision. 
However, when Tommy and Billy are absorbed back into Mephisto — again, they're not fully real — Wanda's grief consumes her and he's blinded by it. That's when the "losing her mind" bit comes in. She creates her own reality where mutants are the dominant beings, not humans. An "alternate reality" sounds a lot like Westview, right?
In an interview with Sirius XM radio in Oct. 2019, Olsen said that she knew right away what WandaVision was about when she heard about it, harkening back to that previous interview in 2015 where that was a major comic book storyline that she'd been aching to do since so early on. 
"I heard the premise and I understood it immediately," she said. "And I was like, 'Kevin Feige, you're a genius.'"
Another video resurfaced that foreshadows Evan Peters' entrance into the MCU as well
In other "old interview footage" news, Evan Peters also has a funny past interview that has a different look now with fresh eyes. Peters made his MCU debut on Episode 5 of WandaVision as the "recast" Pietro. It was at the very end of the episode, so fans don't have a ton of information on it yet, but it seems like Wanda's reality-bending is causing the multiverse to shift and cause characters from Fox's X-Men — and Peter's version of Peter "Pietro" Maximoff — to come into the MCU universe. 
And journalist Brandon Davis shared a past clip of him, interviewing Peters, for Dark Phoenix. He asked him, Alexandra Shipp, and Tye Sheridan, whether there was a possibility that, with Disney's acquisition of Fox, if any of them could show up in the MCU one day. Sheridan was very diplomatic, although it seems like he and Shipp genuinely didn't know. But Peters seemed like he was looking around, a little suspiciously, even though he also denied knowing anything.
The interview was from May 2019, so Peters probably knew all about what was going to happen on WandaVision with Quicksilver. WandaVision started production in November 2019, so Peters was probably already flexing his MCU spoiler-keeping muscles early.
And as fun as those old interviews are, if the future for Wanda and Peter is anything like House of M's storyline… that fun won't last too much longer. 
RELATED: 'WandaVision': The Mephisto Theory Actually Coincides With a Salem Witch Trials Easter Egg