Elizabeth Olsen Loved Exploring Wanda as a 'Mama Bear' Through Tense 'WandaVision' Moments, Even Though It's Mostly Comedy (So Far)
WandaVision had so many fans already hooked after only two episodes, and is going on its fourth. It also hasn't answered any questions either; it just started with Wanda Maximoff (Elizabeth Olsen) and Vision (Paul Bettany) in an all-American sitcom set in the 1950s, with a live-audience laugh track and everything. 
With no explanation, but with mounting tension and more rewinding and suspicious activity every episode, Wanda seems to be in fight or forget mode. And Olsen loved playing that. [Spoiler alert: Spoilers ahead for WandaVision Season 1, through Episode 3]. 
'WandaVision' is unlike anything the Marvel Cinematic Universe has done before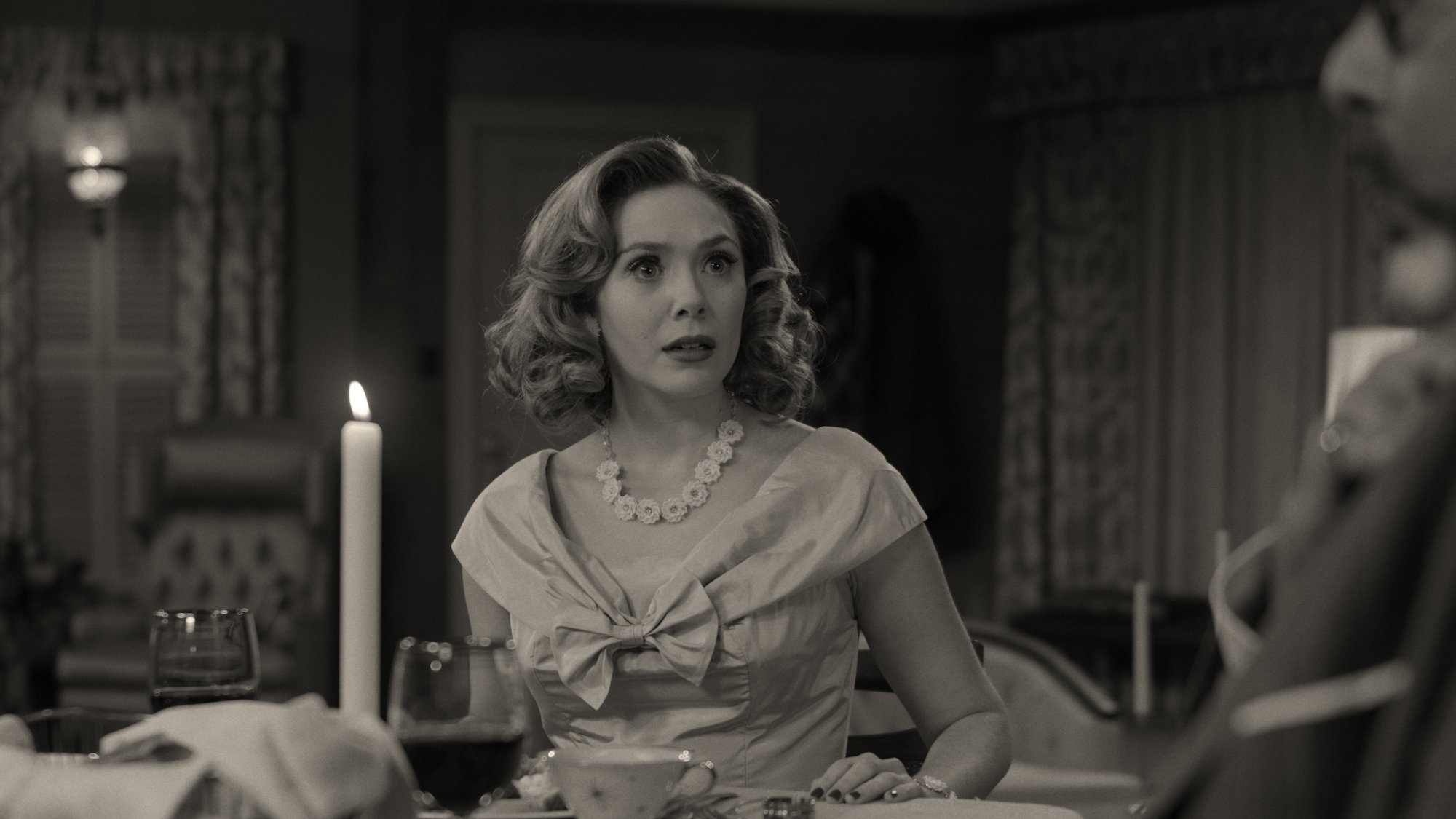 After years of Marvel movies back to back, 2020 was the year where fans didn't have any to look forward to. Distance does make the heart grow fonder, but with WandaVision so different than Spider-Man: Far From Home (the last movie before this one), it makes you wonder if you missed something. 
WandaVision starts off with Wanda and Vision in this idealistic American home in the 1950s. It's all black and white and they're put into some silly, sitcom situations. There aren't explanations as to how they got there, and as the first episode continues on, they don't even know how they got there. But it is a lot of fun trying to figure out what's going on, along with the characters. 
What's even better is that Marvel is creating this wacky, layered series together on Disney+ and it's nothing like what they've done before. And they're doing it with Wanda and Vision, two characters, who are probably the most serious Avengers out of all them.
Elizabeth Olsen said when 'WandaVision' has tense moments, Wanda is a 'mama bear'
With the novelty aside, it is a fun show to tune into every Friday. And Olsen shared that she liked exploring Wanda's less-serious side, which she hadn't touched before, while also diving deeper into this mystery.
"I think we haven't really seen her… this kind of like silliness," Olsen said in an interview with Collider on Jan. 17. 
And in addition to, of course, doing justice to the writing and the character, Olsen noted that having the mix of silly and serious, as fans have already seen on the show, is an interesting mix as well. 
"What we know of her life and the MCU world comes knocking, there are these moments of tension that we give the audience," Olsen continued. "And to play with those levels was what was so fun for me. So getting to play with her as this mama bear, of like trying to hold on to something and just the tension of it, with something that is one of the elements that I enjoyed." 
Fans have not seen the last — or even all — of the tension yet
Olsen is pretty good at giving great answers but being really vague, still. She's hinting at whatever this "something" is that Wanda is holding on to. But fans have seen in, in the way that Wanda says "no" and things rewind, or when Vision notices something's off and then the scene skips back before he notices. It's only a matter of time before fans know what that "something" is. 
And Olsen did touch on that continued tension. 
"But there's so much tension that shows itself through these episodes that reveal little bits of what our show is about and those were my gems," she said. 
Again, that mix of serious and silly is what makes WandaVision so interesting and unique. Within the Marvel universe but also within TV in general. And knowing that it's such an enriching experience for the actors as well makes it all the more interesting to watch, too.