Elizabeth Olsen and Paul Bettany Almost Sang 1 of the Opening Themes for 'WandaVision'
WandaVision broke the mold of superhero content, delivering viewers a Marvel show that was anything but typical. With Elizabeth Olsen and Paul Bettany in the lead, the Disney+ series jumped from generation to generation, paying homage to sitcoms dating back to the 1950s.
In doing so, WandaVision used opening themes, commercials, and musical numbers to engage its audience. In fact, Olsen and Bettany were supposed to have a musical moment of their own. Unfortunately, time constraints prevented it from happening.
[Spoiler warning: This article contains minor spoilers for WandaVision.]
'WandaVision' changed its opening with each episode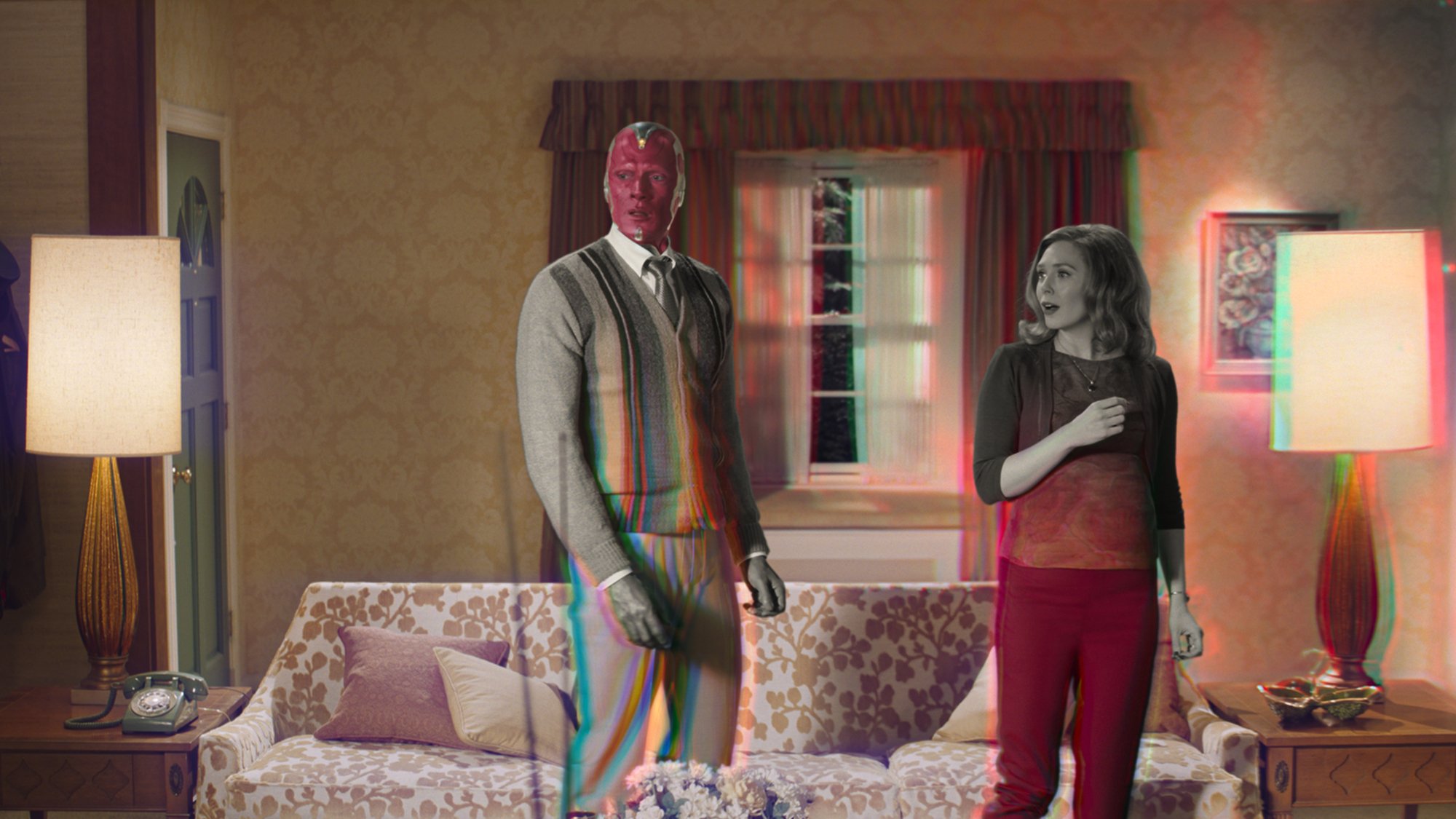 Because of its sitcom theme, the opening for WandaVision changed from episode to episode, eventually fading out entirely when it arrived at modern-day television. The shift was one of the many clever ways the Disney+ series immersed the audience in its unique setting.
WandaVision's intros drew inspiration from classic sitcoms like The Newlyweds, Bewitched, and Malcolm in the Middle. Some were more lyrical than others, but all of them worked in elements from the Marvel show. Apparently, the creators wanted to include the main characters in an opening as well.
Elizabeth Olsen and Paul Bettany were supposed to sing 1 of the show's themes
There's no denying that WandaVision had fun with its opening themes and musical numbers. As it turns out, Olsen and Bettany were initially supposed to share their own musical moment. According to IMDb, the creators planned to have the pair sing one of the show's opening sequences.
Their performance likely would have been similar to Kathryn Hahn's "Agatha All Along." Seeing Olsen and Bettany sing together would have been a memorable experience, something most Marvel characters simply wouldn't get the chance to do. So, why didn't it happen?
Why Elizabeth Olsen and Paul Bettany didn't get to sing
Despite plans to have Olsen and Bettany sing an opening for WandaVision, the schedule simply didn't allow for such an inclusion. IMDb claims the cast and crew were "unable to find time to record before the series premiere."
Bettany confirmed this during a YouTube interview with Tara Hitchcock. When the topic of WandaVision's theme songs came up, he expressed disappointment at not having time to record one.
"We were going to sing one of them, but there ended up just not being enough time for us to get into a studio," Bettany explained.
Fortunately, their co-star got to perform a musical number for the Disney+ series. And although "Agatha All Along" didn't serve as an opening, it certainly left its mark on fans.
Kathryn Hahn won an Emmy for 'Agatha All Along'
Following its debut during WandaVision Episode 7, "Agatha All Along" became a big hit among fans. Many of them couldn't get the tune out of their heads for days. And the song even won Marvel Studios an Emmy Award during the 2021 Creative Arts Emmys.
It's clear embracing original tunes worked for the Marvel series, another means of setting it apart from other projects. It's a shame viewers won't get to see Wanda and Vision perform together, though. Perhaps an episode of What If…? can make up for it one day.