Elizabeth Olsen and Paul Bettany's Heartbreaking, Unscripted Line in 'Avengers: Infinity War' Parallels Another in 'WandaVision'
Before WandaVision, Elizabeth Olsen and Paul Bettany had less than 20 minutes of scenes together as Wanda Maximoff and Vision to develop their love story. So, their whole arcs were really revolving around each other, outside of Avengers: Age of Ultron. 
However, their chemistry as Wanda and Vision, and the really intense scenes they did together in Avengers: Infinity War truly sold the romance. And that led to WandaVision, which not only spends a lot more time with them, but also doesn't really need to do much to sell their relationship. It's already there, thanks to Olsen and Bettany's previous work. With that said, their most emotional scene as Wanda and Vision in the films was actually improvised. And that line followed through their relationship. [Spoiler alert: Spoilers ahead for WandaVision].
The Russo Brothers asked Elizabeth Olsen and Paul Bettany to improv their last scene in Wakanda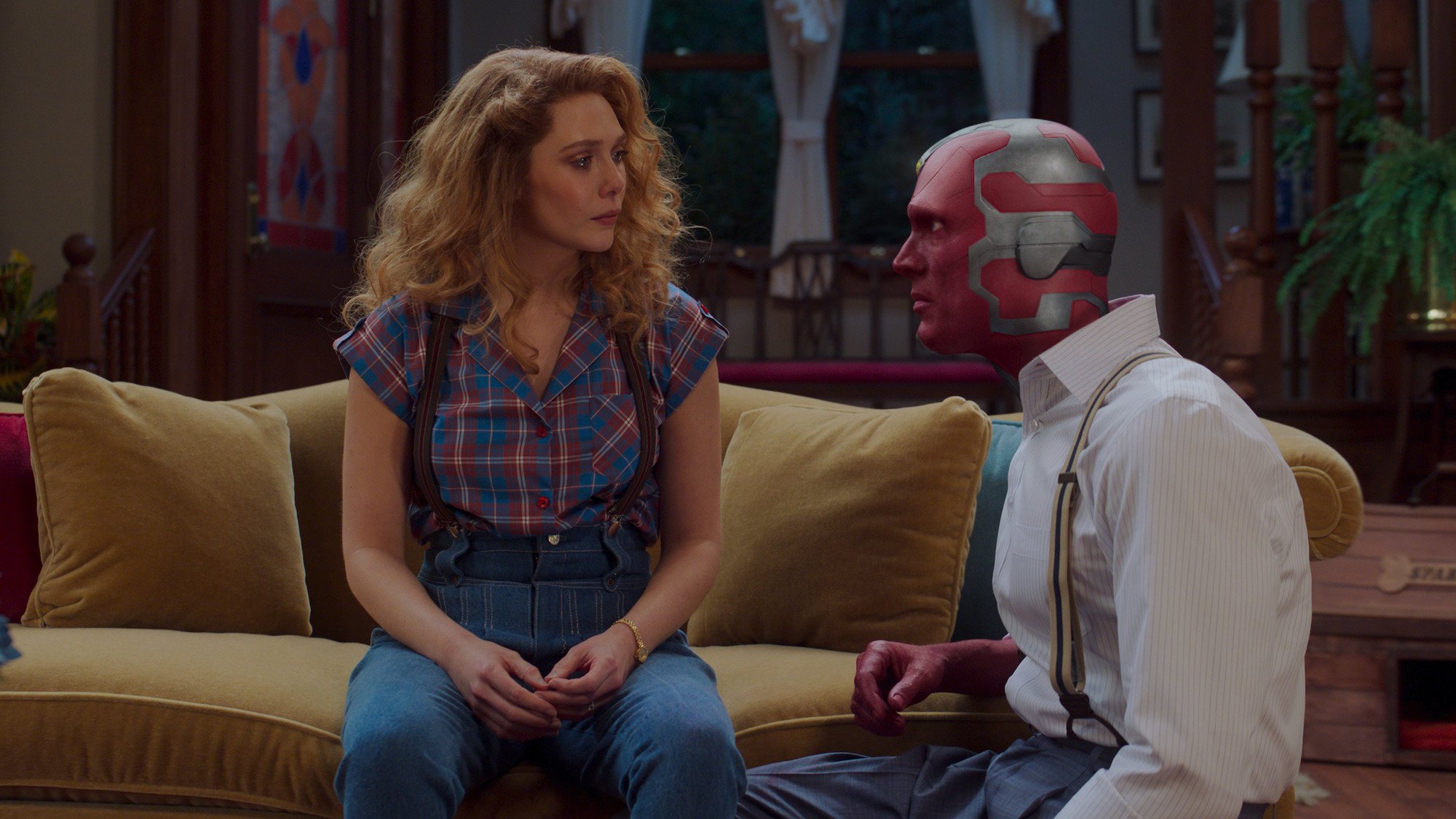 In an interview with MTV on July 20, 2018, Bettany shared what it was like shooting that really intense last scene between Wanda and Vision. He said that it was "about 100 degrees" out, and that Joe and Anthony Russo came up to him and Olsen and said that this moment held "the entire beating heart of the movie" on the "shoulders" of the two of them. 
With that pressure added, they also asked them to come up with improvisational lines, things that weren't in the script because whatever was in their just wasn't enough on camera. 
"You know, I just sort of looked at Lizzie and she looks at me and I thought, 'I'm a robot, and you're a witch, how are we gonna do this?'" Bettany said. "We went off and just wrote some stuff together and then we came back in. You know, it's a lot in isolation."
Bettany shared that, by itself, while improving this moment, it felt a bit silly. 
"You know, it's a lot in isolation of the rest of the plot even. And you're purple… you've got a jewel and your head. And she's going to destroy it," he said. "You're imagining red things coming out of her fingers, yet you're also sort of trying to find some reality in all of this… I think we were both when it was done, kind of like, 'Oh, let's go home."
However, it is certainly one of the most moving moments in that movie. And, of course, the implications of it following Wanda and Vision far into the future in WandaVision. 
Wanda and Vision were one of the first characters Kevin Feige wanted to create a show for on Disney+
Despite being a "really heightened moment," Olsen did forget that it was improvised during an interview with Kinowetter in 2018. Bettany said, then, that doing that scene filled him with "abject terror." But, of course, the rest is history and it went over well.
With that scene and the other work that Olsen and Bettany did with that relationship to develop it on-screen, Kevin Feige was of course a major fan of it. He told IMDb before the Disney+ series premiered that their "major chemistry in the relatively minor moments" before WandaVision was what got him interested in creating that show. 
"The potential there was always so amazing, that when Bob Iger told us about Disney+, we knew they were among the first — and now the first — we wanted to do it with," Feige said.  
Romance and love stories aren't the central focus of Marvel movies. In fact, those types of relationships are kind of scattered throughout the stories, but they aren't really dwelled upon. So that made Wanda and Vision the first characters where their romance was kind of the core of their own stories.
'WandaVision' has a devastating parallel to that moment as well
These two each had their individual origins, but again, they developed as a couple after Age of Ultron. And it was probably the most tragic love affair that fans have gotten, with their goodbye in Wakanda in Infinity War truly being that "beating heart," as the Russos said. 
Their final words together — the ones Olsen and Bettany improvised — actually are woven through their relationship. First, in Edinburgh, when Vision is feeling pain because of the stone, Wanda checks it with her powers. She tells him, "I just feel you."
Of course, in Wakanda, after Vision tells Wanda that she has to be the one to take out the Mind Stone, he reassures her that he won't feel pain. Because "I just feel you." Again, reiterating her words from before. 
And then, the kicker in this trilogy of pain, is in WandaVision's eighth episode, when Agatha Harkness is forcing Wanda to go through her past memories that she's suppressed. Viewers see how she was allowed in the S.W.O.R.D. headquarters. When she went to feel Vision's head, like she did both times before, she tearfully said, "I can't feel you," proving that he's really gone. 
It's a truly sad conclusion for that moment. And it also hits you just that much harder when she falls to her knees in Westview on the property he bought her to grow old in. There's still the finale — and Wanda's story is far from over — but it's these small lines that really make up the "heart" of a story.