Elizabeth Olsen's Marvel Contract Is Different From Other Marvel Actors, but That's What Keeps Her Coming Back
With WandaVision's immense success and great storytelling, it's actually interesting when you remember that Wanda Maximoff and Vision only had a handful of screentime in the Marvel Cinematic Universe together before the series. But, obviously, for years that was the case. Wanda was an important character, but she was never carrying a film or had responsibilities of the sort. But that's changing now, and these rich stories for Wanda are what brings Elizabeth Olsen back. And with her unique Marvel contracts, she's interestingly not tied to as many pictures as other MCU actors either. [Spoiler alert: Spoilers ahead for WandaVision].
Elizabeth Olsen shared that she only signs on to a couple of movies at a time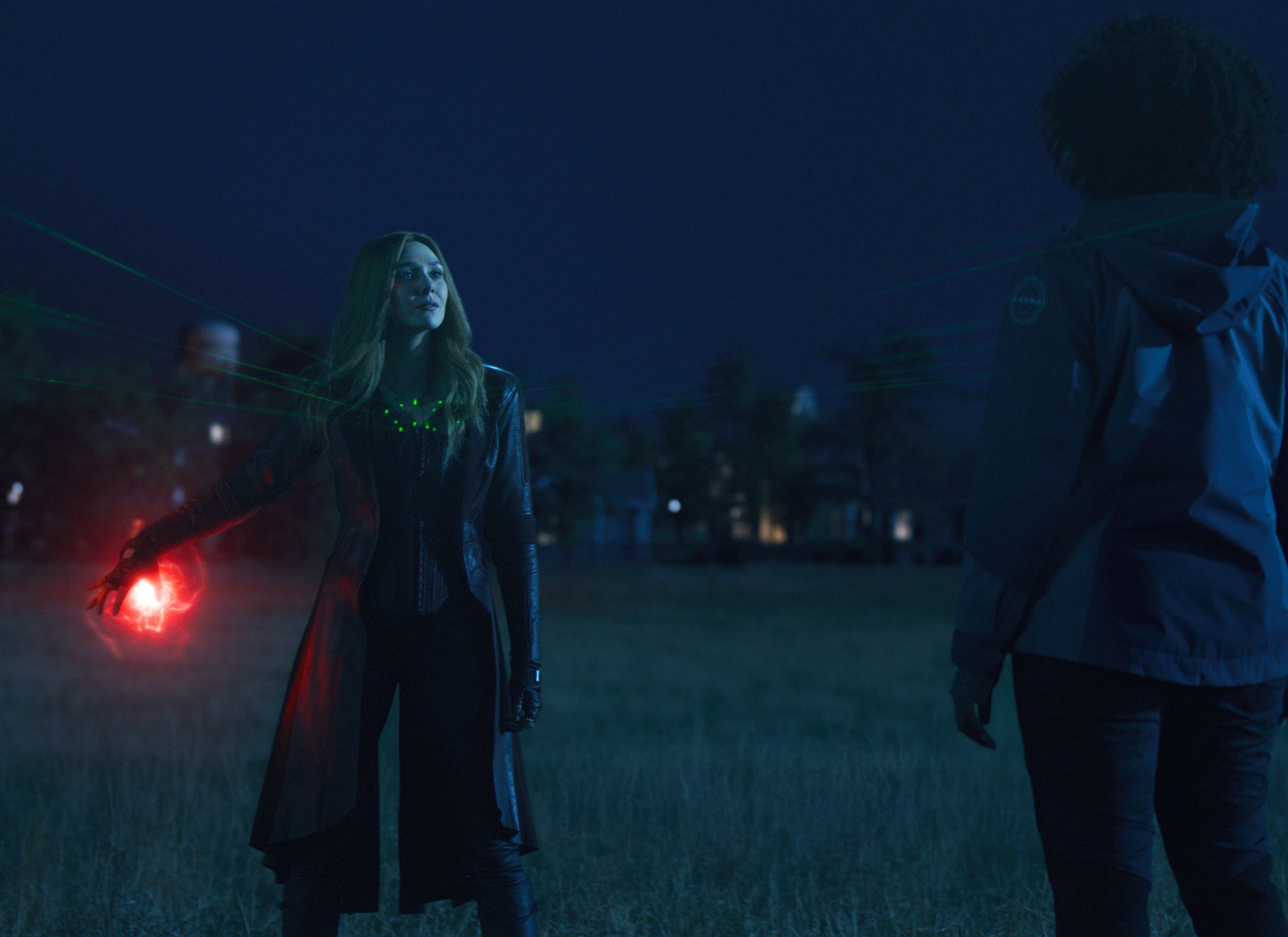 While appearing on Vanity Fair's Still Watching podcast on Jan. 29, Olsen said that she "only signed on for a couple" of Marvel films "at a time." This made every movie that they asked her back for "a surprise." Looking back, it's a no-brainer that Wanda was there through most of the Avengers' big moments following Avengers: Age of Ultron, but for Olsen, it didn't seem that obvious. 
But being on the edge of things did come with its perks too. 
"I think what happened for me was I started getting really comfortable not having the responsibility for the success or failure of the Avengers franchise and I was just really happy to take up my little corner," Olsen said. "I really enjoyed how they had used me. Because I always felt like I had something substantial to do in those films."
WandaVision, understandably, freaked Olsen out a little bit because the responsibilities were so different to other Marvel projects she's done. She said she "knew how many eyes" would watch a Disney+ show or any MCU project. However the script and Wanda's upcoming arc were enough to win her over. 
"Technically I don't make six-picture movie deals. So I just make a couple at a time. So it just depends on what the stories are," Olsen said on the Table Manner podcast in January as well. "It's been nice because… you're not just used [as] part of a machine. They really care about trying to lure you in with good storytelling." 
'WandaVision' helped renew Olsen's love for her character and get her excited about what's to come
While most Marvel movies have some sort of substance to them, WandaVision is really packed in with characterization for Wanda that she hasn't had before. Viewers are spending a lot more time with her and Vision, naturally, and Olsen is really getting to know her better than ever before. 
"[WandaVision] just became something that I absolutely adored and loved. And because of this show, it made me love this character more than I ever had," Olsen gushed on the Still Watching podcast. "And it makes me feel like I have such a new ownership of her because of the time I'd got to spend creating this show and now I'm excited for the next thing."
When she signed on in the very beginning for Avengers: Age of Ultron, she didn't have any idea of where her character was headed. She knew the comics but, again, was only signed on for a couple of movies at a time. So she had no idea she could be doing this so many years later. 
"Now it's this completely new thing that it never was at the beginning," Olsen said, "And going from the transition from WandaVision to Doctor Strange 2, I just feel like it's all so earned."
What do other Marvel actors' contracts look like?
So, what do the other Marvel actors' contracts look like? There are the heavy hitters that carry massive years in their contracts. Like Sebastian Stan (Bucky) and has a nine-movie contract as of 2014, according to Games Radar, and Anthony Mackie(Sam Wilson aka Falcon) who had 10 pictures on the table according to Men's Health. Although Games Radar pointed out that because of the Disney+ show Falcon and the Winter Soldier, that was probably negotiated a bit differently. 
Scarlett Johansson told Collider in 2015 that she has a "mutating" contract that changes with what the character needs. That kind of sounds like what Olsen described with Wanda, however, Natasha Romanoff was in a ton of MCU films, consecutively, so that's an interesting quote. According to Vanity Fair in 2017, Renner's contract ended with Avengers: Endgame, however, we now know he's coming back for the Hawkeye series, so that was renegotiated at some point. 
According to Collider, Mark Ruffalo also had a multi-picture deal with six MCU films, which means his time is up. So a renegotiation has to happen as well if The Hulk is going to come back. And Brie Larson (Captain Marvel) had another massive contract with allegedly seven films according to The Hollywood Reporter. However, she said that wasn't true. 
So, basically, there's a lot of contracts and they're all different. But it sounds like the minimum is around three years. And obviously, Olsen's contract keeps getting renewed. But for Olsen it's that type of contract that allows her to sign on for Wanda's story arcs. And it seems like it's only going to get more interesting from here.