Elizabeth Taylor and Richard Burton Were the Brad Pitt and Angelina Jolie of the 1960s and '70s
How Brad Pitt and Angelina Jolie's whirlwind romance mimics that of Elizabeth Taylor and Richard Burton's. Full story here.
Angelina Jolie and Brad Pitt — coined Brangelina throughout their relationship — boasted quite the intoxicating romance story. From forbidden love to marriage, kids, and divorce, their tale possesses many similarities to that of the "Battling Burtons —" Elizabeth Taylor and Richard Burton, who married and divorced…twice. Let's start from the beginning.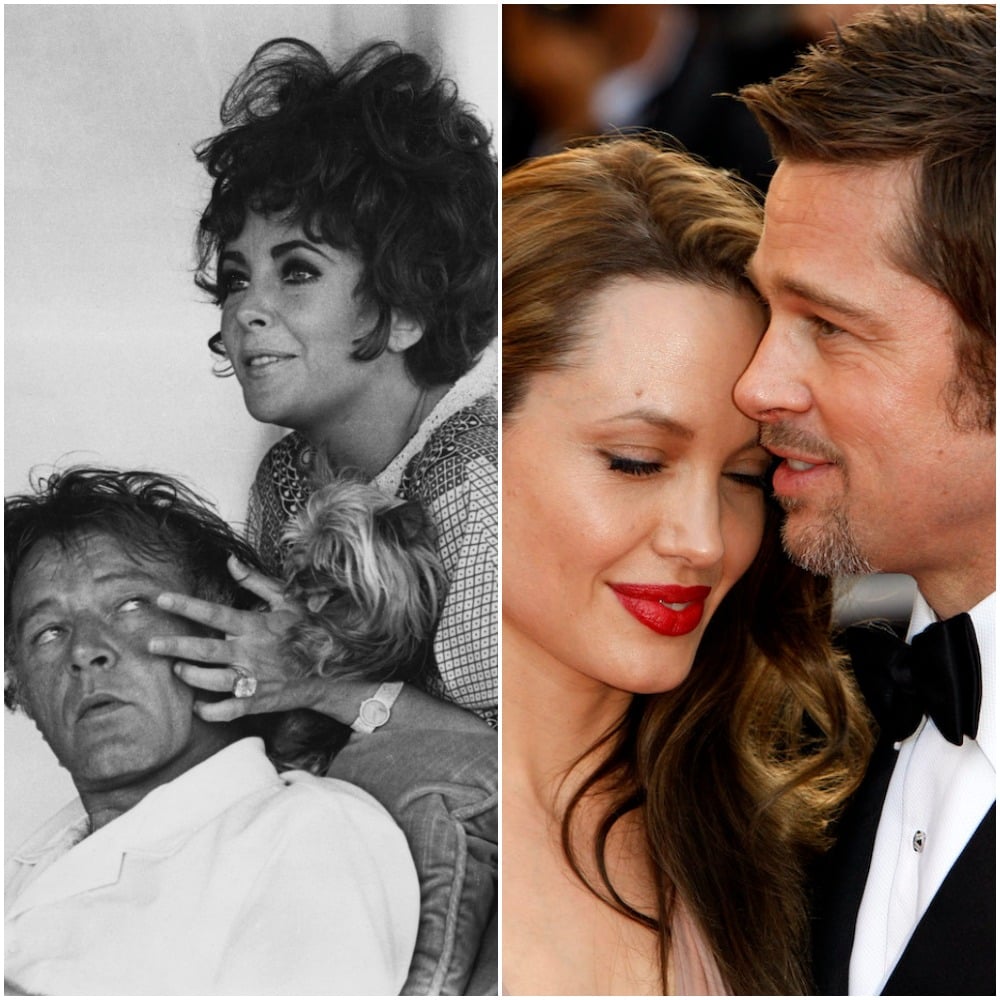 Brad Pitt and Angelina Jolie's 'Mr. and Mrs. Smith' story mimics Elizabeth Taylor and Tim Burton's 'Cleopatra' tale 
Pitt and Jolie met on the set of Mr. and Mrs. Smith — when Brad Pitt was married to Friends star Jennifer Aniston. Paparazzi hounded Pitt after witnessing his on-screen chemistry with Jolie; many presumed that the on-screen dynamic mimicked the off-screen one. It was a case of forbidden love. 
Similarly, Taylor and Burton were both married when they fell in love on the set of Cleopatra. Burton was married to actress and theater director Sybil Williams, while Taylor was married to singer and actor Eddie Fisher. Taylor and Burton both divorced their significant others to follow their hearts. 
Scandal surrounded Burton and Taylor as it did Pitt and Jolie. Before Burton and Taylor allowed their relationship to become common knowledge, press releases were used to dispel the romantic rumors (that were actually facts) gaining steam. The couple also aimed to mock the public's fascination with their chemistry as a way out — a tool Pitt has used in the past when it came to dealing with paparazzi. 
Brangelina and the Battling Burtons both ended their relationships soon after starring in films that all-too accurately displayed troubled couples 
While both their romances began as passionate affairs, they ended in divorce. Taylor and Burton were driven apart by drugs, alcohol, and affairs. Pitt and Jolie kept the details of their divorce a bit more private, yet seemingly lost their spark. 
Toward the end up their relationship, Burton and Taylor starred in a movie titled Divorce His, Divorce Hers. The film followed the dissolution of an 18-year marriage as seen through the eyes of both the husband and wife. The film premiered in 1973 — one year before Burton and Taylor's first divorce. They would remarry again from 1975 to 1976. 
In 2015, Pitt and Jolie starred in By the Sea, which Jolie wrote and directed about a troubled couple who befriend young newlyweds and villagers while visiting a French resort. Many jumped to the conclusion that Jolie was pulling on the strife inherent to her own marriage when writing about th couple's struggles. Jolie filed for divorce in 2016.