Elon Musk May Have Serious Problems With Grimes' Mother
We know Elon Musk best for his work with Tesla and SpaceX, but now, he's in the spotlight for his newborn baby and relationship with Claire Boucher, aka musician Grimes. While the two seem strangely perfect for each other and have pursued a romance since 2018, there may be trouble in paradise now.
We haven't heard much from either of their families when it comes to their relationship or the baby, but we're finally getting some intel from Grimes' mother, Sandy Garossino. And she seems quite displeased with what Musk is writing on Twitter, which may give his followers insight into how she really feels about him overall.
Elon Musk and Grimes have reportedly had a rocky relationship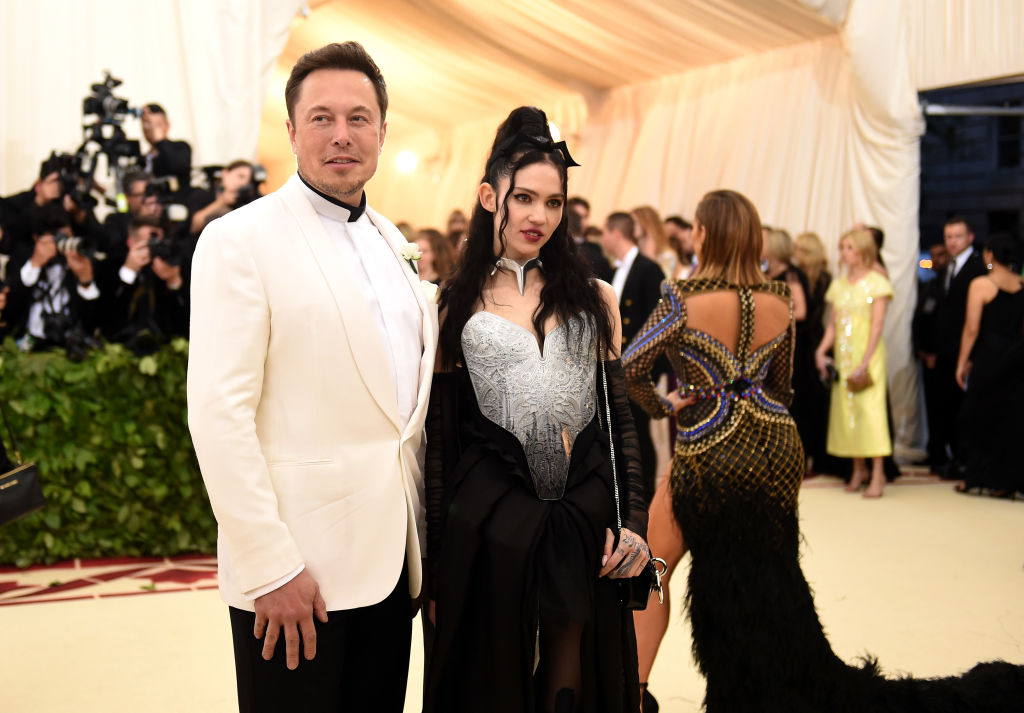 Musk and Grimes haven't been in the spotlight too much for their relationship prior to having a baby. But now, we're all wondering what their romance is really like. Musk is over a decade older than Grimes, and he's been married three times (twice with the same woman). Not only that, but he already has a set of twins and triplets from his first marriage with Justine Wilson. And while Musk loves love, he has yet to make a longterm relationship work for him.
As for Grimes, her private life has been kept much more private. But she's noted in the recent past that she really does love Musk and made an active choice to have a child with him.
Even with her love and support, their relationship's reportedly been rocky. "Elon and Grimes have experienced a lot of ups and downs in their relationship throughout Grimes' pregnancy and have been on and off," a source told Us Weekly. "Through it all though, they have and will continue to maintain a close friendship."
Musk tweeted about taking the 'red pill,' and it caused chaos
Grimes gave birth just weeks ago, and Musk is back at his Twitter antics. He stirred the pot with a cryptic tweet that references the 1999 hit, The Matrix. According to The Guardian, Musk tweeted, "Take the red pill," along with a red rose emoji on May 17. In the movie, the red pill allows the truth of the world to be seen by the protagonist.
There are a few theories as to why Musk is tweeting about the "red pill." Musk doesn't seem to be a fan of California shutting down for the coronavirus (COVID-19) outbreak, and he's even threatened to reopen his Tesla factories. Aside from the current state of the country, the "alt-right," a men's rights group known for demonizing women and creating ridiculous conspiracy theories, also use the "red pill" in their terminology. And many wondered if Musk was nodding to them with his tweet.
Either way, it seems Ivanka Trump supports the tweet. "Taken!" she tweeted in response.
Grimes' mother isn't having any of it
It looks like Grimes' mother isn't impressed with Musk's cryptic Twitter activity. According to Cosmopolitan, Garossino tweeted back to Musk's "red pill" tweet, "Not yet 2 weeks old," which is clearly in reference to his newborn. She then added, "If your partner went through a challenging pregnancy and childbirth in the last two weeks… And you were over 16 years old, Would you be blaring MRA bulls*it on Twitter right now?"
Not only that, but Garossino also liked a tweet that said, "Elon Musk's Twitter presence in the last few months feels very Kanye 2018," according to Daily Mail Online. She later unliked it, though.
It looks like Garossino has since removed her tweets, but Cosmopolitan added that Grimes liked her mom's tweets, too. This may prove there's some trouble in paradise for the couple. We'll have to wait and see if Garossino has any more hot takes about her daughter's billionaire boyfriend!
Check out Showbiz Cheat Sheet on Facebook!