Emilia Clarke's 'Secret Invasion' Marvel Character Could Be a Long-Awaited Masked Hero
While HBO is trying to celebrate the 10-year-anniversary of Game of Thrones despite a lot of people still hating that final season, Emilia Clarke is moving onto bigger and better things with a Marvel Cinematic Universe announcement. While she's joining the cast of the Disney+ series Secret Invasion, it's unclear who she'll be playing just yet. But there are, of course, theories. 
Emilia Clarke has been cast in Marvel's 'Secret Invasion' series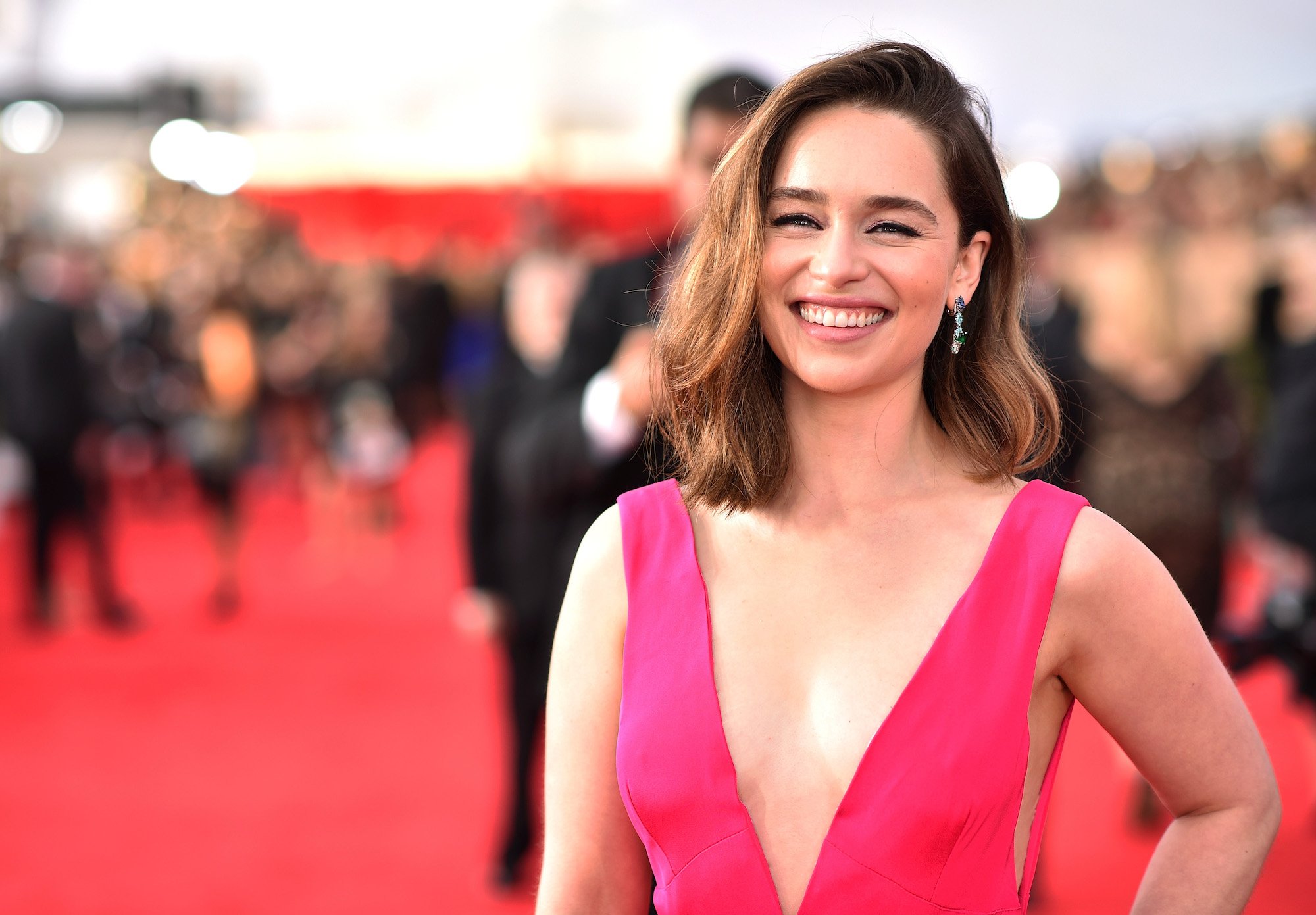 RELATED: How A Disturbing Comic-Con Epiphany Inspired 'GoT' Star Emilia Clarke to Create Her Own Superhero
On April 20, Variety reported that Clarke signed on to Marvel's Secret Invasion series at Disney+. The series was already set to star Samuel L. Jackson as Nick Fury and Ben Mendelsohn as the Skrull Talos. Kingsley Ben-Adir was attached as the alleged villain and so was Olivia Colman in an unidentified role so far. 
Clarke is the sixth Game of Thrones alum to join the MCU or have a Marvel role. Sophie Turner played Jean Grey or Dark Phoenix in the newer iterations of the X-Men films. Peter Dinklage was in Avengers: Infinity War as Eitri, King of the Dwarves on Nidavellir and a master blacksmith who made the Infinity gauntlet and Stormbreaker.
Kit Harington and Richard Madden are both set to appear in the upcoming film The Eternals as Dane Whitman and Ikaris, respectively. And Maisie Williams was Rahne Sinclair in The New Mutants, which finally came out in 2020 after years of being put off. 
With Skrulls at the center of 'Secret Invasion,' it's tough to say who Clarke could be
According to a ComicBook.com interview with Kevin Feige in January, the series will tackle the comic book event of the same name but not to the same caliber. That'd be hard, considering that the Secret Invasion in the comics involved nearly all the Avengers (and then some) and revolved around the concept that the Skrulls had infiltrated Earth and the Earth's Mightiest Heroes. They didn't know who was an evil Skrull and who was themselves. It was messy, to say the least.
Now, because Captain Marvel already introduced Skrulls and made them good guys, how are they supposed to "invade" Earth? Well, just like there are bad humans and good humans, there's bound to be bad and good Skrulls. And with the way that alien race was targeted for years, there are bound to be radical Skrulls dying to rule a planet. Who's to say they haven't been here all along?
This news was just announced, of course, so it's unknown what Clarke's role will be. On Reddit, fans are already trying to guess what her part is, and one fan pointed to a long-awaited MCU character as she's head of S.W.O.R.D. 
"Maybe Abigail Brand considering at least one Skrull works for S.W.O.R.D.?" one user wrote. "I suggested Olivia Colman for the role yesterday but Emilia Clarke makes a lot more sense."
Another wrote, "Or Veranke, skrull queen. But the cast is stacked yo."
Because Veranke is a Skrull, why can't she be both? If the head of S.W.O.R.D. is a Skrull, that would be a power move for them. And Clarke can play a mad queen quite well, as we all know.
Fans are already gearing up for a grand television event
If Clarke does play Veranke, it is important to note that her comic book alias has been Jessica Drew aka Spider-Woman. That's been another highly-anticipated comic book character fans have wanted to see in the MCU. So if she's not owned by only Sony, this casting could also be a major win for Spider-Woman fans. If they go that route.
Regardless, Secret Invasion isn't going to be a small show. Just because it's on Disney+ and just because it's a series doesn't mean it's going to be small scale; WandaVision and The Falcon and the Winter Soldier already proved that's not the case. But since it deals with a massive comic event and implications for these characters, fans are gearing up for a big series of massive proportions. 
"I love the idea of Secret Invasion for mystery," one Reddit user wrote. "And I hope it's Marvel's new idea of event where plenty of heroes (or the actors who are skrulls) can meet. New Avengers film would be too soon but I don't want it to be too long until many of them will interact again."
Feige already said that, even though it won't be to the extent the comics are, it's going to be a big one for Fury and Talos.
"It very much is a showcase for Sam Jackson and Ben Mendelson and tapping into the paranoia elements of the Secret Invasion comic series that was great with the twists and turns that that took," he said. "So, that's certainly our focus more than, 'Can we cram in more characters than Endgame? like publishing?'"
It looks like Secret Invasion is going to be coming out in 2022.
RELATED: Who Owns The Film Rights To Spider-Gwen, Ghost-Spider?