'Emily in Paris' Star Lucien Laviscount Discusses Alfie's Future
Emily in Paris debuted on Netflix in 2020, quickly becoming one of the most beloved and popular shows on the streaming platform. Created by Darren Star, Emily in Paris stars Lily Collins as marketing executive Emily Cooper, a young woman who moves to France in order to help provide some American influence to the firm she works with. Along the way, Emily finds excitement and romance — the latter in the form of a handsome young Englishman named Alfie. The third season of Emily in Paris dropped in December 2022, showing fans the next evolution in Emily and Alfie's romance. Recently, Lucien Laviscount, the actor who portrays Alfie, sat down for an intimate interview where he dished on the bombshell revelations that rocked his character's relationship with Emily.
Alfie is Emily's English love interest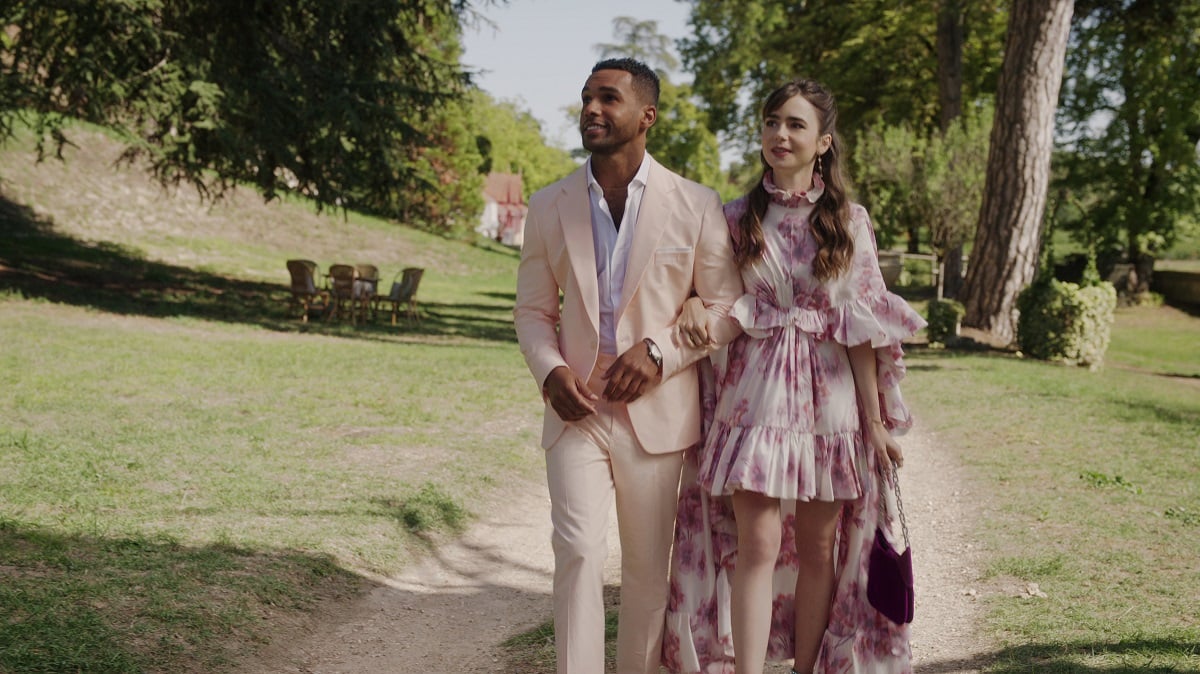 The character of Alfie was first introduced in the second season of Emily in Paris. Initially, the England-born banker forms a bit of an antagonistic relationship with Emily, teasing her relentlessly — especially in regard to her dedication to all things French. Alfie helps Emily realize that there's more to life than working, and over the course of the second and third seasons, the two form a bond of friendship that ultimately turns into romance.
Unfortunately, the course of true love doesn't exactly run smoothly for Emily and Alfie. Although the show firmly introduces them as boyfriend and girlfriend in Season 3 of Emily in Paris, things go south by the end of the season.
What happened to Alfie in the third season of 'Emily in Paris'?
The end of the third season of the show features an explosive scene where Alfie hears Camille say that Emily is still in love with Gabriel. According to The Cinemaholic, Alfie also learns about the pact that Emily and Camille made, one that culminated with Emily agreeing not to date Gabriel in spite of her feelings for him. This shakes Alfie to the core, and he walks away from Emily with resolve on his face. Recently, Laviscount chatted with Entertainment Weekly, talking about Alfie's future and his reaction to the revelation.
"I feel like Alfie is just kind of starting to loosen up a little bit. He's moved to Paris," the young actor said. "He's got his ducks in a row as much as he probably could have. And then in true 'Emily in Paris' fashion, once everything starts going well, I think the walls and the floor and his world just crumbles from under him, really." Laviscount admitted that he doesn't really know what's next for his character, but revealed that he's on board for whatever the future might hold. "I've got a hell of a ride, and if this is the end of it, thank you, and onto the next, but it's been really special," he said.
What are fans saying about the third season of 'Emily in Paris'?
While the fourth season of Emily in Paris is still in pre-production, fans have had plenty to say about the all-new third season. "Just finished Emily in Paris and it CANNOT end like that they need to hurry up with the next one NOW," one Twitter user said, likely referencing the explosive ending between Alfie and Emily. "Alfie deserved better. My ship deserved better… I am still pissed at that season finale bc wtf. At least there was buildup to the demise of Camille and Gabriel's relationship. But with A&E they were good a few minutes ago and then BAM #EmilyInParis," another fan on Twitter wrote. Clearly, the character of Alfie has a lot of fans who are very invested in his happy ending.