Eminem Said 'Marshall Mathers Became Eminem' When He Heard This Rap Song
Eminem praised many rappers over the years; however, he said one rap song transformed him from Marshall Mathers to Eminem. He even inducted the group that made this song into the Rock & Roll Hall of Fame. Here's how Eminem paid tribute to some of the rappers who inspired him.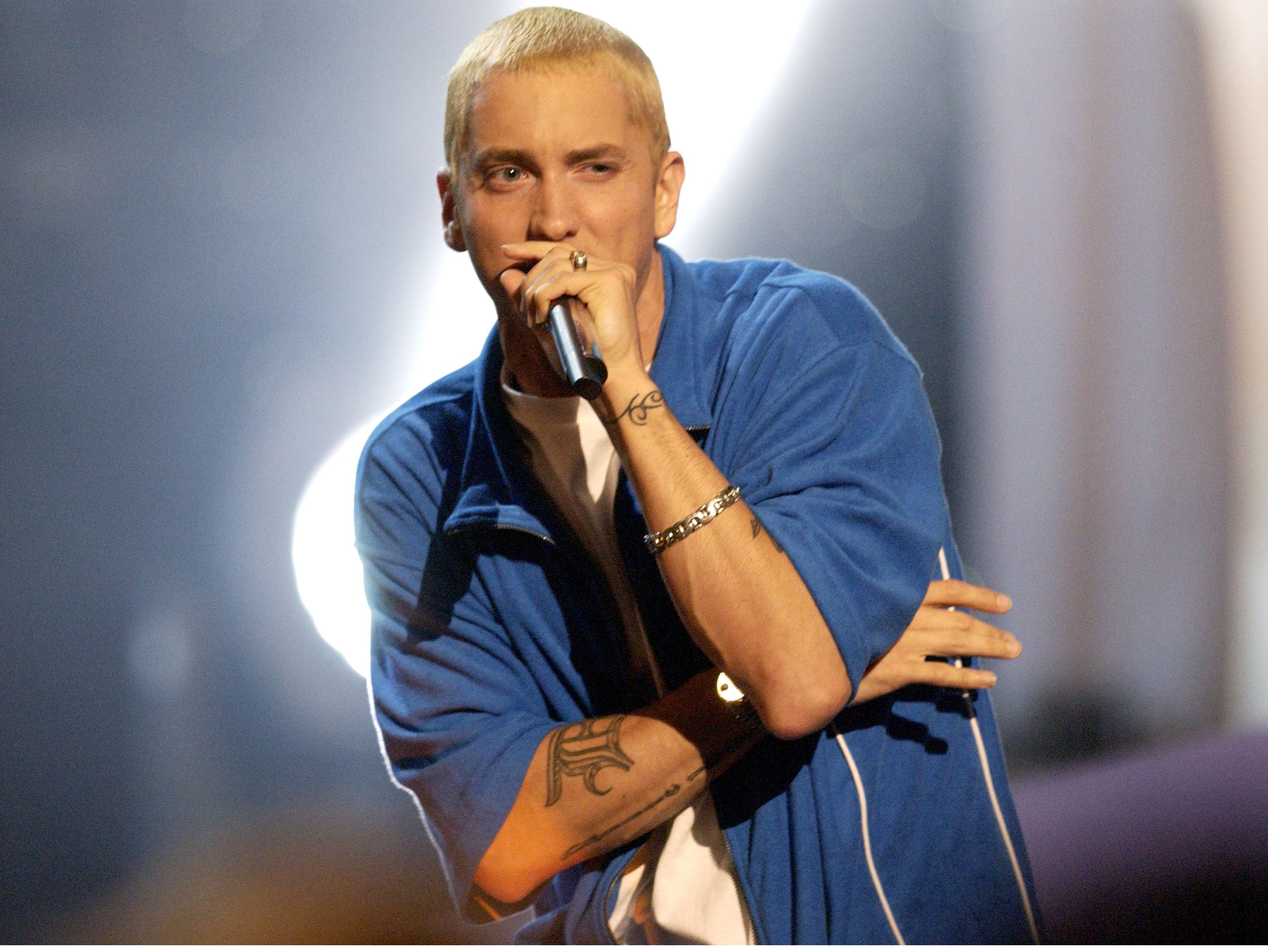 Eminem praised this rap song when he inducted a group into the Rock & Roll Hall of Fame
Very few rappers/rap groups have been inducted into the Hall of Fame. So far, only Run-DMC, the Beastie Boys, Grandmaster Flash and the Furious Five, Public Enemy, N.W.A, The Notorious B.I.G., and Tupac Shakur are in the Hall of Fame. Eminem appeared at the Hall of Fame to induct one of the groups.
During the induction ceremony, Eminem discussed Run-DMC's influence on him. "I remember being in ninth grade when Raising Hell came out," he recalled. "Two years later, I still remember being in ninth grade when Tougher Than Leather came out. I had skipped school, if you can believe that, to go buy Tougher Than Leather on cassette the day it came out."
RELATED: Eminem: Why This Major Rock Star Refused to Appear on 1 of His Songs
One of the songs on that album impacted him in a major way. "As soon as I heard 'Run's House,' man, it was pretty much a wrap for me," he said. "Marshall Mathers became Eminem. It was the first time Run-DMC had changed my life, but it wouldn't be the last."
Eminem paid tribute to Run-DMC's importance in hip-hop
While inducting Run-DMC into the Hall of Fame, Eminem said Run-DMC became famous with merely two turntables and a microphone. He said they set the tone for many rappers to come. Subsequently, he noted Run-DMC made a music video for their hit "King of Rock" that depicts someone telling the group they didn't belong in a museum dedicated to rock 'n' roll. "And 25 years later, man, here we are," Eminem said.
RELATED: Why Eminem Once Explained Why He 'Lashed Out' at Pop Stars So Much
Eminem praised Run-DMC for their boldness. "They didn't take no for an answer, much the same way as they didn't give up when much of the world refused to recognize rap as real music," Eminem added. "They were the first rock stars of rap. They were the first movie stars of rap. They were the first rap group played on MTV."
Was 'Run's House' 1 of Run-DMC's popular songs?
Run-DMC in general — and "Run's House" in particular — clearly meant a lot to Eminem. Despite this, the American public did not seem to embrace the song. It did not chart on the Billboard Hot 100.
RELATED: Inside Eminem's Feud With 'The Breakfast Club' Host Charlamagne Tha God
On the other hand, the song's parent album, Tougher Than Leather, reached No. 9 on the Billboard 200. It remained on the chart for 28 weeks. It was the group's highest-charting album with the exceptions of Raising Hell and Down with the King. Tougher Than Leather found some success — and one of its songs influenced an iconic rapper.