Why Eminem Said He Will 'Never Go to the Grammys Again'
Eminem is considered one of the greatest lyricists of all time. He's a titan in the world of hip-hop with an impressive trophy collection that some of his peers only dream about. But there is one award show he has boycotted and doesn't plan on attending ever again.
Here's what the rapper said about why we won't see him at the Grammys anymore.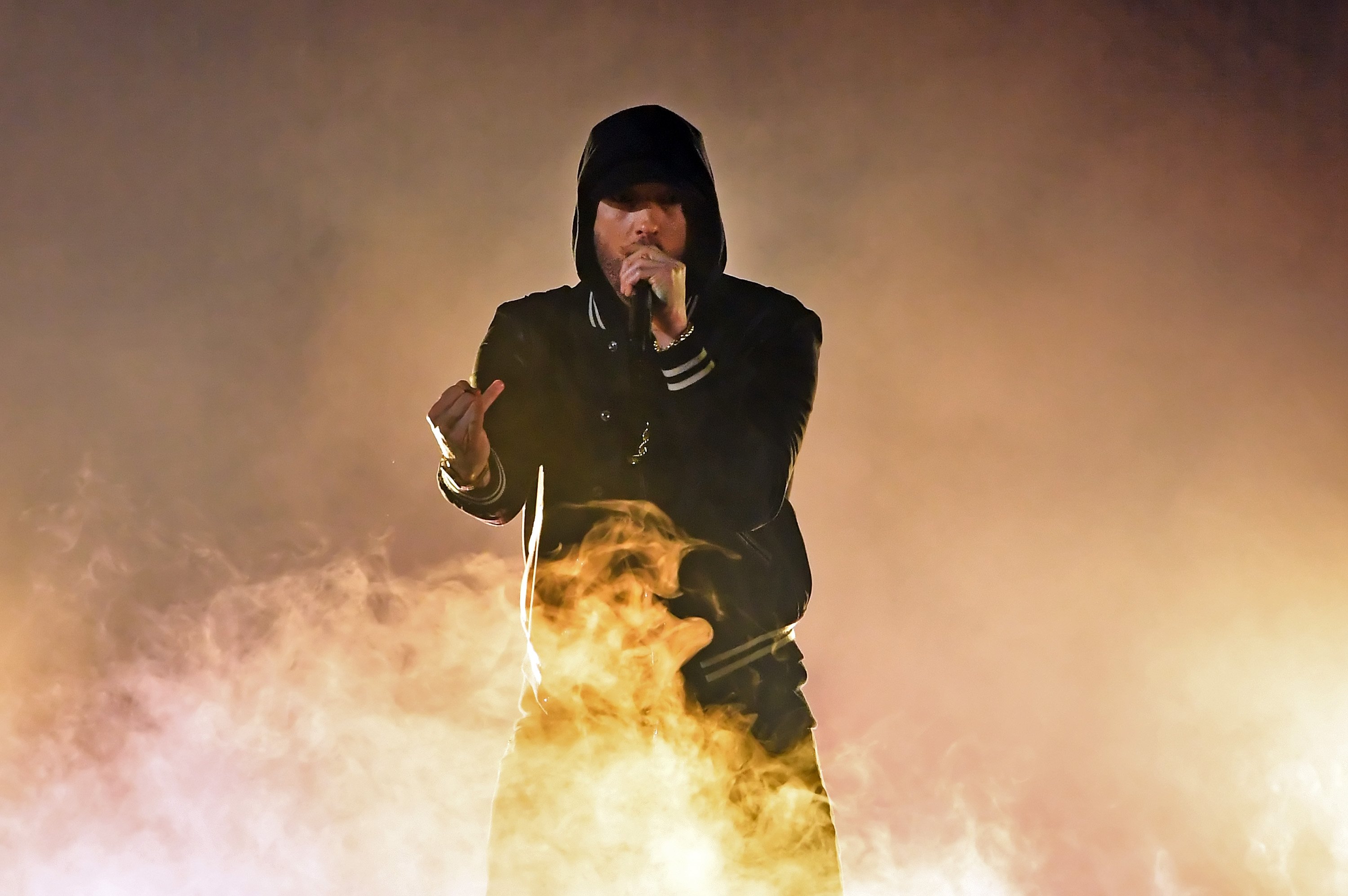 Eminem attended the Grammys because no one wanted him to
The same year Eminem rapped: "You think I give a damn about a Grammy? Half of these critics can't even stomach me, let alone stand me" on his single "The Real Slim Shady" he was nominated for Album Of The Year, Best Rap Solo Performance, Best Rap Performance From A Duo Or Group, and Best Rap Album.
At the time, many questioned if he was actually going to attend the award show he called out.
"It's hilarious, you know what, and that's why I'm going to go," he told MTV Europe (per ABC News). "It's because everyone doesn't want my ass there, so I'm going to sit my stinking ass down next to 'N Sync and flick pennies at them and f***ing just stand in everybody's face and say, 'Kiss my ass.'"
Eminem won a few Grammys that night and that wasn't the last time he was a winner. Marshall Mathers has gone on to win music's coveted award more than a dozen times.
But he'll never go to the Grammys again
During an interview with Sway Calloway in 2018, Eminem agreed that the Grammys "suck the blood out of artists" to get them to attend. He then vowed never to go to the ceremony again.
"Every f***ing year. I'm tired of seeing it," Em said. "For whatever reason they're always pitching this hint that you might win album of the year, which used to be a big deal. I don't think it's a big deal now. I sat at home for the Grammys this year and watched Jay and Kendrick not get it, and I felt like one of them should have got it. I felt Joyner Lucas should have won a Grammy for "I'm Not Racist." Every year we went, I was up for album of the year, and then 'the winner is Norah Jones!'"
The "Stan" artist added: "Don't f***ing get us all here, to use as your selling point for your f***ing show, and stiff everybody every single f***ing time. After that point in time, I said don't ever ask me to come here again. My answer is no for a hundred million years."
Fans finally got to see Eminem perform at another big award show
So while we may never see Eminem at the Grammys again, fans did get to see him at one award show where he was missed nearly two decades ago. Em gave a surprise performance at the Oscars in 2020, 17 years after he won an Academy Award for his song "Lose Yourself" from the film 8 Mile.
"I kinda figured maybe since I didn't get a chance to do it at the time, maybe it would be cool," the rapper told Variety about having an opportunity to perform at the ceremony all those years later. "Back then, I never even thought that I had a chance to win, and we had just performed 'Lose Yourself' on the Grammys with the Roots a couple of weeks before the Oscars, so we didn't think it was a good idea.
"And also, back at that time, the younger me didn't really feel like a show like that would understand me. But then when I found out I won … That's crazy! That to me shows how authentic and real that award is — when you don't show up and you still win. That makes it very real to me."
As for what he did the night of the Oscars in 2003, Eminem said he was at home sleeping when it was announced that "Lose Yourself" had won Best Original Song.