Emma Chamberlain Has a Blunt Answer About Dating TikTok Willy Wonka and It Involves a New Relationship
If you've spent any amount of time on TikTok over the last month or so, you might have come across a Willy Wonka cosplayer. While that's a big portion of TikTok, cosplayers don't really make it onto so many For You pages. But Willy Wonka has caught the hearts of many users on the app. He revealed that he has a major crush on YouTuber Emma Chamberlain and she has some rather unfortunate news for him.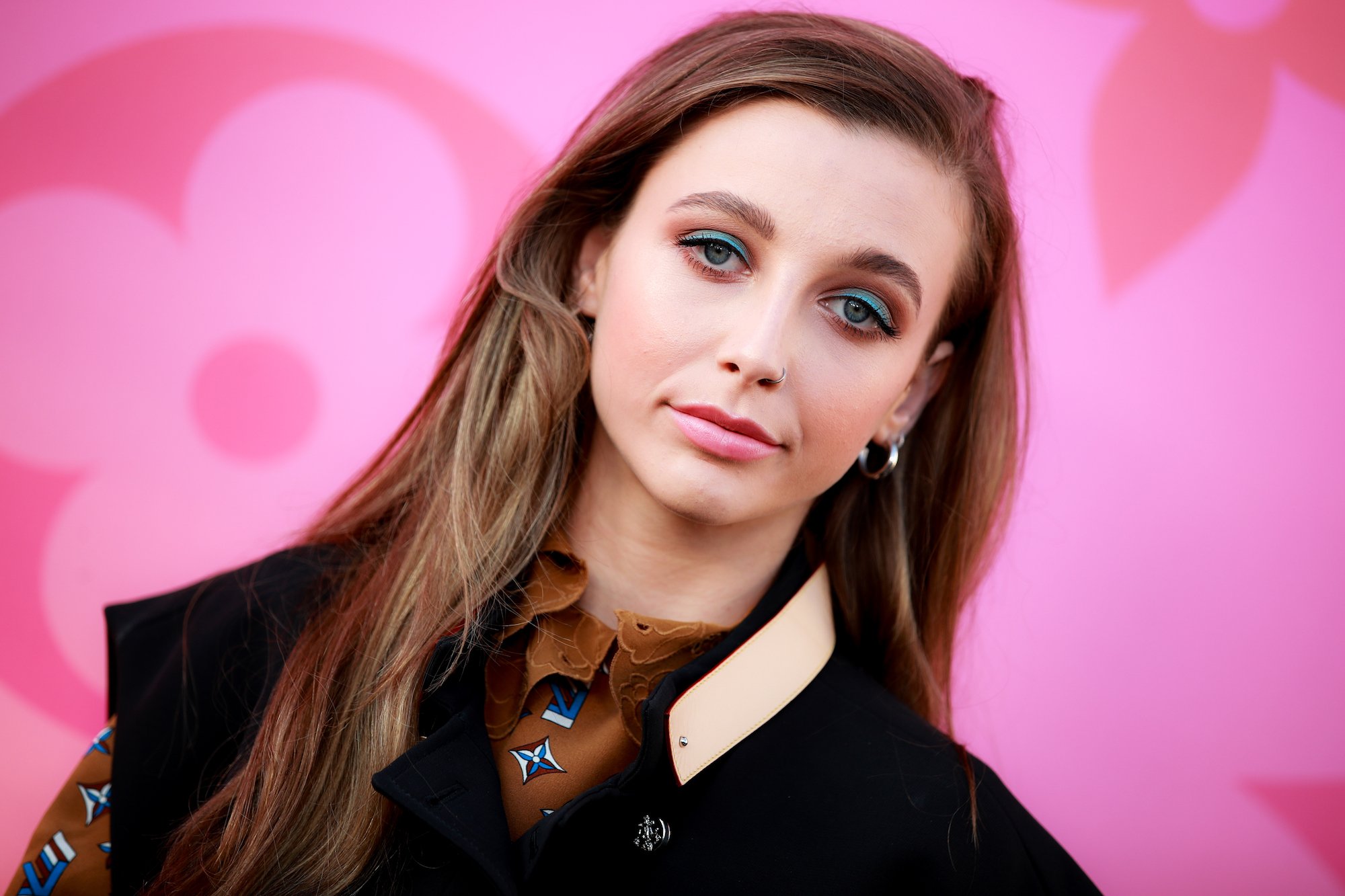 RELATED: What is Emma Chamberlain's Net Worth and How Did She Land this Major Magazine Cover?
YouTuber Emma Chamberlain set the record straight on if Willy Wonka on TikTok has a chance with her
Mr. Willy Wonka, aka @willywonkatiktok, is really big on the app, and you can find him dancing to the clean version of Akon's "I Wanna Love You." He dresses up as Johnny Depp's version of Willy Wonka and is truly a sensation right now. 
Recently, he revealed his celebrity crush was Emma Chamberlain, a well-known YouTuber who also has a big presence on TikTok. Since then, Willy Wonka (aka Duke Depp on Instagram) has commented on several of Chamberlain's most recent TikTok videos, and kind of just ran with the "joke." And Chamberlain hasn't commented on it, until now. 
On Aug. 26 in a YouTube video from The Hollywood Fix, Chamberlain came out of a restaurant and answered some questions about her not-so-secret admirer.
"I don't know who this man is… But he is commenting on all my stuff," she finally said, after seemingly not wanting to talk about it. "I appreciate it. But I don't know what he wants from me."
When the paparazzi asked if Willy Wonka had a shot, Chamberlain was blunt again. 
"No," she said simply. "No, I mean the thing is like am I in a relationship? Am I not? I'm just gonna say that. And then I'm gonna say, no, he doesn't have a shot."
Chamberlain quickly noted that he's "probably the greatest guy," but it just isn't going to work out right now.
Chamberlain did not reveal who her secret boyfriend was
So, if you missed it, Chamberlain just revealed that she has a secret boyfriend. Was it just to get The Hollywood Fix an answer and off her back? Possibly. But also, she stated it a few more times.
When the cameraman asked if WillyWonkaTikTok should keep shooting his shot, the YouTuber basically said he should cool it because of her relationship status. 
"He should have some fun, if he wants, but also… I'm not a cheater," she said. When asked outright if she was in a relationship, Chamberlain replied with, "Right."
Can the two of them be friends? Chamberlain said that she prefers to make friends the "organic" way, meaning that this is a bit of a forced situation at this point. "I feel like this is the opposite of that," she said. "So I don't think it's going to work out."
While she said there's "no chance" with Mr. Wonka, he took it in stride on TikTok. 
"i absolutely adore you Emma but rest assured, Willy Wonka being head over heels in love with you was a joke hahah," he captioned a video reacting to The Hollywood Fix's video.
It just seems like it was all in good fun, at least now in hindsight. Chamberlain did say that she hopes he finds his Mrs. Willy Wonka, so only time will tell how it'll go for him. But for Chamberlain, this is not her first secret boyfriend.
Chamberlain has been very private about her relationships in the past
While Chamberlain is open about many things in her life — her meals, her skincare, her home, and more — her relationships are something she will never speak on in the public eye. At least not her romantic ones.
In her interview with W Magazine in June of 2019, Chamberlain said that things change so quickly that it's just better for her to keep that part of her life sacred.
"I don't like to give too many details on very, very personal aspects of my relationships with my family or friends," the YouTube said. "I don't like to show too much of that. There's a line for me, and I like to keep things very light, nothing serious."
She's been linked to other internet personalities before, but has kept to that rule of not speaking about it. And she doesn't know if she'll ever have a "public relationship."
"This is not coming from experience in any way; this is coming from morals. I'm speaking from what would feel right," Chamberlain said. "Breakups alone are absolutely the most f*cking awful thing that exist. Why would you want other people to be heartbroken with you? I can't imagine that. And also, I don't like seeing other people's relationships. It's boring and it's gross."
RELATED: TikTok and YouTube Influencers Under Fire for Throwing Parties: Did Any of Them Catch COVID-19?