'Eternals' Director Chloé Zhao Reveals the Film Originally Introduced 12 New Marvel Characters
Ahead of the Marvel film's premiere, Eternals director Chloé Zhao spilled some behind-the-scenes secrets of the newest installment into the Marvel Cinematic Universe. Zhao revealed that in the beginning stages of pre-production on Eternals, the movie included 12 superheroes.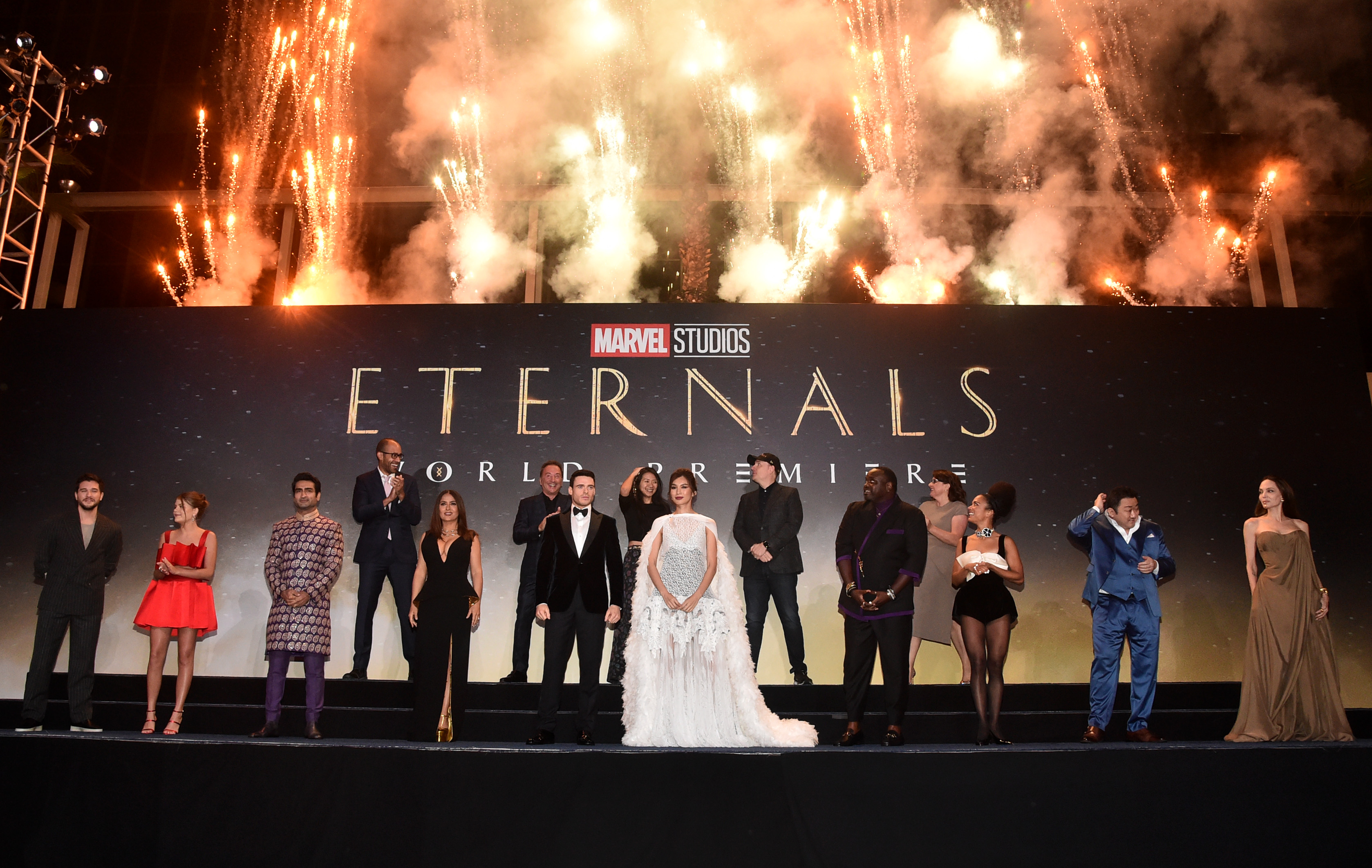 'Eternals' introduces a brand new set of heroes to the MCU
In the Marvel comic books, the Celestials visited Earth millions of years ago and performed experiments that created two divergent races; the Eternals and the Deviants. The Eternals are a vast group of immortal beings with powers. They are sworn to protect Earth from the Deviants.
In Chloé Zhao's Eternals, the list of Eternals includes Sersi, Ikaris, Kingo, Sprite, Phastos, Makkari, Druig, Gilgamesh, Ajak, and Thena. So, in the film, there are 10 new characters introduced to the MCU.
Per Fandom, Zhao said, "[Eternals is] a world of superheroes. But it's very similar in the spirit of how Jack Kirby created it. It's this group of people that existed outside the popular mainstream. And that's how you break away from the main themes and get to think fresh. It may be harder for people who are used to the mainstream to digest, but I felt his creation was brilliant because he gets to think differently and have new ideas because he stepped away and stepped back."
Director Chloé Zhao explains that 'Eternals' once had 12 new characters instead of 10
Chloé Zhao revealed that Eternals initially would introduce two more characters to the MCU. Zhao explained, "There was 12 characters when I first read it; 12 Eternals. We had to let two go along the way."
Unfortunately, Zhao did not divulge who those two other characters were. Nevertheless, to take on the responsibility of introducing ten new heroes to a well-established universe could be daunting. Zhao wasn't phased by the task, though. She said, "Some characters don't need the most screen time, it's about what they do with the screen time. They have to be memorable."
Zhao continued, "And when we looked at these 10 unique individuals, we thought about how they represent 10 aspects of human nature. They've been here for so long, who they become today is a big part of who we are. And so, it was actually equally important that they remain memorable. All 10 of them had the same weight; not necessarily screen time, but the weight."
'Eternals' comes to theaters on Nov. 5
The synopsis for Chloé Zhao's newest film reads, "Marvel Studios' Eternals features an exciting new team of superheroes in the Marvel Cinematic Universe, ancient aliens who have been living on Earth in secret for thousands of years. Following the events of Avengers: Endgame, an unexpected tragedy forces them out of the shadows to reunite against mankind's most ancient enemy, the Deviants."
Eternals stars Gemma Chan, Richard Madden, Kumail Nanjiani, Lia McHugh, Lauren Ridloff, Brian Tyree Henry, Barry Keoghan, Don Lee, Salma Hayek, and Angelina Jolie as the Eternals. Kit Harrington, Harish Patel, and Haaz Sleiman all appear in the movie as well.
Eternals, directed and co-written by Chloé Zhao, premieres on Nov. 5 exclusively in theaters.