Everything Alan Rickman Wrote About 'Harry Potter' in His Posthumous Memoir
As one of the most famous franchises in history, Harry Potter has millions of fans. But, according to the late Alan Rickman's memoir, he was not always among them. Rickman portrayed Harry Potter's Severus Snape — one of the series' most complex characters.
Rickman writes that he disliked the franchise and his character so much he tried to quit several times.
Why Alan Rickman almost quit 'Harry Potter'
Harry Potter's Severus Snape is one of the most nuanced characters (if not the most nuanced character) created by J.K. Rowling. Beginning as Hogwart's Potions professor before moving on to Defense Against the Dark Arts and eventually, Headmaster, Snape harbors deep resentment toward Harry Potter (Daniel Ratcliffe) and his friends. He appears to be in league with Voldemort for the majority of the series. 
In Rickman's memoir, Madly, Deeply: The Diaries of Alan Rickman, the actor reveals he was underwhelmed by his character and tried to leave the Harry Potter franchise even before the first movie began filming in 2000. "Feeling a bit nothing about HP," Rickman writes, "which really disturbs me" (Buzzfeed). 
Following the second film in 2002, Harry Potter and the Chamber of Secrets, Rickman tried to quit again. "Reiterating no more HP," he writes. "They don't want to hear it." By 2004 and the franchise's fourth film, Harry Potter and the Goblet of Fire, Rickman writes that he felt "shafted." 
The 'Harry Potter' secret that kept Alan Rickman hanging on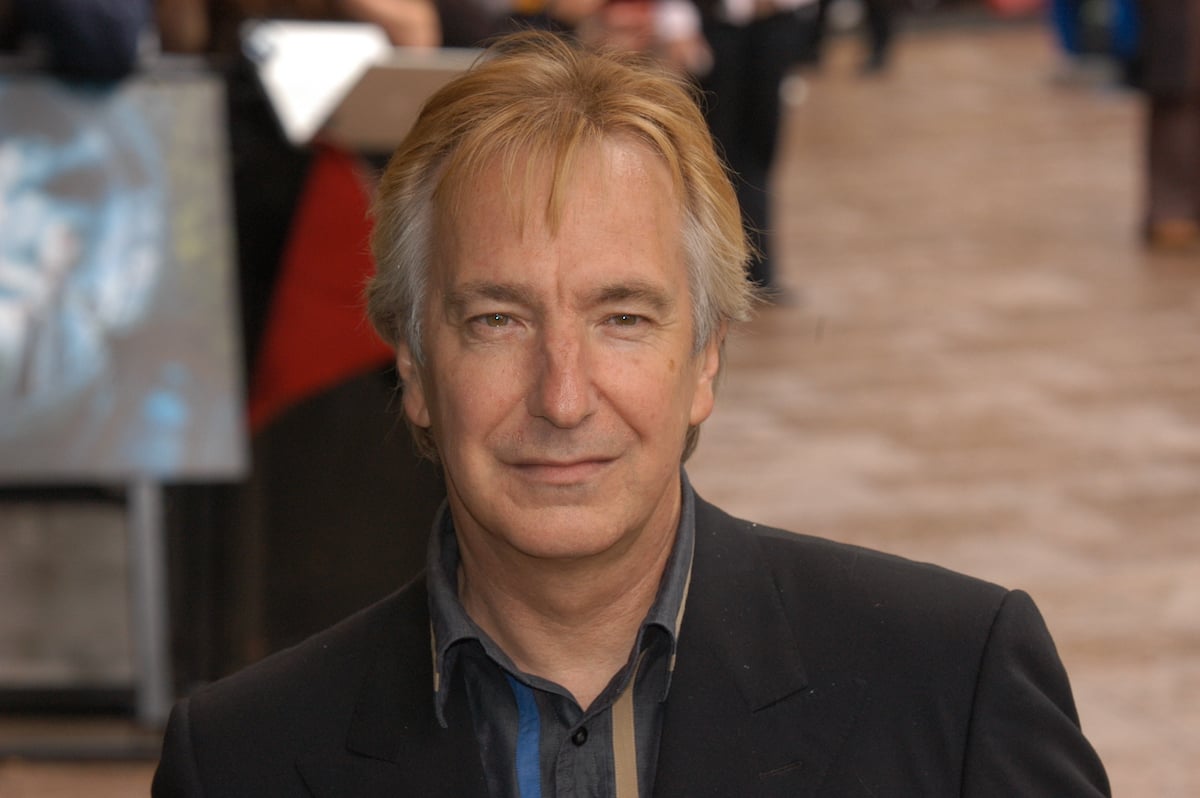 It is not until the final installment of Rowling's series, Harry Potter and the Deathly Hallows, that Snape's backstory finally vindicates him and identifies him as a hero. As such, the world was unaware of Snape's poetic arc until the final book was published in 2007. But Rickman was not. 
In his memoir, Rickman reveals that Rowling "nervously" told him three words that kept him hanging on through the series. "One small piece of information from Jo Rowling seven years ago — Snape loved Lily — gave me a cliff edge to hang on to," Rickman writes (Vanity Fair). 
Then, in 2005, Rickman was diagnosed with prostate cancer and began to see the films differently. "Finally, yes to HP 5," the actor states, going on to say, "The argument that wins is the one that says: 'See it through. It's your story.'"
Even then, however, Rickman was not a fan of his character's death in the series calling the final moments of Snape's story "a bit epic" and "Japanese" for his taste.
Alan Rickman said a lot about 'Harry Potter' cast and crew in his memoir
Rickman's memoir also voiced many complaints about other cast and crew. Following the premiere of Harry Potter and the Sorcerer's Stone, Vanity Fair reports Rickman wrote that the film should "only be seen on the big screen" as it needed to be viewed in a manner that matched "the hideous score by John Williams."
Referring to Harry Potter producers David Heyman, David Barron, and director David Yates as "the three Davids," Rickman wrote that he wished to "bang the three David's heads against the nearest wall" after viewing Harry Potter and the Half-Blood Prince. "I get the character development and the spiffing effects (dazzling), but where is the story????"
Rickman also had plenty to say about his young Harry Potter cast mates, Ratcliffe and Emma Watson (Hermione Granger). Rickman offered a backhanded compliment for Ratcliffe, who he said was not "really an actor" but would "undoubtedly direct/produce," and called Emma Watson's diction "this side of Albania."
It seems the only true compliments Rickman had to share were for Prisoner of Azkaban director Alfonso Cuarón, who Rickman gushes about in his memoir. 
Rickman died in 2016 after a long battle with prostate cancer. While Rickman may have had qualms about the franchise, Harry Potter is widely recognized as one of the actor's best roles and a testament to his abilities to captivate and inspire.