Fans Might Be Able To Get a 'She-Ra and the Princesses of Power' Movie
'She-Ra and the Princesses of Power' created a pretty passionate fan base. And a 'She-Ra' movie might happen because of them.
When a movie or show is really good, fans can't get enough of it. That's why some shows go on for several seasons, or why franchises are born. With She-Ra and the Princesses of Power, it gave fans so much. The Netflix show has such positive and diverse content across LGBTQ, race, and body representation, along with it just being incredibly well-written. So, it's a no brainer that fans are demanding a movie; and they might just get it. [Spoiler alert: Spoilers ahead for She-Ra and the Princesses of Power, all seasons].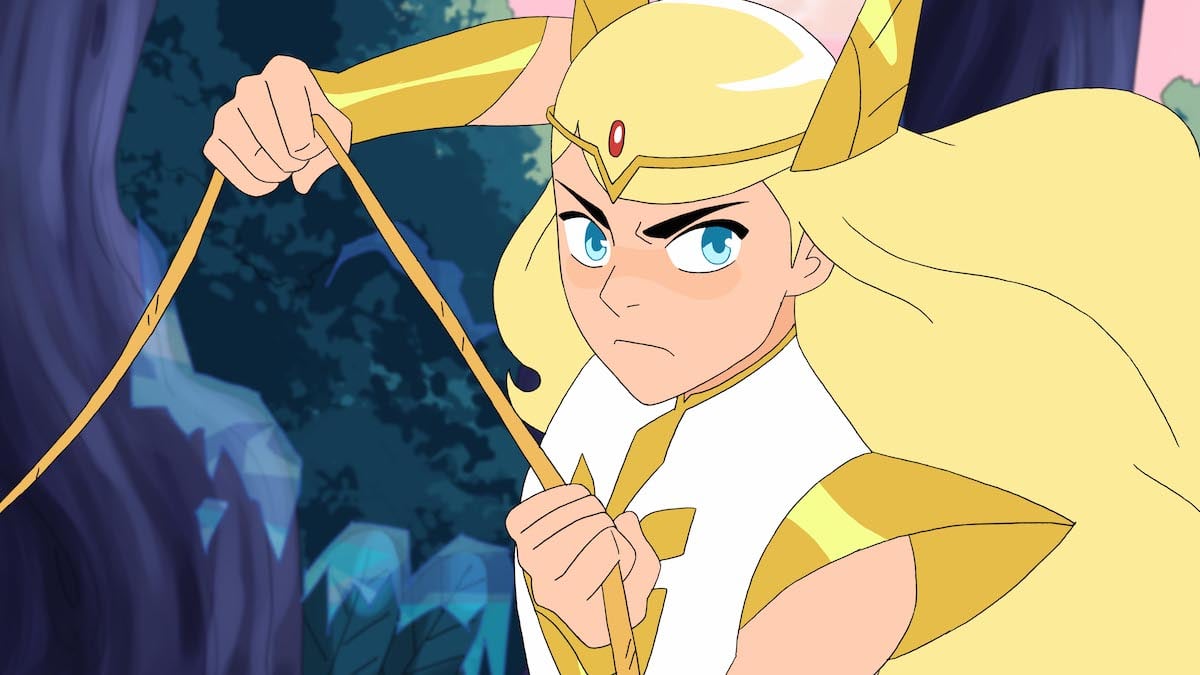 Fans asked the showrunner if she'd do a 'She-Ra' movie and she definitely is into it 
Showrunner Noelle Stevenson and her wife, Molly Ostertag, held a live stream fundraiser for Black Lives Matter on Twitch on June 9. According to CBR.com, they raised $40,000 in donations from viewers. There are about 4 hours of conversation between the two, interacting with fan questions and they shared so much good She-Ra and the Princesses of Power info.  
One of the big questions Stevenson answered was in regard to a She-Ra movie. And her answer was very positive for fans. 
"I would love to make a She-Ra movie. I think that would be cool. It'd be fun," Stevenson said, although she did share that she didn't know how much of a possibility it actually is. "I think if you guys just keep up the momentum and keep asking for it… It's not really my call, but I would definitely be a part of it if it was happening… I hope that something else happens with She-Ra. I have no idea though, so, unfortunately, that's all I can say for right now."
Fans took it upon themselves to blast Twitter, demanding a 'She-Ra' film
That's all fans needed to hear about it, though. Since June 9, She-Ra and the Princesses of Power fans have tweeted the hashtag "SheRaMovie" over and over, getting it trending with thousands of tweets. Even Stevenson has noticed. 
Some fans also started a Change.org petition, and others are sharing info about rating the seasons on IMDb because it might give the show a higher chance of getting a movie. And the tweets in the hashtag are as hilarious as they are passionate.
Looking at the hashtag, it's clear the fan base won't stop until they get a confirmation that they'll see Adora, Catra, Bow, Glimmer, and friends in Etheria again. And they have good reason to believe they will. Fan campaigns aren't new at all and have been highly successful in the past. It's what saved Star Wars: The Clone Wars, for instance, even though it took six years. 
There are more stories to tell, and Adora herself is ready to jump back in
It's also not like She-Ra and company's lives just stop. There are so many stories to be discovered, Big Bads to uncover. Between the future vision Adora saw in the finale, and Stevenson's commentary about after the war, there's material to work with. She even revealed what she thinks Adora and Catra's child, Finn, would look like (and revealed they're non-binary). 
In an interview with Digital Spy on May 16, Stevenson shared that the arcs they set out to complete are finished and the conclusion was fulfilling. But, again, possibilities can arise with the right amount of conflict. 
"Of course there's always the temptation to want to check back in with them or spend more time with characters that feel like our friends, but doing so would require additional conflict, which isn't always as satisfying as we want," she said. Stevenson said she doesn't want to "dilute" the great ending the series had by bringing it back with conflict that doesn't work as well.
In all of this, the voice of Adora, actress Aimee Carrero, will work on any She-Ra content Stevenson throws her way. 
"I think we held a really unique space, and, you know, it's honestly a little bit — it's definitely sad, because I personally don't necessarily feel like the stories are over," she said. "I mean, I always think there's more to say – so much, we could maybe be on the air for like 20 years or something."