Fans React to Machine Gun Kelly and Megan Fox's Engagement
Megan Fox and Machine Gun Kelly are officially engaged! Here's how the couple's fans and famous friends are reacting to the news, and what they think of the social media announcement Fox and Machine Gun Kelly made.
Megan Fox and Machine Gun Kelly are engaged! The celebrity couple has been making headlines ever since they started dating a year and a half ago. Fans are reacting to the engagement news and the details of the proposal on social media. Here's what everyone is saying, including some of Fox's and Machine Gun Kelly's famous friends.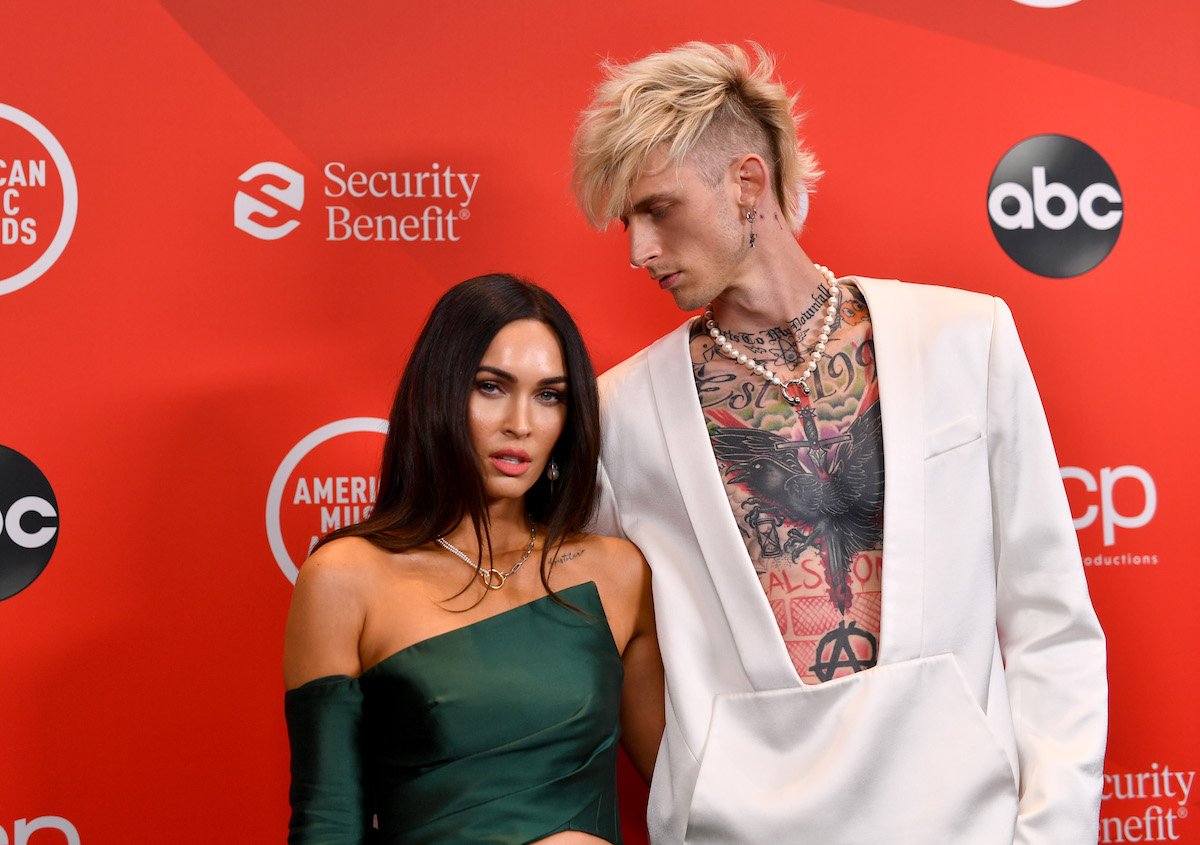 Machine Gun Kelly and Megan Fox got engaged after dating for a year and a half
On Jan. 11, Machine Gun Kelly proposed to Megan Fox. The two stars have been dating since spring 2020 when they got together on the set of Midnight in the Switchgrass.
Fox and Machine Gun Kelly shared intimate details of the proposal on social media. The musician's Instagram post announcing the engagement was a video clip of Fox's hand flashing her engagement ring, a pear-shaped diamond and emerald set on a double band encrusted with diamonds. 
"I know tradition is one ring, but i designed it with Stephen Webster to be two: the emerald (her birth stone) and the diamond (my birth stone) set on two magnetic bands of thorns that draw together as two halves of the same soul forming the obscure heart that is our love. 1-11-2022 ✨," Machine Gun Kelly wrote in the caption. 
He proposed to Fox underneath a Banyan tree, which is significant in their relationship. The Transformers star's voice is heard on the track "banyan tree (interlude)" from Machine Gun Kelly's 2020 album Tickets to my Downfall, and they both referenced the tree in their engagement announcement. 
Fox mentioned her twin flame connection with Machine Gun Kelly by ending her Instagram announcement with, "And just as in every lifetime before this one, and as in every lifetime that will follow it, I said yes. …and then we drank each other's blood 1.11.22 ✨"
Fans are going wild over Machine Gun Kelly and Megan Fox's engagement announcement
Fans are flocking to social media to react to Fox and Machine Gun Kelly's engagement news. Most are congratulating the happy couple, while some are teasing them for their unconventional relationship and proposal. 
"Y'all drank what," one fan commented on Fox's post, referring to her mention of drinking each other's blood. "Megan marry me instead," another fan pleaded.
A fan joked, "so is her last name gonna still be fox or is she like gonna change it to 'gun kelly'…. serious question."
Congratulations were extended on Machine Gun Kelly's post, as well. "I'm so happy for the both of you😭❤️," a fan wrote.
One fan commented, "Congrats Kellz life long happiness to you and your fiancé🌹♥️🌹," while another said, "From a poster on your wall to asking her to marry you… If that's not crazy in itself!"
Some of the couple's famous friends have congratulated them
Besides fans, some of Machine Gun Kelly's and Fox's fans are sending them congratulations, as well. 
Kourtney Kardashian, who recently got engaged herself, left five red hearts on Fox's announcement post. Her sister, Kim Kardashian West, wrote, "So happy for u guys!!!! 💍 😍♥️"
Addison Rae, TikTok star and Kardashian family friend, commented, "Congratulations ❤️," Christine Quinn from Bravo's Selling Sunset wrote, "QUEEN! I am so happy for you! 😍omg."
And Drew Barrymore commented, "@meganfox @machinegunkelly CONGRATULATIONS TO YOU BOTH!!!!!!!"
Machine Gun Kelly received supportive words on his post, as well. His frequent musical collaborator Travis Barker, who is also Kourtney Kardashian's fiancé, wrote, "F*** YESSSSS 🖤."
Comedian Whitney Cummings referenced the musician's famous friend Pete Davidson by writing, "Cut to me and Pete D fighting in a cage over who officiates this wedding."
And Avril Lavigne mentioned the shape of Fox's unique ring by commenting, "You two are truly the perfect "pear" 🍐💍 💚🤍congratulations on your engagement! Xx"