Fans React to Pete Davidson Appearing to Have Kim Kardashian's Kids' Names Tattooed on His Neck
Pete Davidson seemingly got Kim Kardashian's children's initials tattooed on his neck, and fans have some strong opinions about the comedian's new body art.
Pete Davidson appears to have gotten the initials of Kim Kardashian and Kanye West's children tattooed on his neck, and fans have some strong opinions about it. Here's what fans are saying about Davidson's new tattoo, and how it reflects what the reality star previously shared about her comedian boyfriend. 
Pete Davidson appears to have Kim Kardashian's kids' names tattooed on his neck
On May 1, TMZ reported that Pete Davidson was sporting some new body art following his standup show in Los Angeles. The Saturday Night Live star performed at the Fonda Theatre in Hollywood as part of the "Netflix is a Joke: The Festival."
After the show, Davidson and his girlfriend of seven months, Kim Kardashian, hopped into a car together. The comedian's neck was exposed, revealing a fresh tattoo that has tongues wagging. 
Davidson appears to have the letters KNSCP inked on his neck, which fans are guessing stands for the first initials of Kardashian and her four children, North, Saint, Chicago, and Psalm.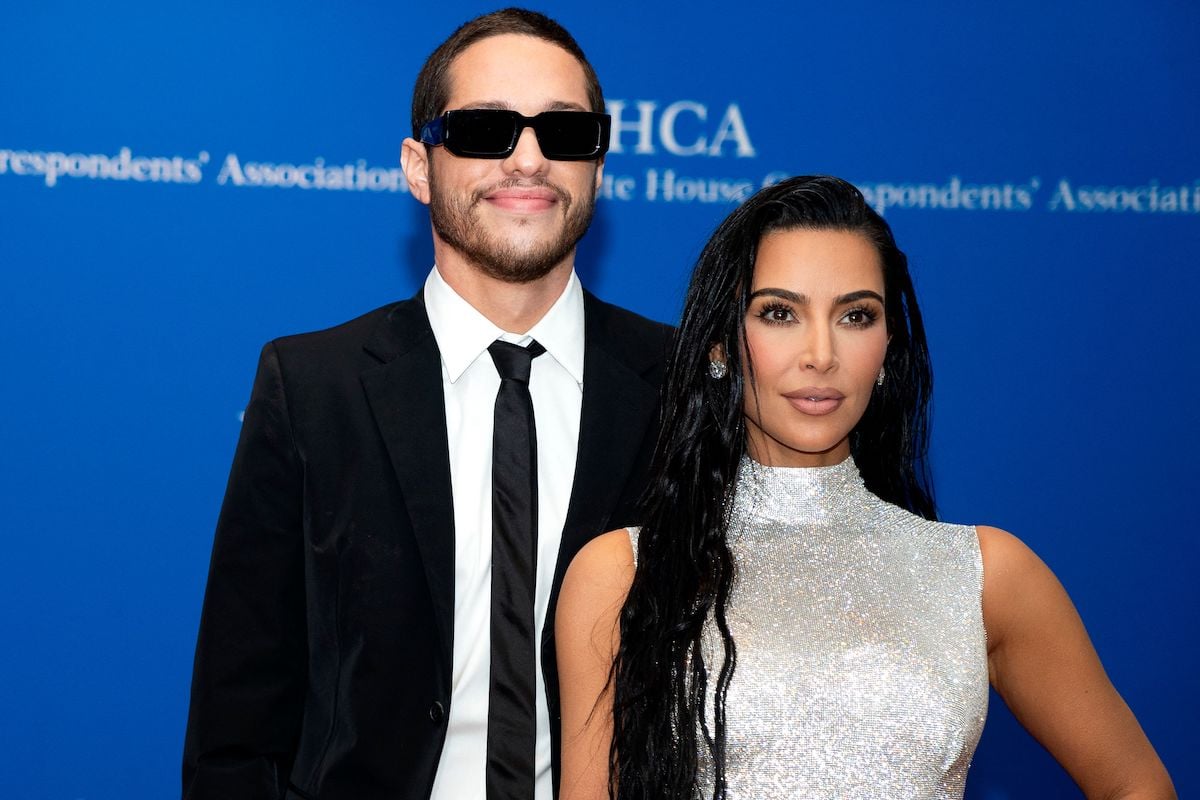 Fans are reacting to Pete Davidson's neck tattoo of Kim Kardashian's name
Pete Davidson and Kim Kardashian's fans have some strong opinions about the comedian's neck tattoo of his girlfriend's children's initials. They are sounding off on social media, and most of them don't seem to approve of the body art.
"Pete Davidson dates Kim Kardashian for 7 months then tattoos her kids names on his neck?" one fan tweeted. "Kanye was right.. Skete is a WEIRDO."
"Pete Davidson You Just As Crazy as Kim Kardashian," another fan tweeted. "Why go tattoo another man's children initials on your neck? You and Kim ain't married. And besides those children have a Father, and his name is Kanye West."
And another fan tweeted, "She's got him wrapped around her finger. But why tf would a grown man get his girlfriend's kids' initials tattooed on him. That's beyond weird."
The comedian previously got the reality star's name branded on his chest
This isn't the first tattoo Pete Davidson has gotten for Kim Kardashian. On March 16, the reality star revealed on The Ellen DeGeneres Show that her comedian boyfriend has several tattoos in her honor – and even got her name branded on his chest. 
"The 'Kim' one isn't a tattoo, it's actually a branding," Kardashian explained. "Because, let me explain it, because he wanted to do something that was really different." 
The SNL star has dated several famous women in the past, and Kardashian isn't the first girlfriend he has gotten a tattoo for. 
When he was engaged to Ariana Grande, Davidson got several tattoos in honor of the pop star. He inked Grande's Dangerous Woman era bunny mask behind his left ear. After they broke up, he covered it with a black heart. Perhaps the comedian wanted his body art for Kardashian to stand out by getting a brand instead of a tattoo. 
The reality star went on to share that besides getting branded, Davidson has also inked "a few" tattoos in her honor, and she has a favorite. "My favorite one, it says, 'My girl is a lawyer,'" Kardashian revealed. "And that one's really cute."