'Fixer Upper': Joanna Gaines Made Modern Farmhouse Style Popular, But What Exactly Does That Mean?
It's no exaggeration to say that Chip and Joanna Gaines changed the very nature of modern design thanks to their incredibly popular HGTV show, Fixer Upper. Each episode featured homeowners hoping to transform their dated spaces into dream homes and Joanna happily obliged with ambitious, familiar design plans time after time.
Unlike other interior designers hoping to show off their versatility, Joanna found a style and stuck with it throughout the entire run of the show. Before Chip and Jo swept into Waco, almost no one knew what "modern farmhouse" even meant. Now? Retailers from Hobby Lobby to Walmart are stocking their shelves with wire metal baskets and oversized signs that say "Groceries."
Joanna Gaines has a very particular sense of style. Here's how to spot it.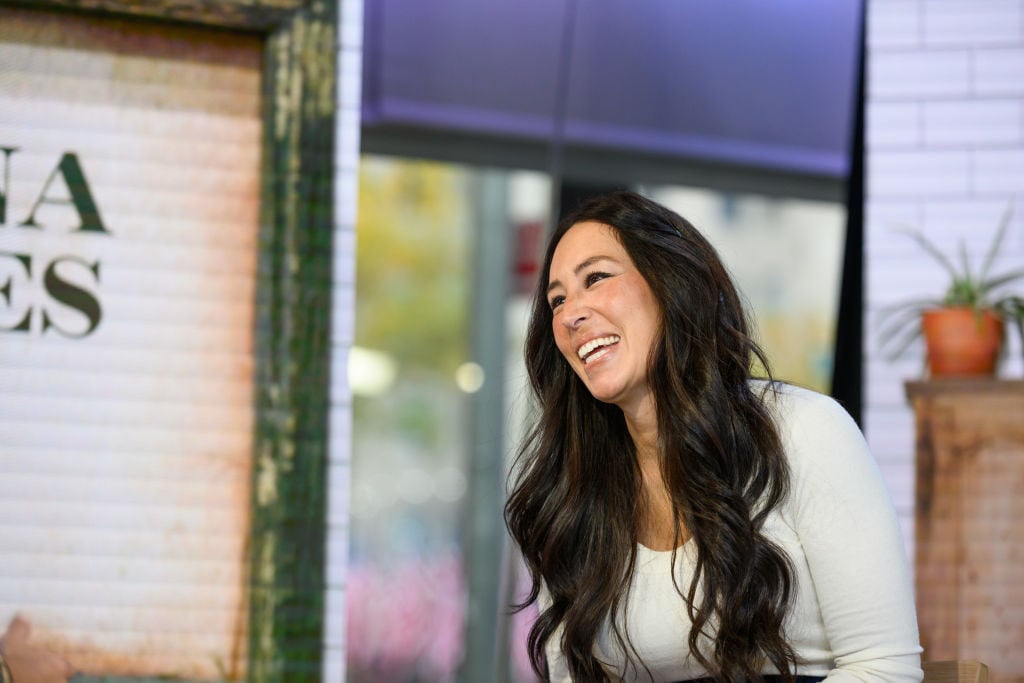 Modern farmhouse is a twist on several different design styles
It's true that Joanna Gaines is known for her fervent love of shiplap walls. But the modern farmhouse look is much more than that. At heart, it's a twist on a classic country look with some shabby chic, industrial, and modern aesthetics sprinkled in for good measure.
Joanna may not have made it up herself, but she did make the modern farmhouse trend massively popular. And even several years after the Fixer Upper finale, it's still going strong.
The hallmarks of the "Joanna Gaines look" include apron front sinks, industrial lighting, neutral furniture, and mid-century modern dressers. The dining room table is almost always made from reclaimed wood and surrounded by metal dining chairs like you'd find at an outdoor café. Everything is done in shades of black, white, and gray with subtle pops of color.
We all kind of want to be Joanna Gaines
There's something appealing about creating a farmhouse look that's homey and nostalgic without doing the actual work of, you know, farming. Buying a wire egg collecting basket from Marshall's is far more appealing than waking up at daybreak to collect eggs. And it works just as well as décor, right?
As interior designer Gideon Mendelson told The New York Times, the Gaineses "are cool, they're attractive. They're raising goats and they're gardening, their kids all seem well-adjusted."
And that's why the style is sticking around. "The look that they've marketed, it's good-looking, it's easy on the eye, it's not risky, it feels homey, it touches on a lot of things that we want," she said.
She's been accused of being impractical
Many Fixer Upper fans were surprised to learn that Joanna has no formal design training — she simply has an eye for spotting what works well together. She's also not stuck to any regimented design rules but rather follows her intuition when it comes to planning a design.
Critics point out some very impractical things about Joanna's designs, like white couches in a house full of kids, non-functioning fireplaces that take up space, and main floor living spaces with zero walls. But overall, most homeowners are delighted to see their houses get the Joanna treatment. She's an expert at making everything seem open, airy, and inviting.
Modern farmhouse is not going away
"The modern barn or farmhouse is here to stay," NYC based interior designer Sasha Bikoff told the Times.
Practical or not, it's clear that the trend Joanna is selling won't fall out of favor anytime soon. The New York Times reported that the Instagram hashtag Modern Farmhouse has 1.2 million associated posts. Accounts such as The Modest Farmhouse and Our Vintage Farmhouse have thousands of followers. Plus, retailers keep stocking selling out of those Fixer Upper style accessories, including collections designed by Gaines herself.
Though the look is constantly evolving, it's clear that people are still loving it. Don't expect to see the modern farmhouse trend disappear anytime soon.