Forget the MCU: Keanu Reeves Fans Want Their Favorite Actor to Join This Film Franchise Instead
If it's easy to call Keanu Reeves the ultimate Hollywood nomad who seems to magically find himself on the set of every major movie, he might be able to add even more to his filmography eventually. Rumors keep abounding he'll appear in the MCU, namely The Eternals.
These unconfirmed stories are still just that, but it doesn't stop Reeves' fans from wanting him to act in virtually everything. Maybe he'll accomplish that with his new career renaissance and uncanny ability to balance big movies like the new Matrix sequel, plus John Wick 4.
Despite these being enough, fans now want Reeves to appear in another iconic film franchise over the MCU. Should this happen, it might have to be for Disney+ rather than in a theatrical movie.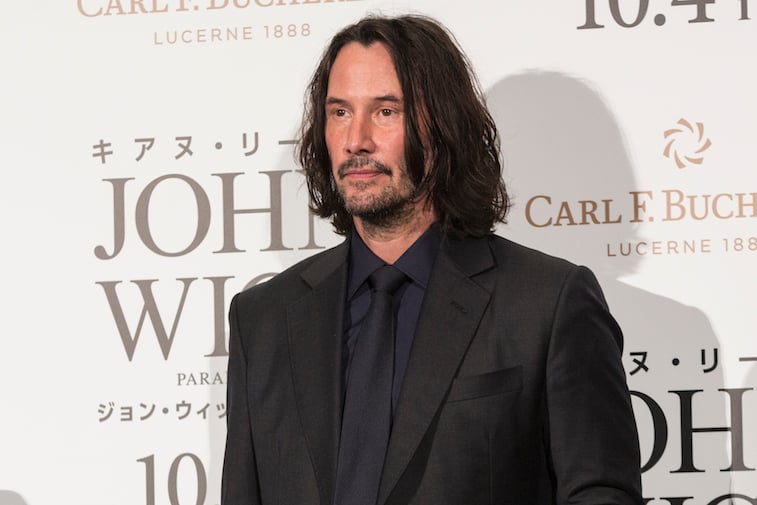 Fans created a Keanu Reeves 'Star Wars' video some think could come true
On YouTube, faux, fan-made trailers of specific actors appearing in big movie franchises are done all the time. Most of the time, they're pure fantasy, but there could always be a time when one of them becomes an eerie harbinger of the future. One recently made with Keanu Reeves in the Star Wars universe has people talking.
No, this wasn't Reeves in the Skywalker timeline. This was a video of him in the Old Republic era of the story. The video game series of these tales have become the talk of Star Wars lore, not including rumors the next films being made will take place in that era.
Yet, there isn't anything definite Old Republic movies will be made. Even though David Benioff and D.B Weiss were going to write and direct films in this niche, there's no telling what Kathleen Kennedy will approve now at Lucasfilm.
Even though the digital magic in the above fan video with Reeves is amazing, there probably won't be any reality to it any time soon. However, there seems to be some logic from sources like Screen Rant that telling the stories of the Old Republic will eventually be inevitable.
Chances are good Keanu Reeves could be in anything
Nobody predicted Reeves would have the kind of renaissance to his career he's enjoying now. At this point, he could act in virtually any franchise he wanted. The only thing stopping him is obviously time and commitments to other movies.
Talk about him joining Star Wars has been going on for a number of years, mostly because he's acted in other movies that give Jedi vibes, like 47 Ronin. Footage of him from this movie was added into the above fan video to stunning effect, proving he does fit into that ancient Jedi world with aplomb.
Whether Lucasfilm will really want to focus on the Old Republic is another thing. Most immediate focus is on the nostalgic shows for Disney+ (The Mandalorian, plus the upcoming Obi-Wan series), so it's up in the air what will come next.
Many think it would be a waste to not focus on this time period since the video games have become more than a little popular. Should Lucasfilm do something with the character of Revan, one has to wonder if they realize a theatrical release would be too much of a gamble.
Would Reeves work for Disney+?
It's safe to say that Reeves would probably be open to any acting possibility, including streaming. Although he hasn't worked on TV in years and little on streaming, having him join Disney+ in an Old Republic series would probably blow the lid off the Star Wars fan community.
Any shot at this probably won't happen for a long time. Age is also a factor with Reeves since anything one has to wait for means he'll be closer to 60 by the time it's made.
Outside of being 54 now, at least he doesn't look his age and generally 20 years younger. The character Revan isn't age-specific, other than looking like he's about in his 30s during the video game stories.
Plus, the video game version of Revan does resemble Reeves a little, making it worth pondering whether the creators had the actor in mind all along.