'Game of Thrones': Pedro Pascal Booked Oberyn Martell With Help From This Famous Friend
Pedro Pascal's career skyrocketed after he played Oberyn Martell on Game of Thrones. The character, also known as The Red Viper, was one of the series' most memorable supporting characters, in part because of his undeniable charm, but mostly because of his gruesome death at the hands of The Mountain in Season 4.
As it turns out, the star of The Mandalorian booked the coveted role on the HBO hit through the help of a famous friend: none other than Sarah Paulson.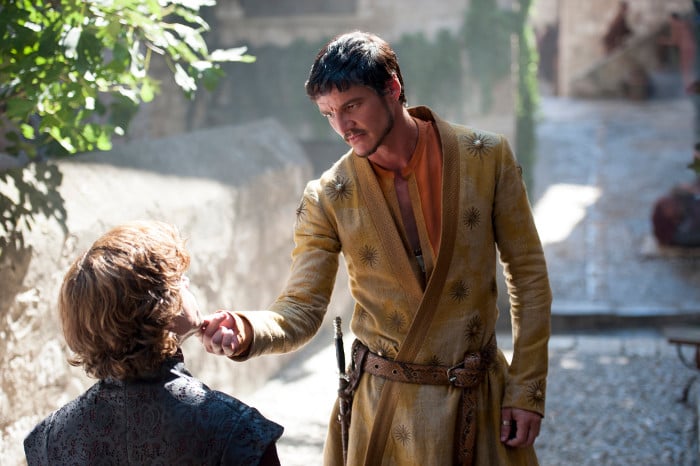 Sarah Paulson helped Pedro Pascal audition for 'Game of Thrones'
According to Variety, the 45-year-old actor nabbed the role of the Prince of Dorne by convincing his pal Paulson to send his audition video to Amanda Peet, who's married to Game of Thrones co-creator David Benioff. (That's quite a strong case for not being afraid to network.)
In an interview with Variety, Benioff revealed that not only had he received the audition in an unorthodox way, but it was also filmed on an iPhone. But Pascal's performance was so good, the poor camera quality didn't matter.
"First of all, it was an iPhone selfie audition, which was unusual," he said. "And this wasn't one of the new-fangled iPhones with the fancy cameras. It looked like shit; it was shot vertical; the whole thing was very amateurish. Except for the performance, which was intense and believable and just right."
RELATED: 'The Mandalorian': Did Pedro Pascal Really Quit the 'Star Wars' Series?
Pedro Pascal filmed his 'Game of Thrones' audition on a low-quality iPhone
The showrunner further revealed that casting Oberyn wasn't an easy feat.
"That was such a tricky role to cast," Benioff admitted. "Oberyn entered the story mid-stream but required the swagger of a character who had been sparring with the other players off-screen for years. We were looking for an actor with charisma, sexual energy, physical menace, and depth. He had to be seductive to both men and women; he had to be someone the audience could believe as a killer. Oberyn has a core of white-hot rage that motivates him, and we wanted someone who could convey that anger but also be funny, when called upon, and sensitive, when called upon."
The rage Benioff referred to was the vendetta Oberyn held against The Mountain, who raped and killed his sister and murdered her children. This plot wasn't seen on the show, rather it was the tale that preceded Gregor Clegane's terrifying reputation.
Oberyn Martell's death on 'Game of Thrones' was one of its most shocking
The two men dueled to the death in Season 4, Episode 8, "The Mountain and the Viper," and Oberyn nearly won. But after he knocked Gregor to the ground, the Viper turned his eyes to the crowd for one fleeting moment, and that's all the time Gregor needed to incapacitate the prince and kill him. It was one of the series' most shocking deaths, and it was one the Game of Thrones creators wouldn't change for the world.
Benioff said, "I mean, we love Pedro. And we loved that character. But his death at the hands of the Mountain was one of our favorite brutal killings from [George R.R. Martin's] books (which feature a few thousand brutal killings, so that's saying something). Part of the reason people remember Oberyn is because he died so horribly. And if we hadn't killed him, poor Pedro never could have done Narcos. So, it worked out. Not for Oberyn. But for the rest of us."
And to think, all of that started with a selfie video.