'Game of Thrones' Star Emilia Clarke's Important Message to Her Younger Self
Actress Emilia Clarke, when asked what she would tell her younger self, had a wealth of wise and telling advice.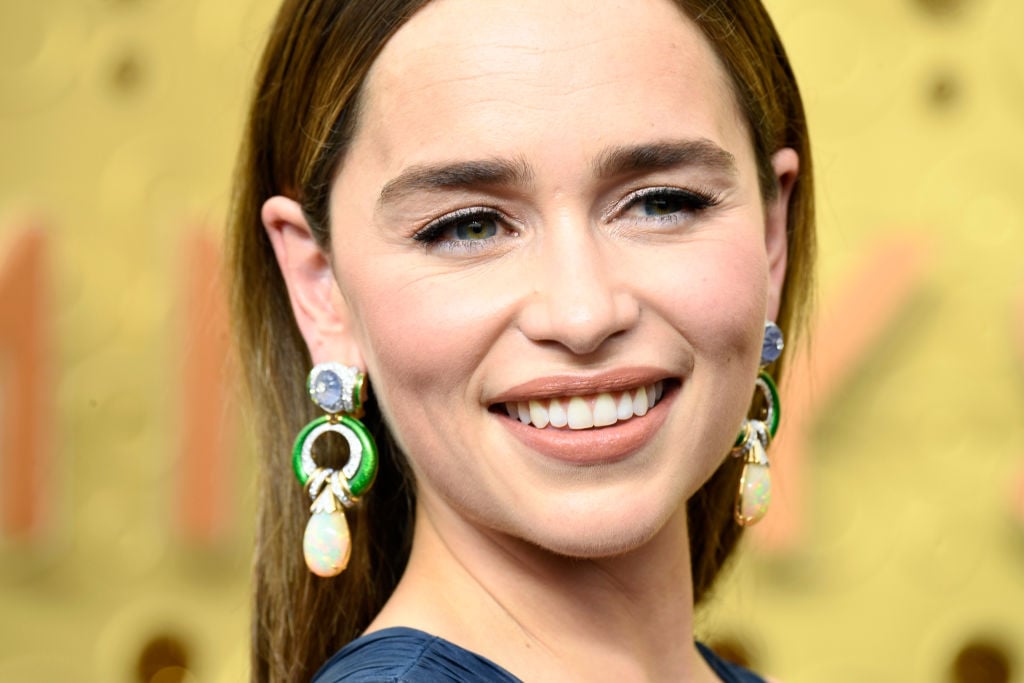 RELATED: 'Game of Thrones' Star Emilia Clarke Refuses to Take Selfies With Fans After This Frightening Incident
She's been through a great deal – both good and not so good – but it's clear the 33-year-old star wants to learn from it all.
Emilia Clarke's message to nurses everywhere
For Clarke, who has been through her share of medical struggles in her life, thanking nurses during the coronavirus (COVID-19) pandemic was her pleasure.
The actress, in a voice-over for a video provided for International Nurses Day on May 12, 2020, read "These Are the Hands," by Michael Rosen, former children's laureate in England. This year, of course, the observation of the day was made even more significant for the sacrificial and heroic work done by nurses everywhere.
Clarke, an ambassador for the Royal College of Nursing (RCN), a trade union for those in the nursing profession in the United Kingdom, read in part, "And these are the hands/That stop the leaks/Empty the pan/Wipe the pipes/Carry the can/Clamp the veins/Make the cast/Log the dose/And touch us last."
At the end of her reading, the Last Christmas star stated, "As a proud RCN ambassador, thank you to all nursing staff. Happy International Nurses Day."
'Just when all my childhood dreams seemed to have come true'
Clarke, in writing for The New Yorker in 2019, described her devastating experience that began in 2011, dealing with not one, but two brain aneurysms in her early days of filming the HBO hit. She began by saying, "Just when all my childhood dreams seemed to have come true, I nearly lost my mind and then my life."
RELATED: Emilia Clarke Was Annoyed by Daenerys Targaryen's Death in the 'Game of Thrones' Finale
She described in her column the moment she knew something was wrong, while she was working out with her trainer at the gym.
". . . my trainer had me get into the plank position, and I immediately felt as though an elastic band were squeezing my brain. I tried to ignore the pain and push through it, but I just couldn't. I told my trainer I had to take a break. Somehow, almost crawling, I made it to the locker room. I reached the toilet, sank to my knees, and proceeded to be violently, voluminously ill. Meanwhile, the pain—shooting, stabbing, constricting pain—was getting worse. At some level, I knew what was happening: my brain was damaged."
The English actress' health ordeal was no easy feat but, as she wrote, "I have healed beyond my most unreasonable hopes. I am now at a hundred per cent."
Looking back, here's what Emilia Clarke would tell her younger self
Clarke, in 2016, was asked by Teen Vogue to enlighten their readers with her own life's journey and her lessons learned thus far. She was asked to speak to the eighteen-year-old version of herself about what to expect and what not to sweat.
"This particular journey that you're on is unlike any one of your friends that you're with right now," she said. "What they're doing is going to bring them joy and happiness and what you're doing is also going to bring you, maybe a little more struggle, but joy and happiness as well."
Quoting the Baz Luhrmann song, "Everybody's Free (To Wear Sunscreen)," the actress continued, "You are not as fat as you think you are. There are some women who look some way, and there are other women who look another way . . . and the way that the other women look, people love. 'Cause they look like women."
RELATED: Emilia Clarke Revealed She Started Crying When She Met This One Celebrity