'Game of Thrones': This Iconic Scene From the Show Will Be Different in the Books, George R.R. Martin Says
Game of Thrones didn't lack for heartbreaking deaths, but the season 6 demise of Hodor hit many fans particularly hard. In the episode "The Door," viewers finally learned the tragic truth about Hodor's past and why he can only speak a single word — "hodor." But that memorable scene will look a little bit different when author George R.R. Martin puts it on the page in an upcoming book. 
Martin spoke with Entertainment Weekly reporter James Hibberd for Fire Cannot Kill a Dragon, the new oral history of Game of Thrones. He revealed how Hodor's big moment will be different in one of the upcoming books in his epic fantasy saga. 
George R.R. Martin says this is how he envisioned Hodor's death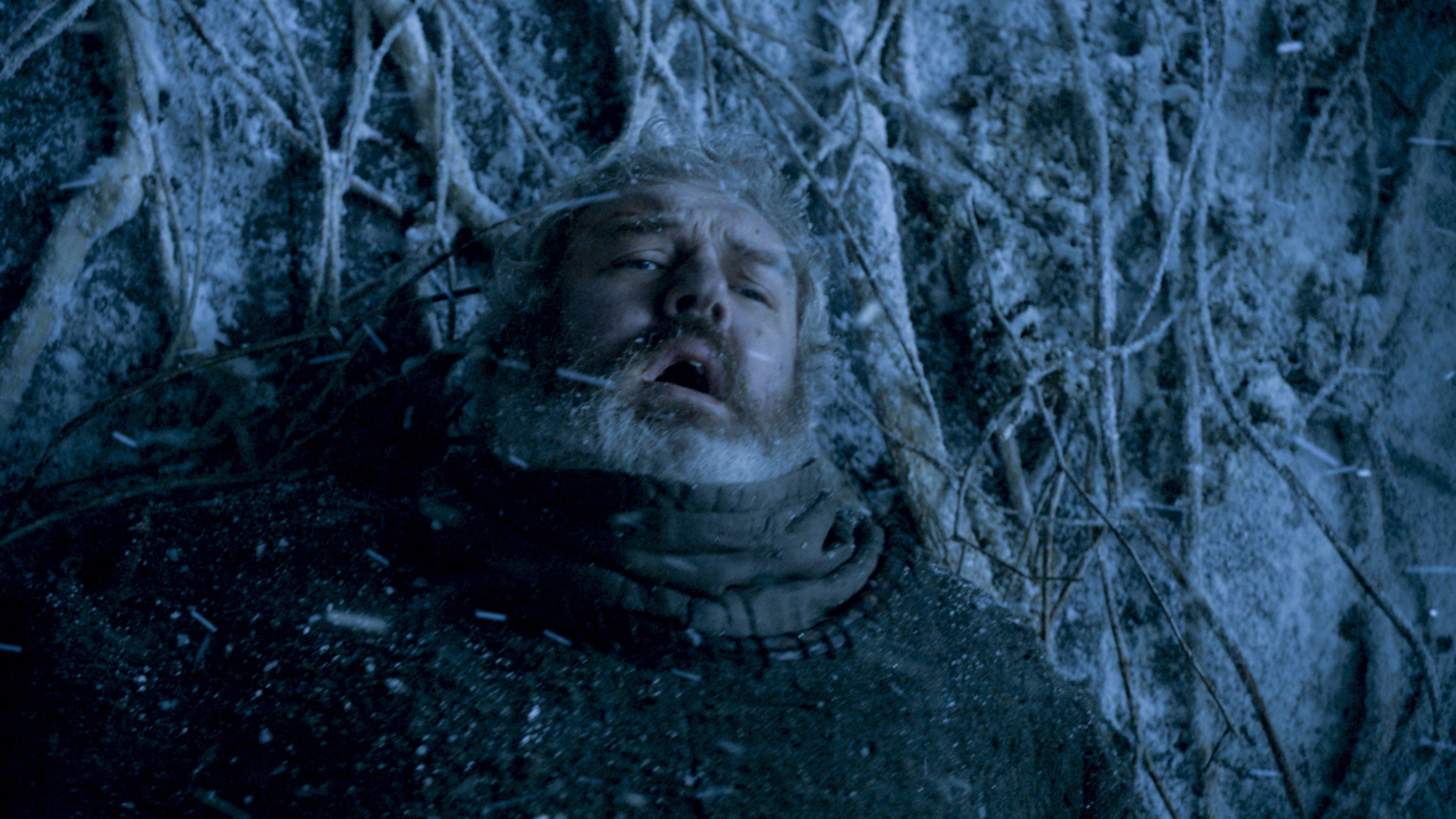 In the HBO series, Hodor (Kristian Nairn) sacrifices himself to save Bran (Isaac Hempstead Wright) and Meera (Ellie Kendrick) as they escape from the White Walkers. As Bran and Meera flee, the latter tells him to "hold the door" against the Walkers. At the same time, Bran has traveled back in time, where he encounters a young Hodor (aka Wylis). Young Hodor and older Hodor are somehow connected through time, which causes young Hodor to have a seizure while repeating the phrase, "hold the door." Soon, that phrase is slurred together into a single word, "hodor," giving him his new name. 
Martin weighed in on Hodor's tragic death on the show. 
"I thought they executed it very well, but there are going to be differences in the book," Martin told Hibberd (via Entertainment Weekly). He went on to explain that in the upcoming novel, the moment when Hodor "holds the door" will be less literal than in the TV show.
"They did it very physical — 'hold the door' with Hodor's strength," the author explained. "In the book, Hodor has stolen one of the old swords from the crypt. Bran has been warging into Hodor and practicing with his body, because Bran had been trained in swordplay. So telling Hodor to 'hold the door' is more like 'hold this pass' — defend it when enemies are coming — and Hodor is fighting and killing them. A little different, but same idea."
Why the Hodor scene was changed for 'Game of Thrones' 
Martin has a clear idea in mind for how Hodor's death will to play out in his book. But the show's creator's had a good reason for taking another approach.  
"For our purpose, holding the door is visually better, especially because we have so much fighting," Game of Thrones co-producer Dave Hill told Hibberd. 
Martin said that in his books, he hopes to further explore the consequences of Bran warging into other humans, something that was challenging to do on TV.
"It's an obscenity to go into somebody's mind," Martin said (via ScreenRant). "So Bran may be responsible for Hodor's simplicity, due to going into his mind so powerfully that it rippled back through time. The explanation of Bran's powers, the whole question of time and causality — can we affect the past? … These are issues I want to explore in the book, but it's harder to explain in a show."
Fans will get to read Martin's take on Hodor's story in The Winds of Winter (or possibly A Dream of Spring), the next books in the saga. But they may have to wait a while. Though the author has promised he is working on the long-awaited sixth Game of Thrones book, a publication date for The Winds of Winter has not yet been set.