George Harrison and Jimi Hendrix Had the Same Views of Fame: 'They Get Fat and Satisfied'
George Harrison and Jimi Hendrix never officially met, but they had similar views on fame. They were two of the most famous musicians in the 1960s, George with The Beatles and Hendrix with The Jimi Hendrix Experience. However, neither of them could be bothered with fame. All they cared about was their music.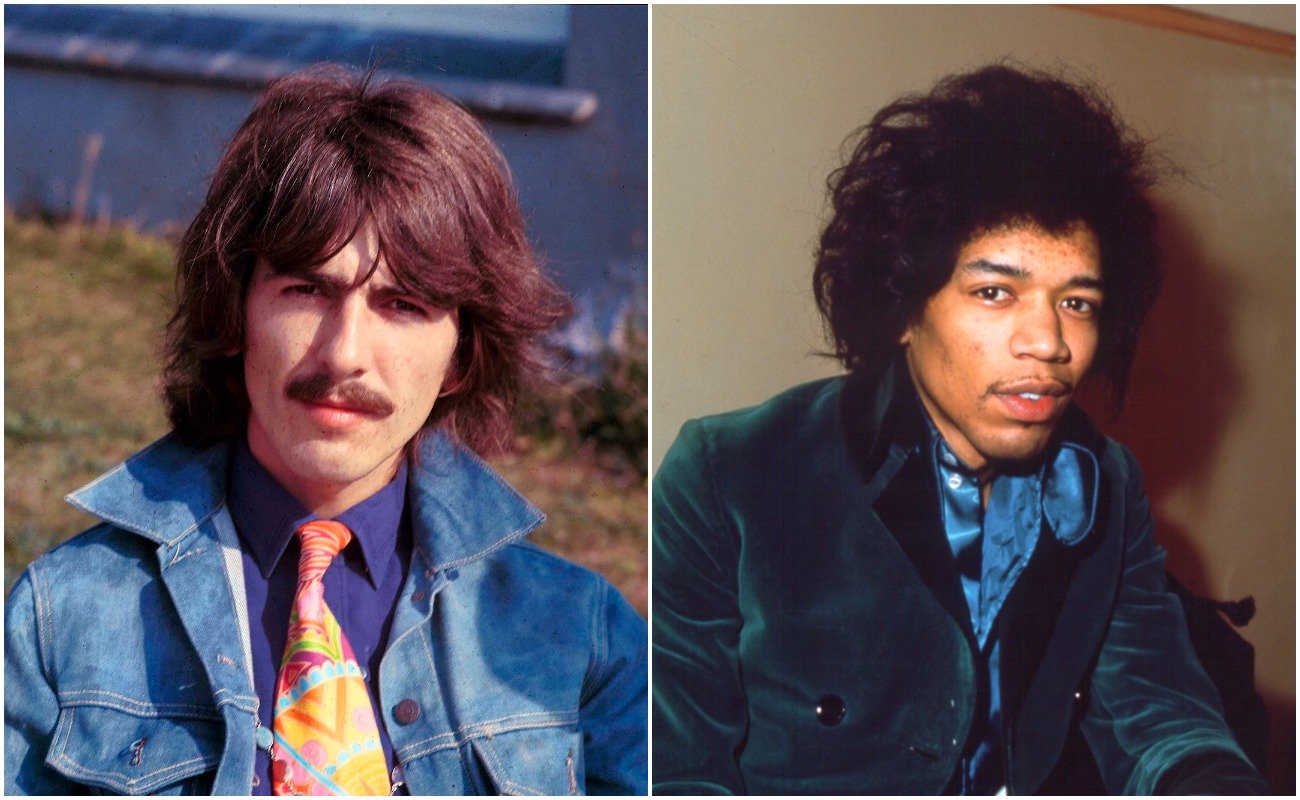 Jimi Hendrix said fame allowed musical skills to depreciate
During an interview on The Dick Cavett Show, Hendrix revealed what he thought of fame. Cavett asked him what kind of compliments he liked to hear. Hendrix said he didn't like compliments.
"I don't know, I don't really live on compliments," Hendrix said. "Matter of fact, it has a way of distracting me. A whole lot of other musicians and artists out there today, you know they hear these compliments, they say, 'Wow, I must have been really great.'
"So they get fat and satisfied, and they get lost, and they forget about the actual talent that they have, and they start living into another world."
Cavett said it must be a struggle succeeding in the music industry playing the blues. "Sometimes it gets to be really easy to sing the blues when you're supposed to be making all this much money," Hendrix said, "because money-it's getting to be out of hand now.
"Like musicians, especially young cats, they get a chance to make all this money, and they say, 'Wow, this is fantastic.' And like I said before, they lose themselves, and they forget about the music itself, they forget about their talents, they forget about the other half of them. So, therefore, you can sing a whole lot of blues. The more money you make, the more blues sometimes you can sing.
"But the idea is like to use all these hang-ups and all these different things as steps in life. Just like drinking coffee, well you don't drink it every day, or else you go into another scene with it. Like an escape." Cavett didn't understand him much.
George Harrison struggled being on tour with The Beatles
George would have agreed that fame often made musicians forget their talent. He frequently said that he enjoyed his time in The Beatles before they were famous because that was when they were truly a band and honing their skills as songwriters and musicians.
During a rare 1987 interview with Entertainment Tonight, George said, "When we became the famous Fabs it was really all over, sort of that aspect of just being a group playing and 'What are we going to do?' Where we didn't have to care, where we could drink and just be up there being a rock band in our leather suits."
Then, they became popular and embarked on a series of worldwide tours that were exhausting, boring, and often terrifying. George explained that being on the road, playing the same songs repeatedly, didn't help them advance musically either.
"We became popular, and all this stuff happened where we sang the same songs a lot, we still had a laugh, it was still good fun though," George explained. "But you know the-that side of it, of playing like as a musician lost the edge there because we just played the same tunes that we play recorded, go around the world singing the same 10 songs and every year, we'd lose one and add a new one, and it got a bit boring being fab."
When The Beatles stopped touring, they could focus on their music again. Still, George was never delighted being famous. He hated fans dissecting him under a microscope. For the rest of his life, George enjoyed living in peace and releasing music when he wanted, not when fans or record companies demanded it.
George Harrison and Jimi Hendrix might have been friends
There's no record of George and Hendrix actually meeting. However, there is proof that George and Paul McCartney witnessed Hendrix perform. According to Beatles Bible, George and Paul saw The Jimi Hendrix Experience perform at London's Saville Theatre on Jun. 4, 1967.
Hendrix opened his set with a version of The Beatles' "Sgt Pepper's Lonely Hearts Club Band." The Beatles had released the album of the same name just three days before. Paul called it "the ultimate compliment."
Although the two musicians never met, they were united in their sentiments. So, it would be safe to assume that they would have been great friends or at least good acquaintances who shared similar views.