How George Harrison Reacted When He Heard About John Lennon's Death
When George Harrison heard about John Lennon's death, he reacted by going back to sleep.
The world didn't have The Beatles for all that long. The slew of hit songs and album releases underscored the fact the band existed briefly, from its 1960 formation to the release of Let it Be in 1970. All four members embarked on solo careers after the split. John Lennon's December 1980 death took away one of the main creative forces behind the legendary band. When George Harrison heard about Lennon's death, he reacted by going back to sleep, but not because of any ill-will toward his former bandmate.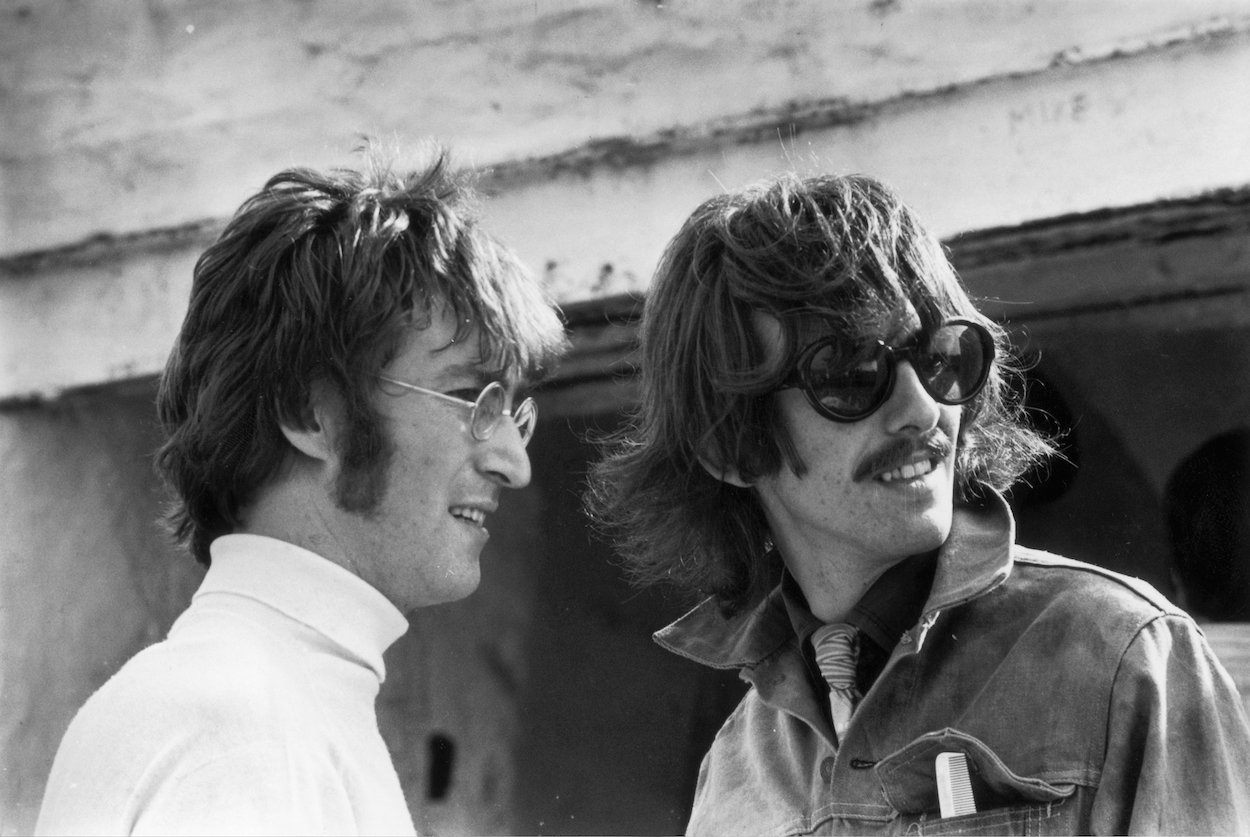 George Harrison reacted by going back to bed when he heard about John Lennon's death
Harrison and former Beatles bandmate Ringo Starr appeared on a 1988 episode of the British talk show Aspel & Company, per IMDb. Host Michael Aspel asked both about what they did when they heard about Lennon's death. 
Ringo went first, then Harrison revealed how he reacted when he heard about Lennon being fatally shot (via YouTube).
"I was in bed at the time, in England. The call came through sometime in the morning, four or five in the morning. I didn't take the call. Olivia took the call, and she said, 'John's been shot.' And I thought, 'Oh, how bad is it?' I just thought maybe a flesh wound or something like that, but she said, 'No, that's it, he's dead.'
"I didn't — I just went back to sleep, actually. Maybe it was just a way of getting away from it. I just went to sleep and waited to see what it said the next morning, and he was still dead the next morning, unfortunately."

George Harrison on how he reacted to John Lennon's death
Harrison's reaction to Lennon's death may appear callous or flippant, but the so-called quiet Beatle went on to explain his actions.
Harrison believed death was just a phase of a soul's existence and that Lennon felt the same way
Harrison went back to bed when he heard about Lennon's death. It might seem like a less than ideal way to react to a friend's death, but Harrison explained further.
Harrison told Aspel he believes what the Bhagavad Gita says: "In the Bhagavad Gita it says there was never a time where you didn't exist, and there will never be a time where you cease to exist. The only thing that changes is our bodily condition. The soul comes in the body, and we go from birth to death." 
Harrison likened death to taking off a suit; the appearance changes, but not the person underneath. He said Lennon felt the same way.
"[W]e had a lot of experiences. I know John — he knew who he was, that he was a soul that happened to be in this body for this period of time," Harrison said. "[I] think it's unfortunate the way he went out, but it doesn't really matter. He's OK, and life flows on within you and without you."
How Harrison reacted to Lennon's death was similar to how he behaved when he was dying.
Harrison's attitude toward death remained the same when he was dying
Even as he fought lung cancer in 2001, Harrison's attitude about death and the soul didn't change. His final interactions with Starr, Paul McCartney, and his wife Olivia proved it.
On his way to Boston to see his daughter, who was fighting a brain tumor, Starr visited an ill and bed-ridden Harrison. He was fighting for his life, but Harrison still retained his spirit. When Starr told the guitarist he had to depart for Boston, Harrison's final words to Starr were, "Do you want me to come with ya?"
McCartney recruited Harrison to be in The Beatles. He had a chance to see Harrison in New York shortly before he died. McCartney spent his last moments with Harrison joking and reminiscing about their life and friendship.
Even as Harrison inched closer to taking off his suit and sending his soul onto its next phase, he thought more of those around him than himself. His heartbreaking last words to his wife, Olivia? "Olivia, you'll be fine, you'll be fine."  
Harrisons' reacting to Lennon's death by sleeping was because of his feelings about dying, not because of ill-will toward his former bandmate.
For more on the entertainment world and exclusive interviews, subscribe to Showbiz Cheat Sheet's YouTube channel.