George Harrison Said Julian Lennon Was More Like His Mother Than His Father, John Lennon
George Harrison kept an eye on John Lennon's son, Julian Lennon, especially once the younger musician entered his music career in the 1980s. As the son of his late best friend, how could he not? On his debut album, one of the things that amazed listeners about Julian was how much he sounded like John.
However, according to George, the similarities between the father and son ended with their looks and sound.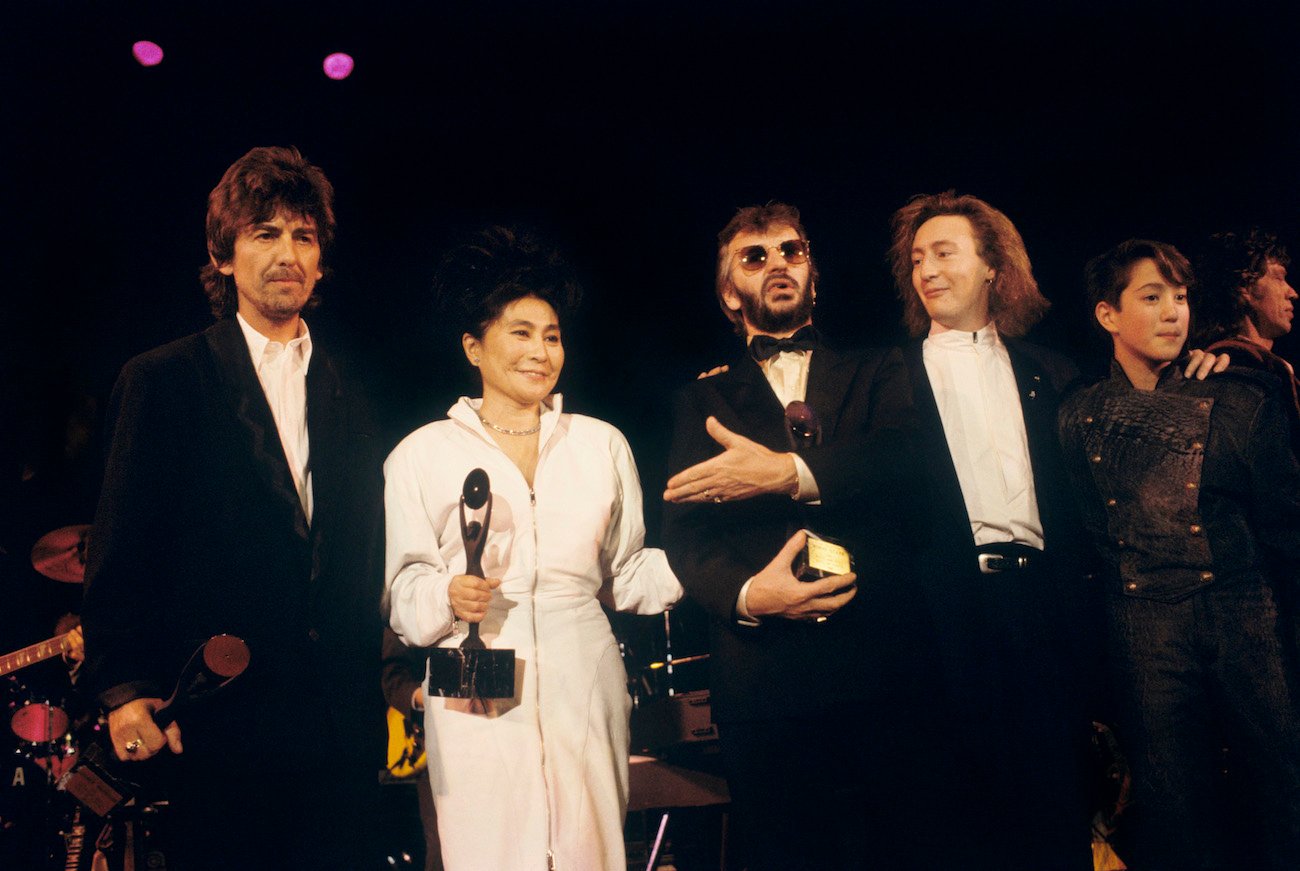 George Harrison said Julian Lennon was more like his mother than his famous father, John Lennon
During an interview on Good Morning Australia, George spoke about Julian. He said the younger singer might have long hair and glasses like John, but the father and son were nothing alike. Julian took after his mother, John's first wife, Cynthia Lennon.
"Julian happens to be very talented, he's really good," George said. "He's got a lot of good tunes; he's only just started to try and do lyrics, but apart from him physically looking like John a bit, with his glasses and long hair, he really isn't anything like John. He's more like his mother."
George continued, "He's much gentler, softer person. John was like [raises fist] very tough. I mean, he had that ability to be gentle and soft and was lovely, but, you know, he was acid too. I mean, he gave that hard edge to The Beatles."
George explained that John's harder attitude came from being an "orphan." John's father left home and his mother left him to live with his Aunt Mimi when he was a boy. "But John was a real-much harder, tougher person," George explained. "Julian is gentle. So I don't think there's any comparison."
George thought Julian had a promising career
The spiritual Beatle didn't think there was any comparison between father and son regarding their personalities. However, George agreed that John and Julian were alike in terms of being good songwriters.
During a 1984 press conference promoting Derek Taylor's Fifty Years Adrift, George also touched on Julian's promising new career. He told the crowd he tried his hardest to help Julian navigate the industry.
"I haven't seen him over the last two years," George explained, "but two years ago, I spent a lot of time with him. I try to give him a bit of help and direction. He went through a couple of years of, which you probably read in the papers, going to clubs and being sucked into situations that he could've, should've, avoided.
"I think now, having done that, he's a much smarter, wiser person. I've seen him on TV doing interviews and singing his songs. I think he's got a great future as a musician and as a songwriter. I think as a human, he's real charming. He's got the smartness of John, but he's got a softer edge. He's a sweetheart."
The spiritual Beatle thought it was unfortunate that Julian let reporters interview him
On Good Morning Australia, George also said that while it was nice seeing Julian flourish in his career, he wished the younger singer didn't do interviews. All reporters did was compare him to John.
"It's unfortunate that Julian is allowing himself to be interviewed or put in the newspapers and all that," he said. George was only thinking about Julian as his pseudo-nephew. Of course, younger singers had to get their name out there in their early careers, but when you're the son of a famous rock star, especially a Beatle, it could be tough to make a name for yourself.
George wanted reporters to see Julian for his own talents, not his father's.