George Harrison Said It Was Unfortunate That Julian Lennon Allowed Journalists to Interview Him
George Harrison looked after Julian Lennon following John Lennon's death in 1980. Julian had no one to show him the ropes when he started his music career in the early 1980s, and being John's son made things even more difficult. So, George tried his best to give him a bit of direction.
Although, George wished that Julian had never allowed journalists to interview him and put him in the newspapers. Once he opened that door, there was no stopping it. Ultimately, it wasn't conducive to his career.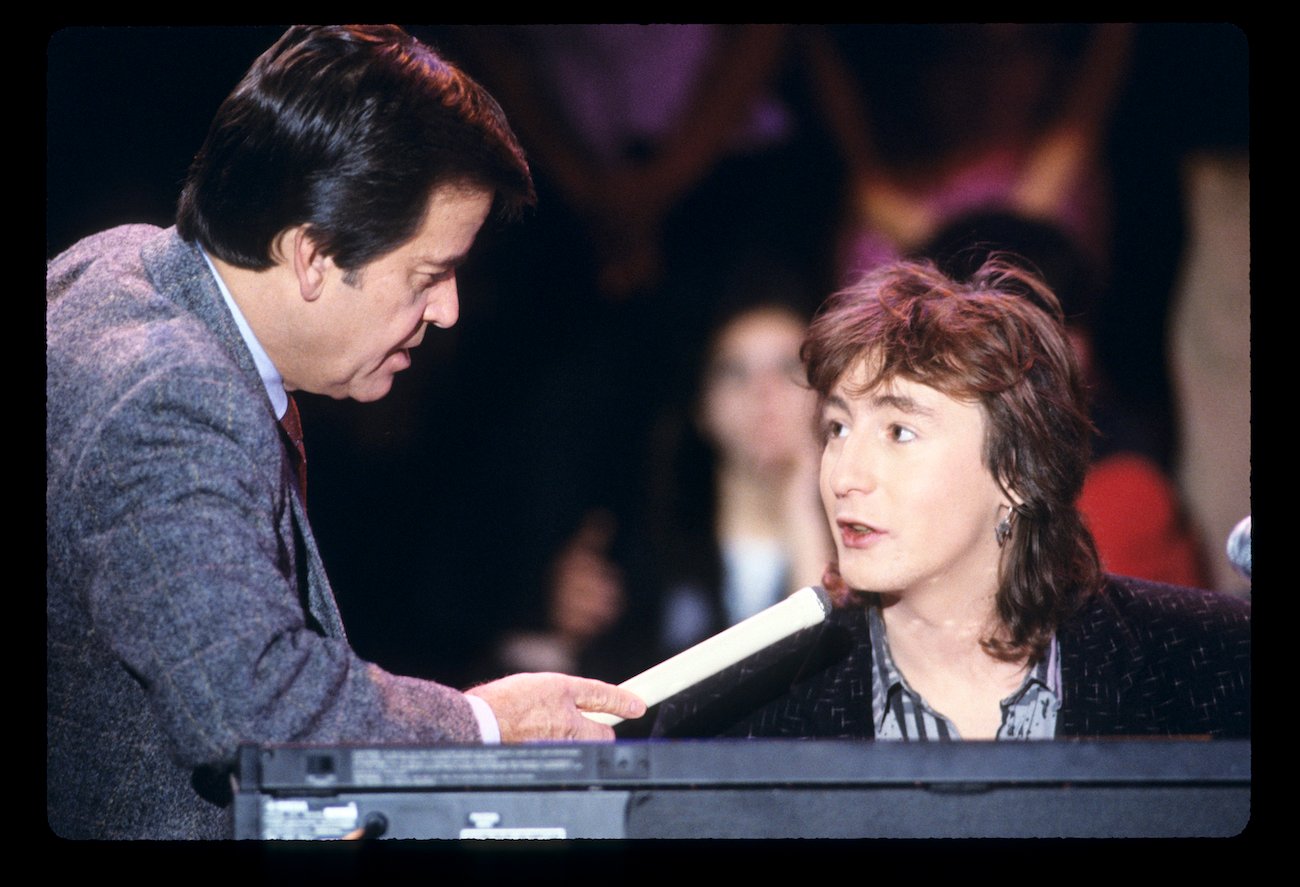 George Harrison thought Julian Lennon had a promising career
In a 1982 interview, The Beatle's lead guitarist talked about what he thought of Julian's music career so far.
"He's really talented, he's really good," George said. "He's got a lot of good tunes, he's only just started to try and do lyrics."
During a 1984 press conference promoting Derek Taylor's Fifty Years Adrift, George also touched on Julian's promising new career. He told the crowd he tried his hardest to help Julian navigate the industry.
"I haven't seen him over the last two years," George explained, "but two years ago, I spent a lot of time with him. I try to give him a bit of help and direction. He went through a couple of years of, which you probably read in the papers, going to clubs and being sucked into situations that he could've, should've, avoided.
"I think now, having done that, he's a much smarter, wiser person. I've seen him on TV doing interviews and singing his songs. I think he's got a great future as a musician and as a songwriter. I think as a human, he's real charming. He's got the smartness of John, but he's got a softer edge. He's a sweetheart."
Although, those interviews proved harmful to Julian's career.
George thought it was unfortunate that Julian let reporters interview him
In the 1982 interview, George continued to say that Julian is nothing like his father. He thought it was unfortunate that Julian talked to the press. All they did was compare him to John.
"Apart from him physically looking like John, a bit, with his glasses and long hair, he really isn't anything like John," George explained. "Much gentler, much softer person. John was like [Holds up a fist] very tough. I mean, he had that ability to be gentle and soft and was lovely, but he was, you know, he gave that hard edge to The Beatles.
"Much harder, tougher person. Julian is gentle, so I don't think there's any comparison, and it's unfortunate that Julian is allowing himself to be interviewed or put in the newspapers and all that."
Julian agreed to interviews to get his career started, give his side of the story, and talk about himself. However, journalists and newspapers didn't want that. They wanted to talk about John and compare father and son.
Julian said it was hard entering the music industry with the Lennon name
Julian doesn't know if he was born to make music like his famous father. He told Larry King that he fell in love with acting in school, not music. But he picked up a guitar, and "the rest is history," he said.
However, he shouldn't have talked to the press so much. Constantly being compared to John took a toll on Julian's career. His debut album, Valotte, came in 1984. Four other albums followed, but Julian dropped his music career after Photograph Smile in 1998.
At the time of his interview on Larry King Live, it had been 15 years since Julian had entered the recording studio. King asked him about the long hiatus. Julian said it was mostly because he'd never had a great relationship with the music industry.
"I've never had the easiest relationship, I think, with the music industry, the business, or the media, on many many levels," Julian said. "It's just been a tough road. I've been bashed a lot, you know?"
King asked if that was because of his name. Julian replied, "Yeah, it's been, I think, a lot harder than easier than people might think. When people don't take you personally seriously as an artist but just only want to know you because of your father. They want to know you because of your father, and that's it, and that's a tough one to ride."
People only saw Julian as John's son for most of his life. How could he make a name for himself? So, Julian left the business altogether. "I got out of the business entirely," Julian said, "because of the relationship I have with the business. I feel let down a lot, and I feel that I do work my heinie off as much as the next man, if not more."
Either way, Julian has had a successful career outside of his father's shadow. However, it is sweet knowing George cared a lot about Julian. The Beatles family protects each other.