What George Harrison Thought of John Lennon's Comments About His Memoir
John Lennon was upset that George Harrison barely mentioned him in his 1980 memoir, 'I Me Mine.' However, George set the record straight.
George Harrison knew his 1980 memoir, I Me Mine, upset John Lennon. Months before he died, John admitted the book hurt him because George hardly mentioned him. He claimed he'd influenced George and helped him write songs.
However, George said John overestimated how much he influenced him.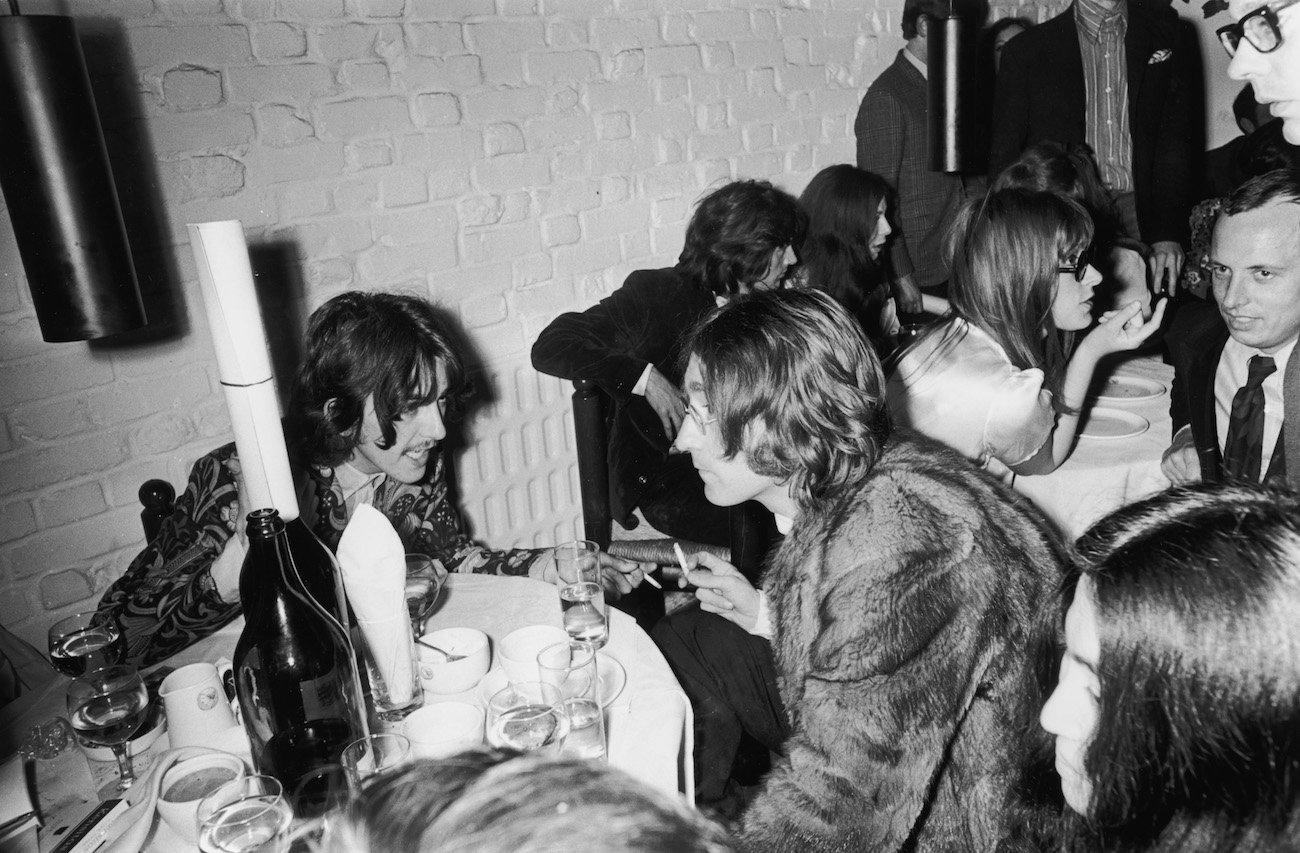 George Harrison hardly mentioned John Lennon in his memoir
In 1980, John told Playboy that George's memoir hurt him. He was upset that George barely mentioned him, even though he'd acted like George's big brother.
John said (per Beatles Interviews), "I was hurt by George's book, 'I, Me, Mine.' He put a book out privately on his life that, by glaring omission, says that my influence on his life is absolutely zilch and nil.
"In his book, which is purportedly this clarity of vision of his influence on each song he wrote, he remembers every two-bit sax player or guitarist he met in subsequent years. I'm not in the book." Playboy asked why.
"Because George's relationship with me was one of young follower and older guy. He's three or four years younger than me. It's a love/hate relationship and I think George still bears resentment toward me for being a daddy who left home. He would not agree with this, but that's my feeling about it. I was just hurt."
John continued, "I was just left out, as if I didn't exist. I don't want to be that egomaniacal, but he was like a disciple of mine when we started." John explained that he thought George idolized him because he was older, had sexual relationships, drank, and did adult things. George followed him and his girlfriend (then wife) Cynthia around like a lost puppy, "hovering around like those kids at the gate of the Dakota now."
John also pointed out that he'd helped George on "Taxman." Although, he didn't want to help. "I thought, 'Oh, no, don't tell me I have to work on George's stuff.' It's enough doing my own and Paul's. But because I loved him and I didn't want to hurt him when he called me that afternoon and said, 'Will you help me with this song?' I just sort of bit my tongue and said OK."
George knew what John thought of I Me Mine. However, he had very different views about John's role in his life.
George said John's influence wasn't that big, so he didn't include him in his memoir
George knew what John thought of his memoir. However, he didn't have time to talk with him about it because John died shortly after talking to Playboy. Later, George revealed what he thought of John's comments during a 1987 interview.
George said that John didn't have as significant an impact on him as John claimed. While writing I Me Mine, George didn't want to get into John helping him on "Taxman." George didn't see the point since he'd helped John on plenty of songs and didn't expect recognition.
As for John's claims that George followed him around as a kid, George said John "misread him" as he and Paul always did.
"He was annoyed because I didn't say that he'd written one line of the song 'Taxman,'" George explained. "The point to that was I also didn't say how I wrote two lines to 'Come Together' or three lines to 'Eleanor Rigby.' I wasn't getting into any of that. I think in the balance, I would have had more things to be niggled with him about than he would have with me."
George laughed at John's claims that he'd idolized him as a young boy. "Well, that's what he thought," George giggled. "I liked him very much, he was a groove, he was a good lad, but at the same time, he misread me.
"He didn't realize who I was, and this was one of the main faults of John and Paul. They were so busy being John and Paul, they failed to realize who else was around at the time."
There are many different accounts of how the pair got on as friends and bandmates
George looked up to John when they first became friends, but he was by no means John's "disciple." He knew how to stand his ground against John whenever he needed to.
George thought he embarrassed John when he joined The Beatles. However, George showed John that a guitar should have six strings.
In Here Comes the Sun: The Spiritual and Musical Journey of George Harrison, Joshua M. Greene wrote George initially admired John "but he never let John's sarcasm get the better of him. George would simply talk back and 'give him a taste of his own.'"
It's also true that John gave George more of a chance with his songs than Paul or Martin did. He might have helped George write some lines here and there, but George helped John a lot too.
George and John seemed to find common ground on spiritualism. However, when George briefly quit the band in 1969, John immediately wanted to replace him with Eric Clapton. Then, during John and Paul's newly unearthed conversation on how to proceed, John said he couldn't blame George for quitting after how they treated him.
Later, John offered George an olive branch by inviting him to work on "How Do You Sleep?" in 1971. After that, the pair rarely stayed in touch.
Still, John popped up in George's conversations with friends. Tom Petty said George admired John a lot, "wanted John's acceptance pretty bad," and thought John would become a Traveling Wilbury in a heartbeat. George's friend Jim Keltner saw a similar thing.
Whatever kind of relationship the pair had, George claimed John wasn't as influential as John claimed. John never released a memoir, so it's unclear whether he would've mentioned George. Maybe he wouldn't have as payback for George not mentioning him in I Me Mine. However, it's doubtful George would have cared.