George Stephanopoulos – Once Again – Announces He Wouldn't Mind Hosting 'Jeopardy!'
With every season of Jeopardy!, the unspoken question of who will replace Alex Trebek hangs in the air.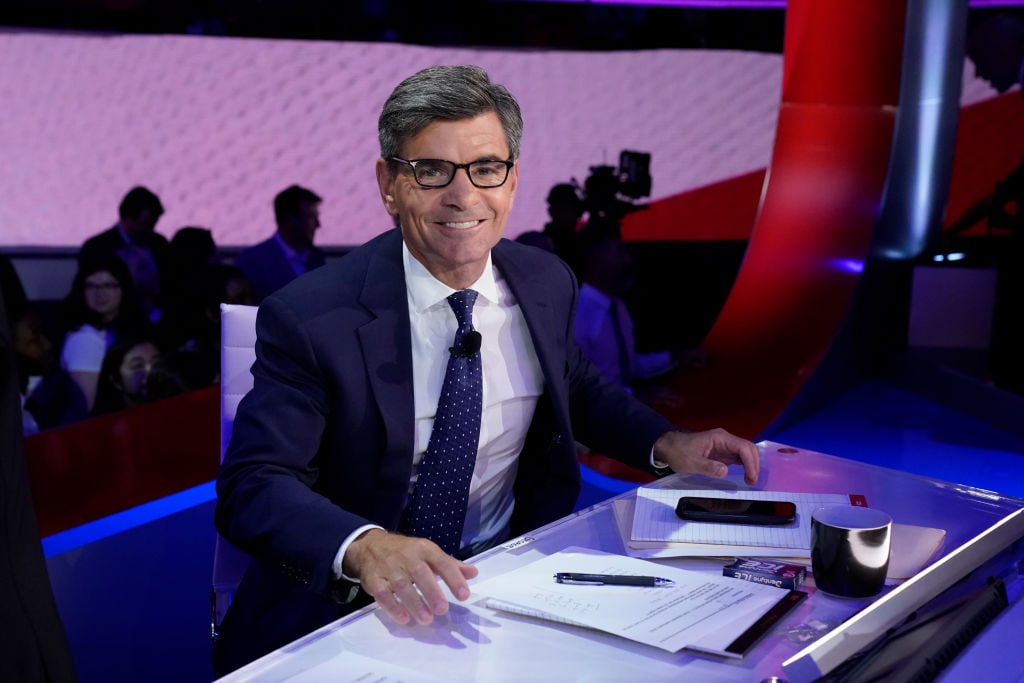 Recently, Good Morning America co-anchor George Stephanopoulos made known – again – that he is more than willing to take over the helm of the classic game show.
Alex insists he doesn't plan on going anywhere
As far as Alex Trebek is concerned, he has no plans to retire or leave the show he's commandeered now for almost forty years. His face and name are synonymous with the word "jeopardy" and his fan base is fiercely protective of him and his legacy.
With Trebek's diagnosis of stage 4 pancreatic cancer in the past year, it's understandable that fans don't want to believe he won't be continuing on the program. In the midst of his treatments, Trebek has clearly been buoyed by his work.
 "So here, on the last day of taping for our 35th anniversary season," he said last year, "I wanted once again to thank you for your continuing messages of encouragement and support, particularly the many cards I've received from young people. I'm touched beyond words."
Ken Jennings is a strong contender for 'Jeopardy!'
With 74 wins, the Greatest Of All Time Jeopardy! champ title, a gregarious personality, and great sense of humor, Ken Jennings is thought by many to be the most natural choice for next host of Jeopardy!
Discussing if he'd ever considered being the show host, the 45-year-old opened up.
"That's very flattering. But I can't imagine anybody but Alex. That's the only problem I have with that. It's a great job, but that would mean Alex isn't hosting the show and I'm not emotionally prepared for that. To me, he's irreplaceable."
The father of two recalled how Trebek opened up about the appreciation he's felt from fans' kindnesses.
"He was just overwhelmed with the outpouring of good will he'd received," he said. "He didn't realize how much he meant to people. He was telling me how lucky he felt that he got to be around to that. He said, 'Ken, most people don't get to see this because it happens after they're gone. But I get to see it.' He felt very lucky, which was inspiring to me."
If Ken Jennings doesn't want the job, George Stephanopoulos will take it
Howard Stern told Stephanopoulos, who appeared on Stern's radio show in May 2020, that the 59-year-old GMA host has "the intellectual capacity" to take over Jeopardy!.
"I think it would be a lot of fun," Stephanopoulos replied, "but I like what I'm doing too. I am not going to be Shermanesque about it. It's a great show. It's very flattering. Big shoes to fill."
In Jan. 2020, sources told Radar Online that the father of two had his sights set on the game show.
"For George, it's really a dream job," the source said. "The show is fun but brainy, and so beloved by its viewers. He thinks he could transition to it without a hitch."
The source added, "While he's loved his time on GMA, those mornings getting up before daylight have really worn on him. So if the caveat to hosting Jeopardy! means leaving GMA, he would agree to that."
The show insider, according to Radar Online, concluded that Stephanopoulos has a distinct edge over Ken Jennings in the running for the job.
"George has a bit of an advantage," the source said, "since he's done national TV for years, and producers wonder whether Ken's funny-but-dry wit would carry over being Jeopardy! host day after day. But the two of them are definitely front-runners."
Read more: Ken Jennings' 'Jeopardy!' Winning Streak Went So Long, He Admits He Started Making Up Contestant Interview Topics