Giada De Laurentiis' Most Used Kitchen Tool Isn't What You Think
When a classically trained chef like Food Network's Giada De Laurentiis announces that she prefers one kitchen tool above all others, it's important to pay attention.
The Giada At Home star's favorite item may surprise some of her fans – then again, maybe not.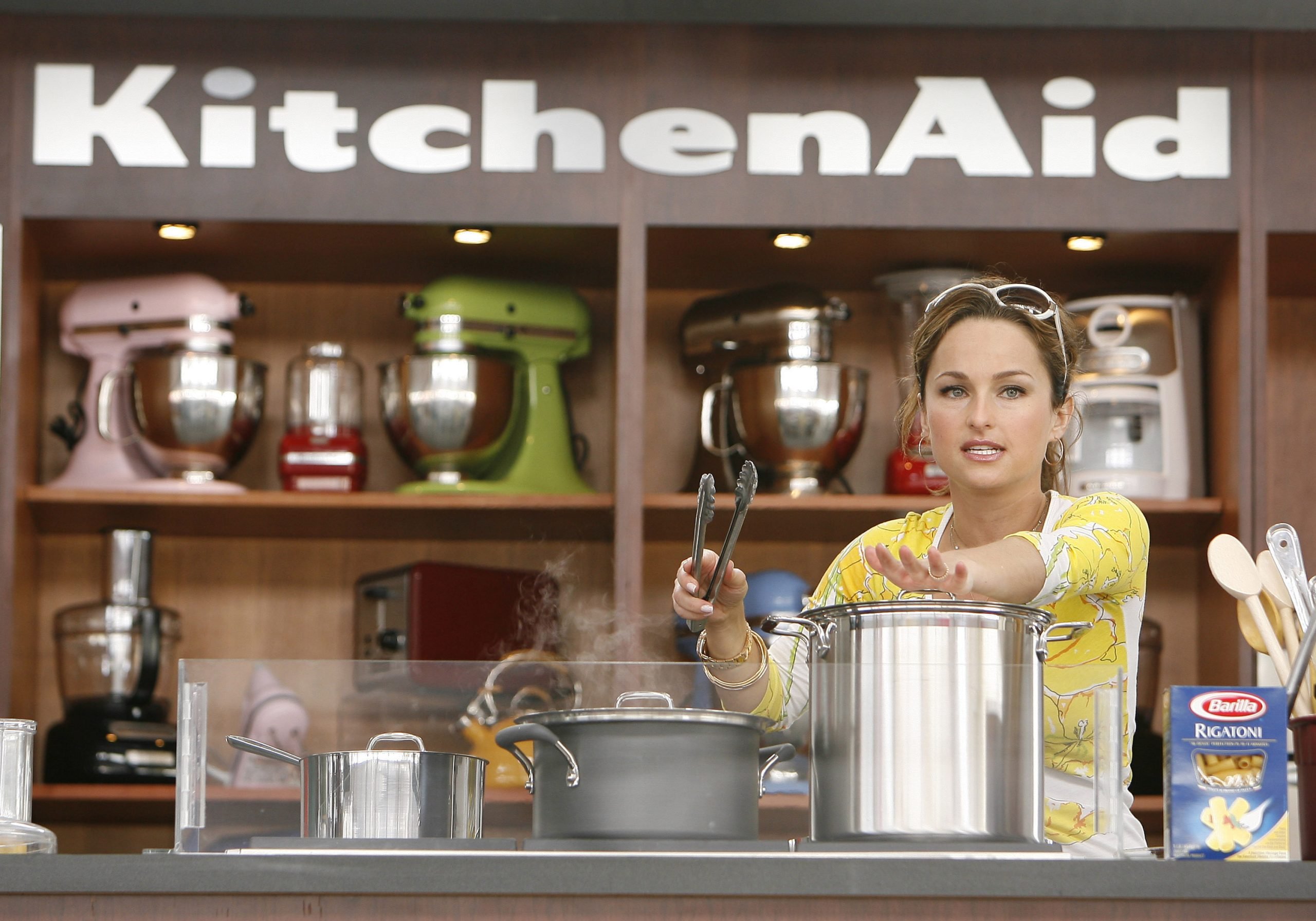 De Laurentiis is a trained chef
Unlike many of the cooks on Food Network, the Rome-born De Laurentiis received formal training as a chef and that at one of the most prestigious culinary institutes in Europe.
"I went to cooking school at Le Cordon Bleu in Paris, and it was a very difficult first year there," she told FirstWeFeast. "Not speaking the language, not knowing anybody—I was really lonely. In my pastries class, we were learning to make puff pastry, and we made a s–t ton of [it]. We would make 20-25 croissants….In those days, they were like, 'Take it home! Give it to your neighbors, your friends, whatever.'" 
De Laurentiis admitted that this period in her life caused her to develop the unusual habit of taking food apart.
"I would take it home, and after school, my dinner was to lay them all out on a sheet pan and unravel all of my croissants and pick out the bars of dark chocolate in each and every croissant," she said. "That is how I spent many a night in Paris, in my one-room apartment, and how I realized I drown my sorrows in my food. To this day, I do exactly the same thing, though these days I also peel off the top and bottom, the crispy, buttery parts. I don't care about the dough inside."
The chef's favorite kitchen tool
After De Laurentiis' elaborate education at one of the most distinguished culinary schools in the world, one would think that her preferred kitchen utensil would be high-tech or highfalutin. Instead, De Laurentiis' lifestyle and food blog Giadzy revealed that the chef's most versatile and often-used tool is her humble yet mighty kitchen shears.
"Giada recalls how her mom always used a pair of scissors to dice up whole San Marzano tomatoes for sauces," the blog said. "However, we've come to embrace our shears more and more in the kitchen for a wide breadth of culinary tasks."
The blog also listed other uses for your clean kitchen scissors, including cutting a pizza or a quesadilla, shredding herbs, dicing bacon strips, slicing meat, and much more.
De Laurentiis also gets a lot of use from these tools
The television personality told Today about a few other tools she gets a lot of mileage out of.
First, her trusty wooden spoon, about which she said, "I love tools that can be utilized in more than one way. They're great for risottos or stirring anything on the stove, really, but put two together and you also have salad tossers."
Next, she also counts on her grater and zester to shred and grate the Parmesan cheese and lemon zest used in her recipes. "A microplane can handle them both with the greatest of ease," she said.
Finally, De Laurentiis says she's grown dependent on her spoonula, a cross between a spoon and a spatula. "This guy can be used for something as simple as scrambled eggs but also for getting every last bit of cake batter from the bowl."
RELATED: Giada De Laurentiis' Secret to Making Juicy Steak in a Cast-Iron Pan — Without Firing Up Your Oven