Giada De Laurentiis' Pretzel-Crusted Chicken Fingers Will Satisfy Even the Pickiest Eaters
Crunchy meets perfectly seasoned in Food Network star Giada De Laurentiis' Pretzel-Crusted Chicken Fingers. Flavorful, tender, and moist, the presence of pretzels in these chicken tenders might just make dinnertime a little more fun.
Here's how you can make this utterly delicious recipe for chicken finger lovers of all ages, plus the flavorful dipping sauce you've got to try.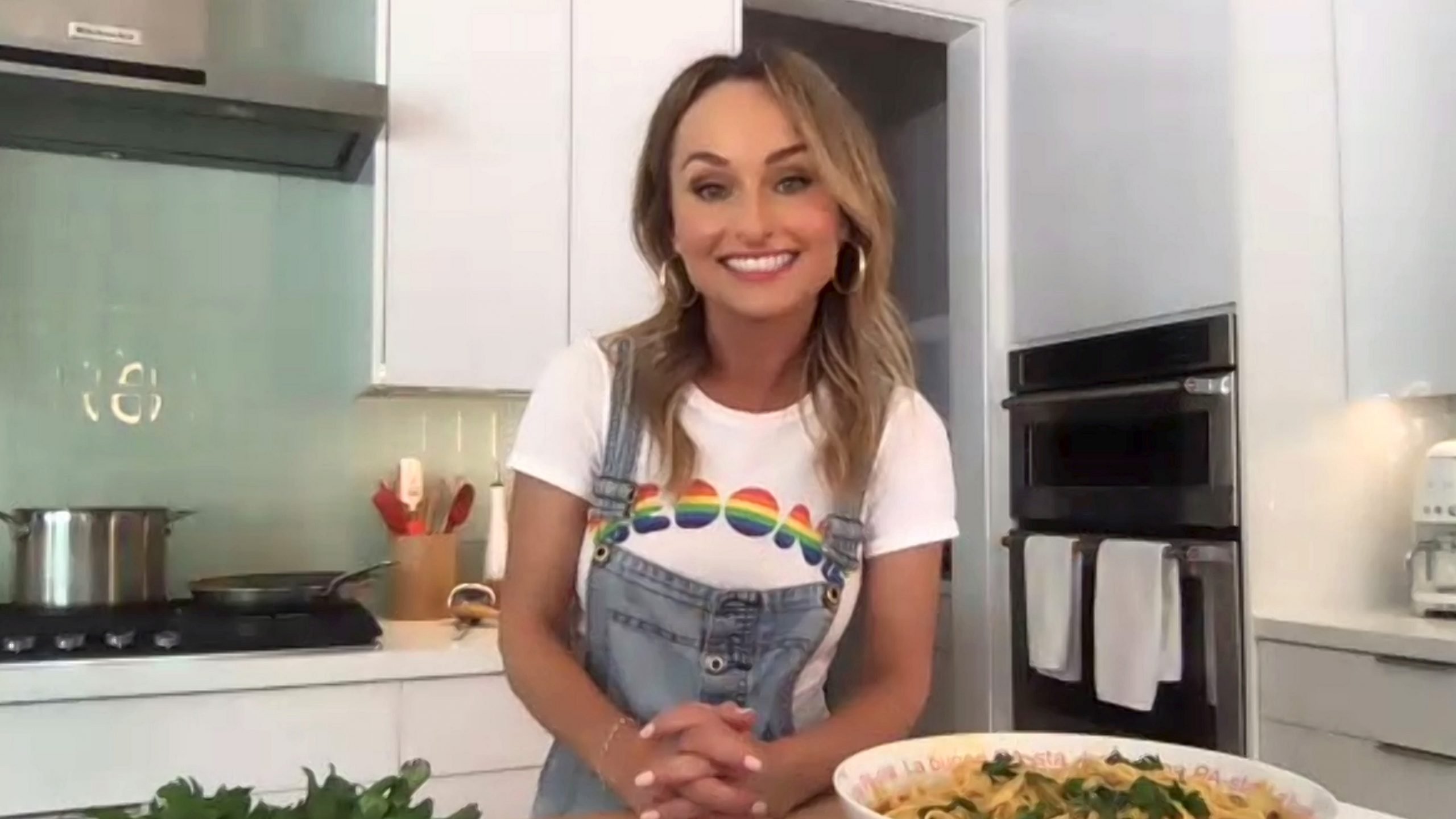 What you'll need to make these crunchy chicken fingers
De Laurentiis for this recipe (full quantities for ingredients can be found on Food Network's website) calls for ketchup, Madras curry powder, fennel pollen, a pound of chicken breast, flour, eggs, ground pretzels, salt, and vegetable oil.
The Le Cordon Bleu-trained chef noted her daughter Jade's affection for these distinctly crusted chicken fingers: "I gotta say, Jade loves these. I think every kid loves chicken fingers, I love them as well, so this is a family favorite," she said in the Food Network video for the recipe.
How to put De Laurentiis' pretzel-crusted chicken fingers together
The Giada at Home star's recipe is as easy as it sounds. The pretzels are ground up by placing them in a sturdy food storage bag and crushing them with a rolling pin. "What I did was, I basically took one and a half cups of pretzels, and they can be any pretzels you've got in the kitchen," De Laurentiis said. "And I think it makes for a really great coating on the chicken because it creates this crunch that I think is phenomenal."
The pretzels, flour, and beaten eggs are set up on separate platters for dredging the tenders. "I add a little salt to those two, just seasoning each layer," she added.
A pan is heated and the oil is added ("You just want to coat the bottom of the pan; we're going to pan-fry these, not deep-fry them"). While the oil is heating, the chicken tenders are prepped. De Laurentiis notes that "most people like to just buy the little chicken fingers," but she prefers having a butcher take a boneless breast of chicken and slicing it. "I like how tender and moist the chicken stays," she admitted.
Each chicken piece is dipped in the flour, then in the eggs, and then in the ground-up pretzels. The unique crunch the chicken will have, De Laurentiis says, is thanks to "the combo of these three that creates this great crust." They go into the pan and are fried until brown.
Now, the chef preps the "doctored-up" ketchup. To a half-cup of ketchup, she adds about a quarter-teaspoon of Madras curry powder ("What I like about it is, it's sort of a cross between a little heat from cayenne pepper and the sweetness and warmth of cinnamon") and a quarter-teaspoon of fennel pollen ("One of my favorites; if you love licorice, you will love this").
Reviewers loved De Laurentiis' pretzel chicken fingers, but many skipped the curry powder and fennel pollen
While most reviewers gave the pretzel-crusted snack a big thumbs up, many either just added regular curry powder to the dipping sauce or left out both the Madras powder and the fennel pollen altogether.
"Had some chicken tenderloins ready to cook, so I tried Giada's pretzel-crusted chicken fingers, and they were great. We don't like curry, so I whipped up a dipping sauce of whole grain mustard, sour cream, and honey, and it was perfect. Our family loved it," said one reviewer.
Another home cook said, "I make this every week and it always turns out perfect. I made it with a side of mashed potatoes and just added a little hot sauce to my ketchup to give it a little kick instead of the other ingredients cause I have no clue what they are. Big hit, definitely a keeper!"
RELATED: Giada De Laurentiis' Crispy and Fun Pasta Pizza Gets Dinner on the Table in No Time