Giada De Laurentiis Reveals Her Italian Thanksgiving Menu
Find out what Food Network star Giada De Laurentiis plans on serving at her Thanksgiving feast this year.
It's that time of year, when Halloween is already in our rear-view mirrors and it's time to think ahead to Thanksgiving.
While so many Americans are keeping their Thanksgiving tables on the small side this year, it doesn't mean it can't be a festive and delicious event.
Food Network star Giada De Laurentiis has shared her Thanksgiving menu with a taste of Italy to make your feast extra flavorful and special.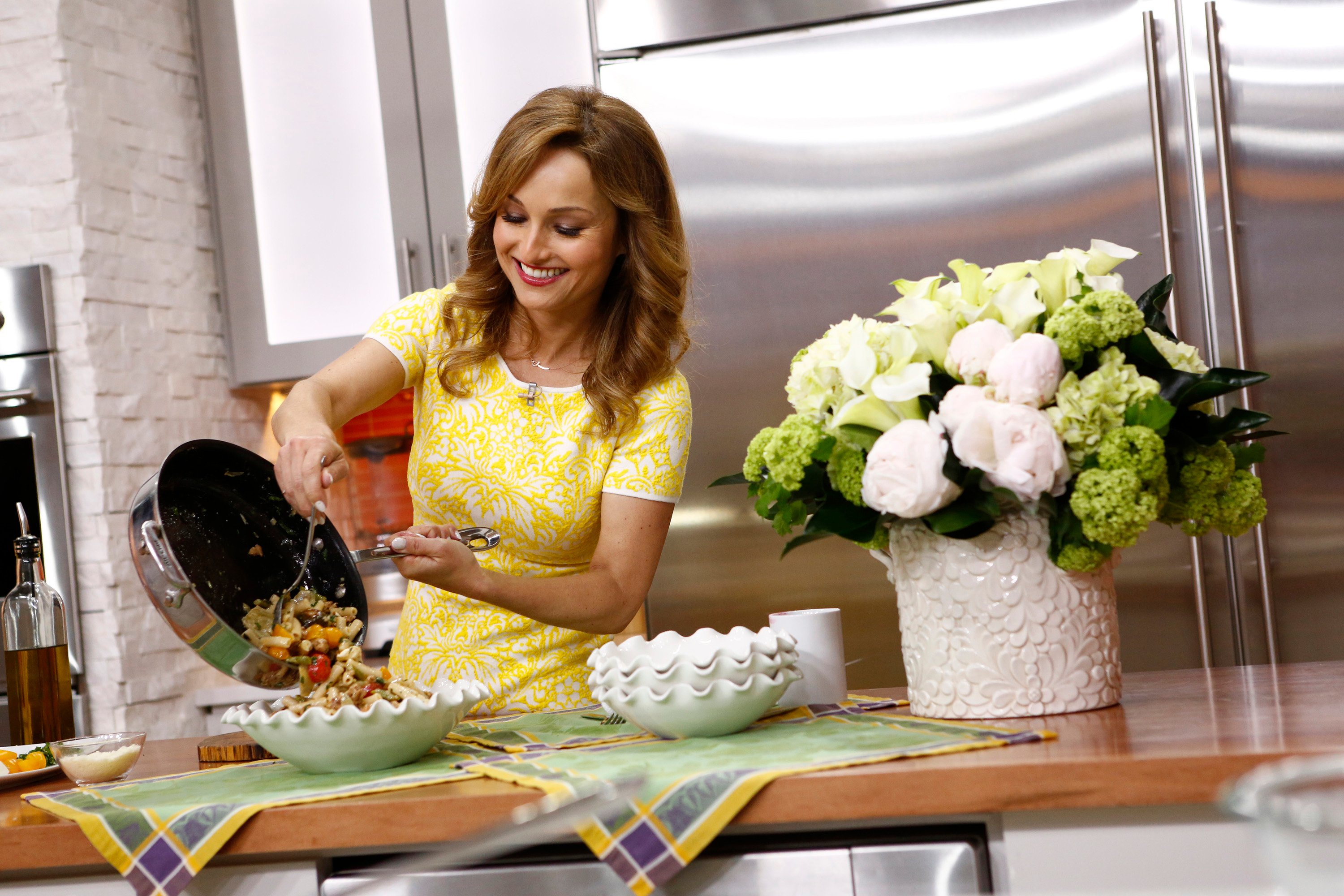 This is where De Laurentiis usually spends her Thanksgivings
While this year with the ongoing pandemic may be different, the celebrity chef told Food Network in 2015 that her family's Thanksgiving feast is "at my Aunt Raffy's house just about every year."
De Laurentiis recalled one of her most awkward Thanksgiving memories, which occurred when she made her first meal for the holiday. It was "my first private chef job out of culinary school, and I dropped the turkey on the floor.
"My clients' golden retriever got in the way and I dropped it … so I made pasta instead," she recalled. "My savior!"
The celebrity chef's favorite Thanksgiving side dish
The one Thanksgiving side dish that the Food Network star loves at her holiday table is simple and sunny cornbread.
She states on her website, Giadzy, "Whether it's featured in stuffing, a salad, a muffin or a slab, this element is crucial to a De Laurentiis Thanksgiving!
"The key to a truly successful Thanksgiving spread is balance – you have your savory turkey, decadent gravy and potatoes, tangy cranberry sauce – and a slightly sweet, moist cornbread on the table that creates that full-circle happy flavor combination on your plate."
De Laurentiis' Thanksgiving menu with a twist
The Giada at Home star has tried-and-true Thanksgiving tips that have never failed her, starting with "get your ideas down on paper! We find ourselves changing our minds often and getting inspired by new dishes, so the sooner you can start thinking about what to make, the better," she noted on Giadzy.
She recently posted on her popular blog site her 2020 Thanksgiving menu with an Italian flair.
Starting off with appetizers including Fig, Goat Cheese & Pancetta Crostini, De Laurentiis' Thanksgiving table presents turkey with a most Italian spin as Braised Turkey Braciole. It's "stuffed with a cheesy breadcrumb mixture, then it simmers away in a flavorful tomato sauce until it's perfectly cooked."
She then moves on to a show-stopper lineup of side dishes including Raffy's Turkey Sausage and Chestnut Stuffing, Raffy's Holiday Salad starring pomegranates, Cheesy Baked Mashed Potatoes with Cheese, Roasted Fennel with Parmesan, Broccoli Rabe With Raisins and Pine Nuts, and a Simple Cranberry Sauce.
If you need Italian-centric dessert ideas, there's Pumpkin Mascarpone Pie with "all the traditional classic flavor you'd expect, but with an extra creamy flavor thanks in part to one of our favorite creamy Italian ingredients: Mascarpone!"
If that offering isn't rich enough, there's also De Laurentiis' decadent and very Italian Mascarpone Cannoli Cheesecake.
However large or small your Thanksgiving table, try some of De Laurentiis' lavish yet easy-to-make dishes celebrating her food roots. You'll be thankful you did.