Is Glenn Close In the New 'Cruella' Movie?
When it comes to live-action Cruella De Vils, Glenn Close is the blueprint. Disney released the first trailer for Emma Stone's Cruella on Feb. 17, and it's already drawing comparisons to Close's portrayal of the Disney villain. Given her beloved performance, will Close be part of Disney's Cruella?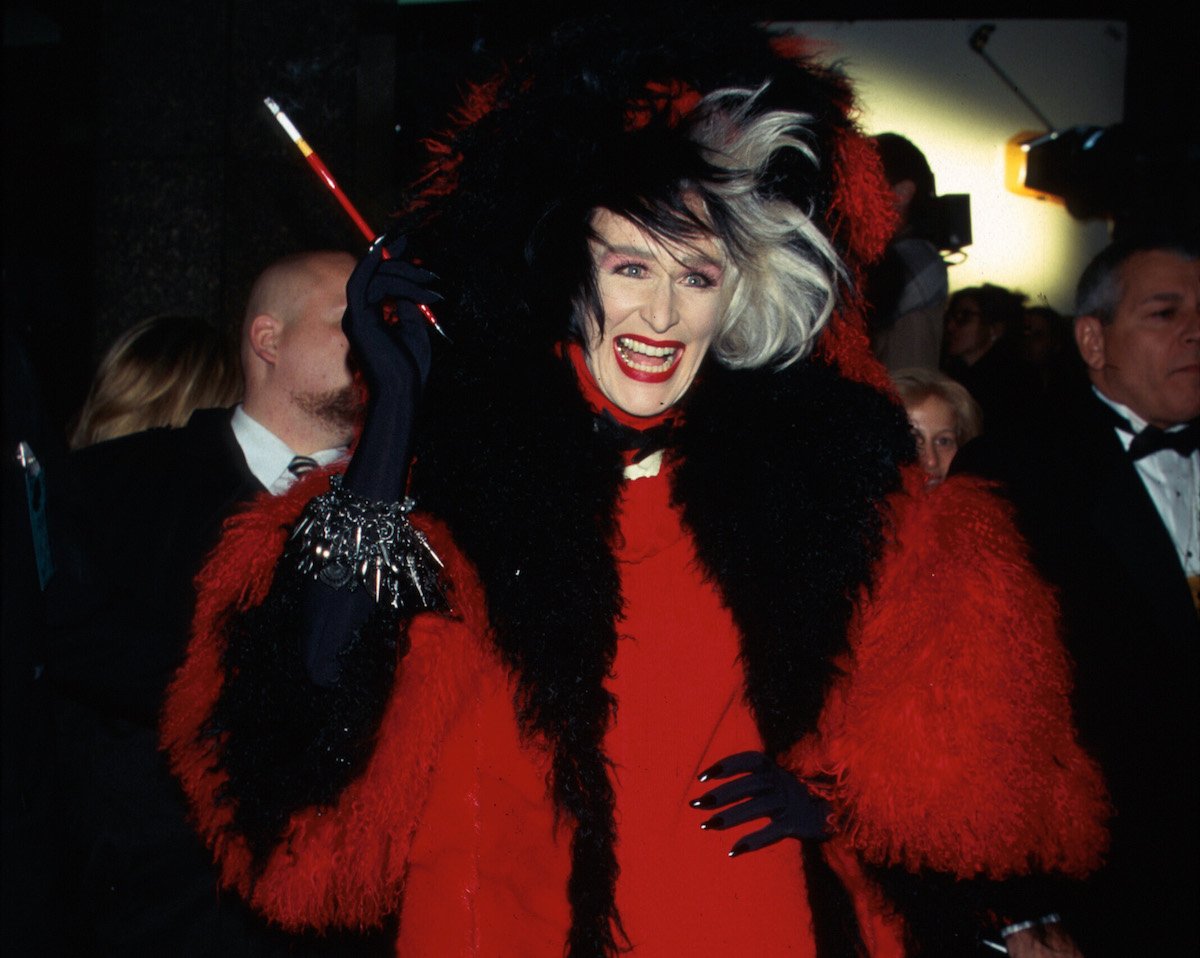 What is Emma Stone's 'Cruella' about?
The first Cruella poster was released on Feb. 16, and the trailer dropped Feb. 17. Fans are already split on the trailer. Some worry Disney is trying to give Cruella the Maleficent treatment by humanizing the character more, but some villains can just stay villains. (Those who skin puppies are at the top of the list!)
What fans online are hoping for is a good, old villain movie, and not a redemption arc. But the plot seems to be veering a bit toward redemption, based on the plot description leaked by DisInsider in October. It said:
Before she becomes Cruella de Vil?

Teenaged Estella has a dream. She wishes to become a fashion designer, having been gifted with talent, innovation, and ambition all in equal measures. But life seems intent on making sure her dreams never come true. Having wound up penniless and orphaned in London at twelve, four years later Estella runs wild through the city streets with her best friends and partners-in-(petty)-crime, Horace and Jasper, two amateur thieves.

When a chance encounter vaults Estella into the world of the young rich and famous, however, she begins to question the existence she's built for herself in London and wonders whether she might, indeed, be destined for more after all. When an up-and-coming rockstar commissions Estella to design him a signature piece, she begins to feel as though she has truly arrived. But what is the cost of keeping up with the fast crowd– and is it a price Estella is willing to pay?
The prequel is being advertised as a "punk rock" story set in 1970s London.
Will Emma Stone's 'Cruella' be on Disney+?
The trailer, while vague, seems to line up with this description.
"From the very beginning, I realized I saw the world differently than everyone else," Stone says. "That didn't sit well with some people. But I wasn't for everyone. I guess they were always scared that I'd be a psycho."
Cruella will come out on May 28, 2021, but Disney didn't reveal whether it would be released in theaters or on Disney+. Movie theaters nationwide are still shut down due to the coronavirus (COVID-19) pandemic, but with vaccination distribution progressing, theaters are hopeful they'll be able to reopen their doors again soon.
Disney doesn't have much time left to make a decision, but with the successful releases of Mulan and Soul on Disney+, the studio is reportedly eyeing a streaming release.
Is Glenn Close in 'Cruella'?
But what involvement, if any, does Close have in the prequel? While she isn't part of the cast, she did sign on to executive produce the film. So, she has a stake in its success. If she is to make a cameo, that's being kept under tight lock and key by Disney.
Stone knew she was stepping into big shoes when taking on this role, but she's also pulling inspiration from the original Disney animated movie from 1961.
"I think she's obviously the GOAT," Stone said of Close to Entertainment Tonight, "but I also have just loved the cartoon for a really long time. This comes before [Close's] story. This leads to her to where she becomes true greatness."
Again, that greatness also includes skinning puppies.