'Golden Girls': What Betty White Did on Set That Infuriated Bea Arthur So Bad She Called Her the Unthinkable
Betty White and Bea Arthur – along with Rue McClanahan and Estelle Getty – starred 'Golden Girls' for seven seasons between 1985 and 1992.
ARTICLE HIGHLIGHTS
Betty White and Bea Arther starred together on Golden Girls for seven seasons.
The two acting legends had two different acting philosophies and sometimes clashed on set.
But it was White's interaction with the audience and her poking fun at another co-star that particularly bothered Arthur according to a new theory from the show's casting director.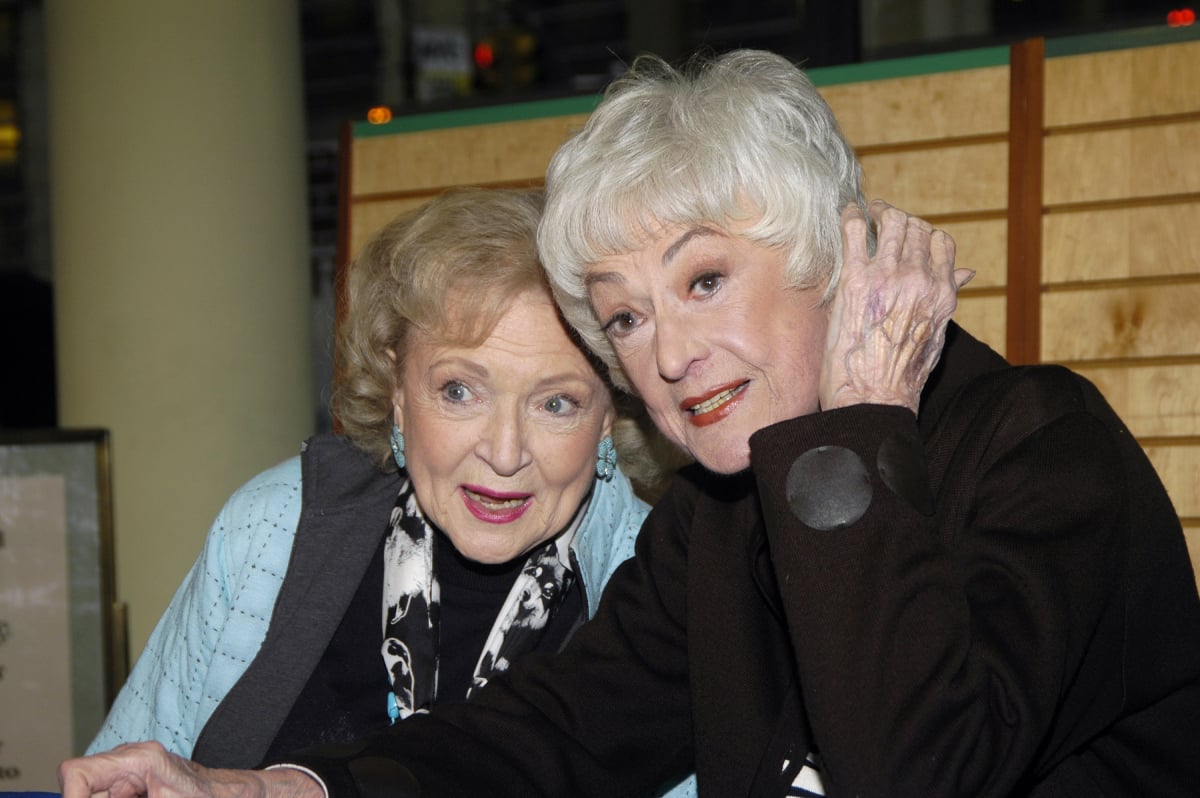 Golden Girls star Betty White was a beloved national treasure when she passed away at the age of 99. But not everyone was a fan of the late actress. Legend has it that White and her co-star Bea Arthur famously feuded on the set of the popular 1980s sitcom. This dynamic created a lot of tension, and sometimes things turned downright hostile.
According to the show's casting director, Arthur didn't just dislike White. She actually called her popular co-star the unthinkable.
The 'Golden Girls' stars had two different acting philosophies
For seven seasons — between 1985 and 1992 — White and Arthur starred as Rose Nylund and Dorothy Zbornak on The Golden Girls, alongside Rue McClanahan as Blanche Devereaux and Estelle Getty as Sophia Petrillo.
Both White and Arthur had previously starred in popular 1970s sitcoms — White on The Mary Tyler Moore Show and Arthur on the All in the Family spinoff Maude.
"[Arthur] came from the old school of [television writer] Norman Lear where sitcoms were filmed like stage plays and done with up-close reactions," Jim Colucci, author of Golden Girls Forever: An Unauthorized Biography, explained per Country Living. "[White] was from the Mary Tyler Moore school where everything is a very subtle character moment. The jokes are more gentle."
Bea Arthur was 'eccentric' and always angry
Arthur's oldest son Matthew Saks told Closer in 2017 that his mom "unknowingly carried the attitude that it was fun to have somebody to be angry at." He says that White became Arthur's "nemesis," making her the person that "she could roll her eyes about."
McLanahan once described Arthur as "a very eccentric woman," who was also quite complicated. Stories from The Golden Girls set include an anecdote about Arthur's hatred of shoes. Apparently, she hated them so much she had it put into her contract that she could walk around the set without them. Arthur also had a disdain for birds and chewing gum.
"If you were chewing gum on the set, she would try to have you fired," Colucci told Fox News.
"My mom wasn't really close to anybody," Saks explained. "I'm not saying she was a loner, but she just liked to go home and read the paper."
'The Golden Girls' casting director recalls Bea Arthur calling Betty White the unthinkable
Thirty years after Golden Girls went off the air — and after all four stars have passed away — stories fans haven't heard before continue to pop up. Casting director Joel Thurm recently appeared on The Originals podcast, and revealed that Arthur once called White a "see you next Tuesday."
"Literally Bea Arthur, who I cast in something else later on, just said, 'Oh, she's [White] a f***ing c***. I heard it with my own ears," Thurm recalled, per TMZ, adding that McClanahan also used the word when referring to White.
What caused the tension between White and her co-stars?
One theory about Arthur's hatred for White is that she was jealous about White's Emmy win during season 1, when all four ladies were nominated. They all eventually won Emmys, but White was the first to win for Outstanding Lead Actress in a comedy series in 1986.
Both Thurn and Saks say that what really made White's co-stars unhappy was how she would interact with the audience between scenes. They didn't like how she would talk about Getty in front of the audience, who was starting to lose her memory due to Lewy body dementia. Which caused her to write lines on her hands.
Betty White admitted her 'The Golden Girls' co-star Bea Arthur wasn't fond of her
"Betty White would make fun of her in front of the live audience … That may seem like a minor transgression, but it really does get to you … I have no idea how Estelle Getty felt, but I know the other 2 did not like [Betty] at all," Thurn said.
White did speak publicly about her feud with Arthur before her death. In 2011, she said, "Bea had a reserve. She was not fond of me. She found me a pain in the neck sometimes. Sometimes if I was happy, she'd be furious."
Fans can stream Golden Girls on Hulu.