'Grantchester' Season 6: Airdate, Cast, and Everything Else We Know
Grantchester returns to U.S. TV screens this fall. New episodes of the 1950s-set British mystery series starring Tom Brittney and Robson Green will begin airing in October on PBS.
'Grantchester' Season 6 premieres Oct. 3 
Grantchester Season 6 will debut Sunday, Oct. 3 on PBS, the network announced on July 23. The new season is set in 1958 and reunites the crime-fighting duo of vicar Will Davenport (Brittney) and DI Geordie Keating (Green). 
A U.K. airdate hasn't yet been announced, though ITV has said the episodes will air in the fall. In a tweet, Brittney said he expected "news on UK air date VERY SOON!" and that he thought the episodes would be broadcast there before airing in the U.S. 
What to expect from the new season of 'Grantchester'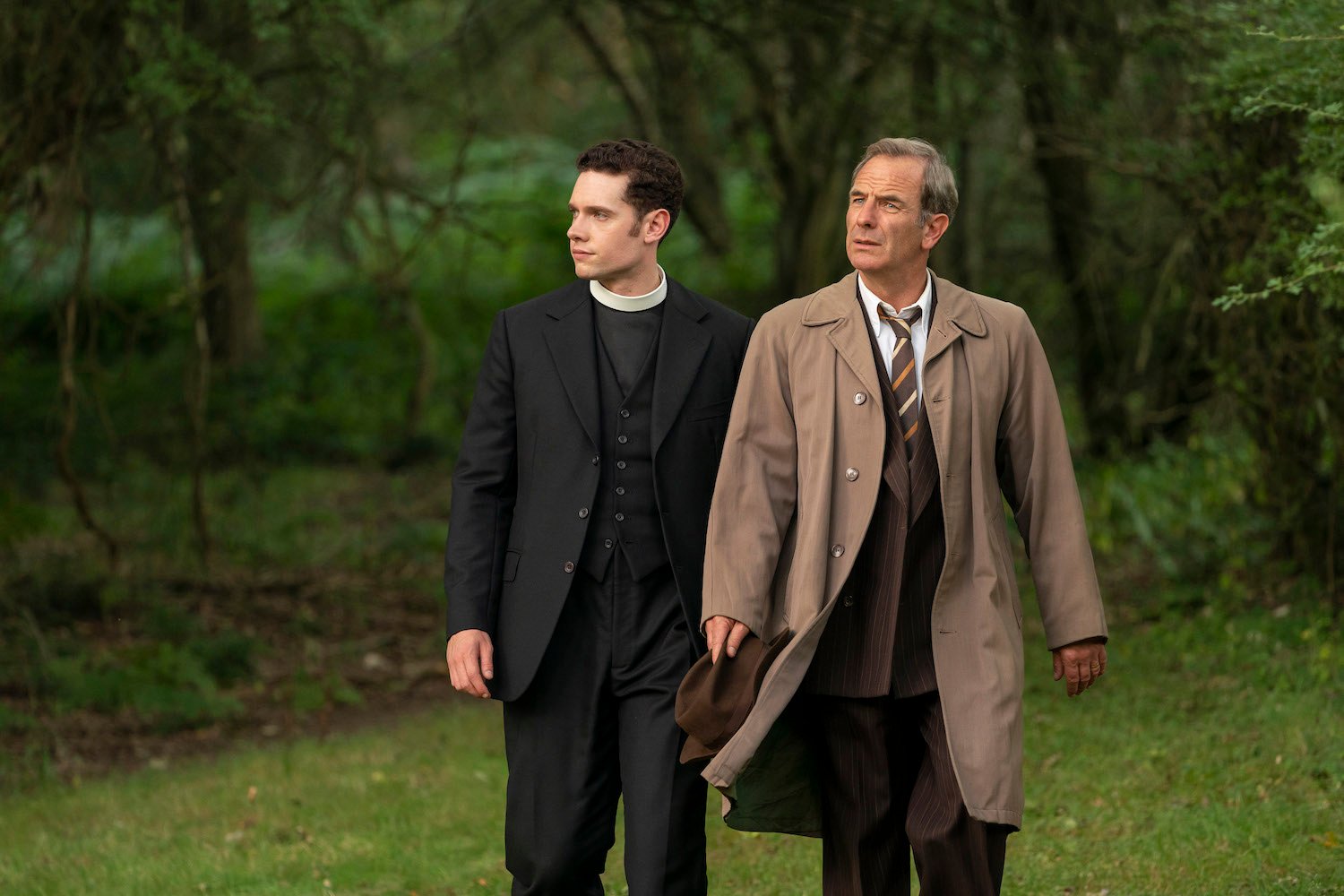 This season on Grantchester, Will will find himself struggling to balance the career he loves with his own ideals, particularly when his friend, curate Leonard Finch (Al Weaver), is caught up in a scandal. Meanwhile, Geordie finds himself in a situation where his principles are shaken, the vicarage's housekeeper Mrs. C. (Tessa Peake-Jones) is distraught, and Geordie's wife Cathy (Kacey Ainsworth) is defiant.  
"With new crimes around every corner, and morality and legality at odds, it's going to take all of Will's skill and empathy to navigate these choppy waters and help the ones he loves," reads PBS's description of the upcoming season. 
In the first episode of Grantchester Season 6, Geordie and his Cathy take a much-needed vacation. They're accompanied by Will, Leonard, and Mrs. C. Unfortunately, what's meant to be a relaxing break turns out to be anything but when there's a tragic death at the resort. Will and Geordie naturally step up to help out with the investigation. Ultimately, the events of the trip will have serious repercussions that are felt through the rest of the season. 
Leonard goes to 'some quite dark places' in season 6 
Leonard Finch is a fan-favorite character, and many viewers will be happy to hear he's getting some big storylines in season 6. But they'll need to brace themselves, as it sounds like the awkward, closeted curate will be going through a lot. 
"Season 6 is going to be kind of game-changing for a lot of our characters — we're going to put them all through the wringer this series," Grantchester creator, writer, and executive producer Daisy Coulam told PBS. "And it's a big series for Leonard, where we're going to take him to some quite dark places."
"Obviously it's one of those things that you don't know how much you can say, but suffice to say that Leonard's whole world blows up," Weaver said. 
'Grantchester' cast and guest stars 
Brittney, Green, and other core Grantchester cast members will all be back for season 6. That list also includes Oliver Dimsdale as Leonard's boyfriend Daniel Marlowe and Nick Brimble as Mrs. C's husband Jack Chapman.
Guest stars next season include Rachael Stirling, Andy Nyman, Miles Jupp, Christina Cole, Rebecca Front, Jonathan Aris, Ben Wiggins, Corey Johnson, Tyger DrewHoney, Paul Bradley, Paul Ryan, Gabrielle Glaister, Michelle Greenidge, Gordon Kennedy, and Stuart Bowman.
Check out Showbiz Cheat Sheet on Facebook!