'Groundhog Day': Tom Hanks Once Admitted He's Glad He Turned Down the Movie
Bill Murray is notoriously an actor who is hard to get in touch with. Perhaps that's why the famously reclusive star has such an extensive list of roles he almost played. However, for 1993's Groundhog Day, it wasn't Murray who missed out but actor Tom Hanks. If the Forrest Gump star feels like an odd choice for Groundhog Day, even Hanks is happy he passed on the comedy.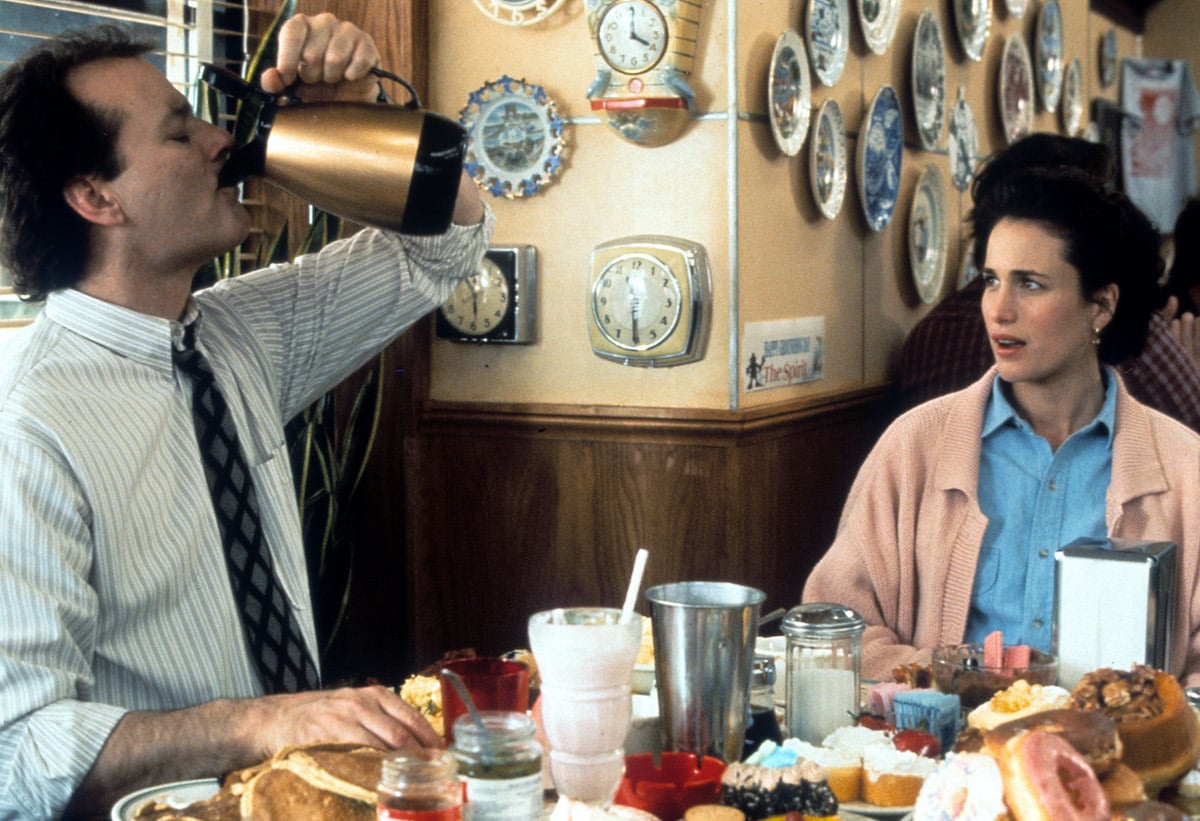 'Groundhog Day' stars Bill Murray as an ornery weatherman
Directed by Harold Ramis, Groundhog Day stars Murray as arrogant weatherman Phil Connors who finds himself trapped in a time loop. Every morning, he awakes in snowy Punxsutawney, Penn. on the eponymous holiday. And no matter what he does, he cannot simply make it to tomorrow. Andie MacDowell and Chris Elliott co-star as Phil's love interest and cameraman, respectively.
Thanks to Murray's star power and its sharp premise, Groundhog Day was a box office hit. However, in the time since its release, the movie has become something of a modern classic. Ramis, of course, co-starred with Murray in the Ghostbusters films years earlier. And the two had a falling out after its release, a rift only repaired just months before Ramis died in 2014.
Director Harold Ramis originally wanted Tom Hanks to star
Reportedly, Ramis and Murray disagreed on which themes the movie should explore. Still, in hindsight, it's difficult to picture anyone but Murray in the role. Phil Connors feels so tailored to his comedic skill set, after all. But as Ramis revealed during a Q&A in Chicago in 2009 (via The Hollywood Reporter), he actually wanted Hanks to headline Groundhog Day.
"Audiences would have been sitting there waiting for me to become nice because I always play nice," Hanks said regarding the role, according to Ramis. "But Bill's such a miserable S.O.B. on- and offscreen, you didn't know what was going to happen."
To be fair, Hanks has a point. Hanks admits he doesn't always live up to his nice guy persona. Plus, when he's played a villain (The Ladykillers, The Circle), it hasn't exactly worked out. Seeing as he would win back-to-back Academy Awards soon after Groundhog Day, it all worked out for Hanks.
A Congressman memorably confused the two stars in 2012
Hanks and Murray aren't ordinarily two actors who fans mix up. Hanks started off in comedy before focusing on drama, whereas Murray's career went the opposite direction. But wildly, Ohio Congressman Dennis Kucinich still confused the two stars at a congressional hearing in 2012.
According to The Atlantic, Kucinich told Attorney General Eric Holder he "must feel like Tom Hanks in Groundhog Day." The congressman was quick to correct himself after the fact though. Just add this instance to the mythic trivia regarding Ramis and Murray's now-beloved comedy.