Guy Fieri Can't Stand His Iconic Flame Shirt
With so many celebrity chefs permeating pop culture nowadays, almost all have a particular "look" going for them. Everyone from Martha Stewart to Gordon Ramsay have their specific aesthetic in the clothes they wear, and even specific hairstyles.
Guy Fieri can now be included in that pantheon, even if he resists any type of stereotyping. Who can blame him when he became one of the most parodied and talked about celebrity chefs of the last decade?
In a Sporkful podcast from a few years ago, Fieri took on one piece of clothing fans always associate with him: A flaming shirt. He gave up wearing that shirt because of the unfortunate memetic connections.
When did Guy Fieri start wearing that iconic flaming shirt?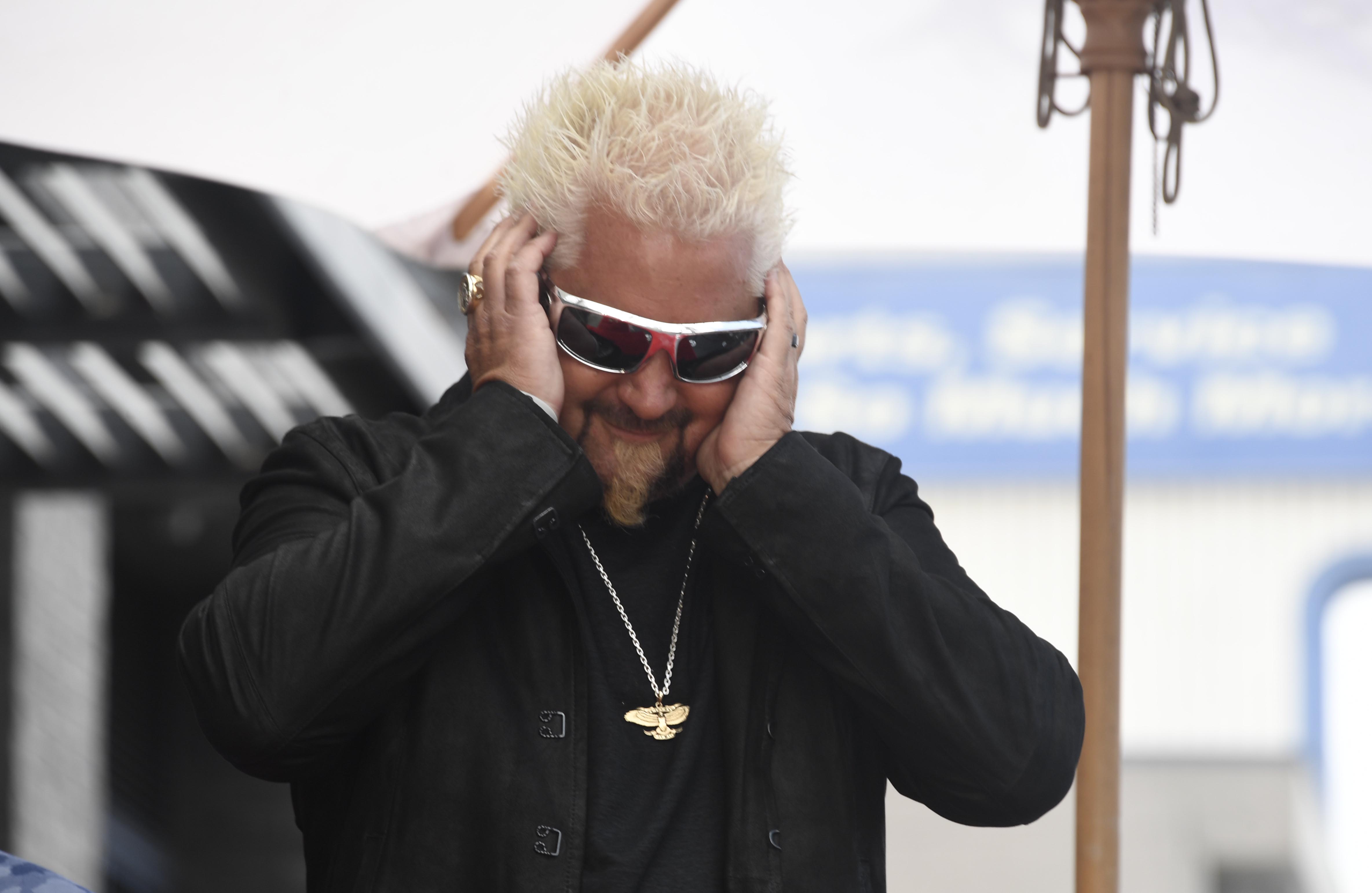 During the above Sporkful podcast from 2017, the host (Dan Pashman) had to ask Fieri why so many fans still post pics of latter wearing that flame shirt. The pic became a meme on social media in more recent years, leading everyone to associate Fieri's personality with wearing similar shirts all the time.
In truth, he says the shirt was only worn once during a promotion for a BBQ restaurant he opened in New York City. This event took place before his time with The Food Network even began, despite being known then as a somewhat unconventional looking chef.
According to Eater, said Fieri about the shirt:
"We'd opened a barbecue restaurant — and this was way before even the Food Network — we'd opened a barbecue restaurant, and that was one of the shirts that we had. I don't know where we got the shirt or what happened."
Fans ran wild with the idea that the shirt dictated his personality. Many still think of him as being a wild man who lives the same way as his TV persona. A lot of fans will be surprised at how much of an opposite he is.
Is 'Saturday Night Live' to blame for the flaming shirt persona?
When Bobby Moynihan impersonated Guy Fieri on Saturday Night Live back in 2010, it brought an aura to Fieri he could never again shake. Unfortunately, Moynihan wore a flame jacket when portraying Fieri, something stuck in pop culture. Only because of that one picture, Fieri now has to convince everyone he really is not what he wears.
In the Sporkful podcast, Fieri noted a shirt does not represent who he is as a person. Said Fieri further:
"People are going to go on their own way about, "Oh man, everything's flamed at his house." And I just kind of go, "Okay, you know, alright. Well, think what [you're going to think]." I mean, what do I wear? I wear shorts and tennis shoes and a t-shirt every day unless I've got to go to work. "
He certainly is not the first celebrity who set a particular pop culture persona everyone thinks defines who they are. Other flamboyant stars have had to convince fans that when not in the public eye, they dress down just as much.
At least Fieri made a revelation about the shirt he can only hope settles in the minds of his fans. Yes, he has not worn the flamed shirt in years and never intends to again.
Guy Fieri still fights off the idea he lives an extreme lifestyle
No doubt it was more than the flaming shirt placing a certain image of him in the minds of the public. His hairstyle alone always set a standard for being a Rock n' Roll loving chef who loves creating spicy foods spiked with libations.
Toward the end of the Sporkful podcast, Fieri further clarified what his life is like: "It's a lot more mellow and a lot more simplistic than I think everybody believes. I think everyone believes I live on a yacht that shoots off rockets."
Thanks to popular The Food Network shows like Guy's Grocery Games, fans can see a more sedate side to Fieri who takes great pains now to wear conservative, plaid shirts.