Guy Fieri Finally Speaks Up About the Petition to Rename Columbus, Ohio 'Flavortown'
In June 2020, a petition made the rounds calling for the city of Columbus, Ohio to be renamed "Flavortown," after celebrity chef Guy Fieri's popular phrase heard and seen often on his Food Network shows and on his social media accounts.
The man himself has at last responded to all the commotion, and here's what he had to say.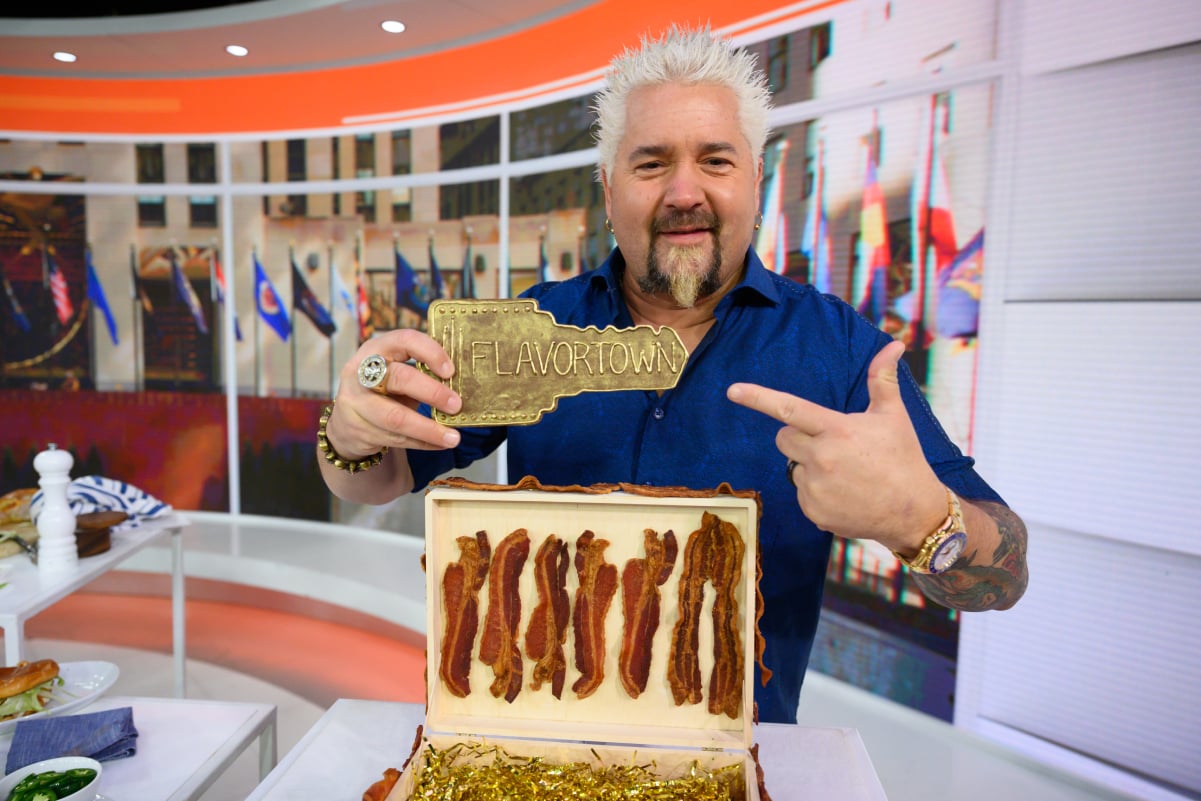 What and where is 'Flavortown'?
You won't find Flavortown on a map. It's a philosophy and a state of mind, all in one. One thing is for certain: Flavortown is a happy place where food isn't merely fuel. It's a vehicle for life.
As Fieri explained it on the Food Network website, "On camera, I once said, 'This pizza looks like a manhole cover in Flavortown.' Willy Wonka had a chocolate stream, you know? So it's taking these iconic food items, these iconic food moments, and giving them a home. They all live in Flavortown. It's like one of those things in The Matrix: You can only get down with Flavortown if you believe in Flavortown."
How long has Flavortown been around?
Flavortown is at least ten years old. In 2019, the 52-year-old television personality told The Wrap, "Ten-plus years ago, I'm there in a diner, and I said to the guy — he made a pizza, I think — 'That looks like a manhole cover in Flavortown.' Because of how big it is."
In reality, the concept of Flavortown, to hear Fieri tell it, has less to do with legend and more to do with simply entertaining his film crew. He just started referencing "Flavortown" to keep his crew entertained during lulls.
"I do a lot of it to make my film crew laugh," Fieri continued, "'cause they're sitting there listening to this stuff all day long. Somebody makes some big dish, and I say, 'Oh, it's like a steering wheel on the bus to Flavortown.'"
"All of a sudden, fans start seeing this and start writing in, or start walking up to me, saying, 'Which way is Flavortown? I'm a resident of Flavortown!'"
Here's Guy Fieri's take on renaming Columbus, Ohio
As the protests against police brutality gained momentum in June 2020 following the death of George Floyd, protestors and politicians alike began to call as well for the undoing of long-held traditional statues and names on buildings, bridges, airports, etc., that they felt represented racism and oppression.
Namely among those in question is Christopher Columbus, whose name for years has been connected to his possible use of slavery and murder of indigenous people to achieve his goals of conquest.
And so, in June 2020, a petition surfaced, urging support for the idea that the capital of Ohio – where Fieri, by the way, was born – no longer be named "Columbus" and instead bear the name of "Flavortown," to honor favorite son Guy Fieri.
The Guy's Grocery Games star finally reacted to all the furor surrounding the call for change.
"I don't know all the details, I'm not behind this, I'm not the one instigating this," Fieri told the Dan Patrick Show last week. "Am I flattered? Yes. Do I think that there's a lot going on and a lot of decisions that need to be made before this happens? Yes. If anything like this were to really come about, of course, I would be there."