Guy Fieri's Kitchen Features the Real Secret to a Happy Marriage
Once you've seen Guy Fieri, you're not likely to mistake him for anyone else. From his flashy hair to his flashy car, he's unlike any other chef on the Food Network.
He has an enthusiastic, brash style of speaking, and the food he loves tends toward the sort of red meat and potatoes meals that many culinary artists think is beneath them. And yet Fieri has been a fixture on the Food Network for over a decade, and his restaurant empire is enormous. 
Just how did this loud, down-to-earth food fan become such an influential chef? And despite his occasionally crude ways, does he have the secret to a long and happy marriage? Here's what we know about Fieri's life.
His road to stardom didn't start where you may think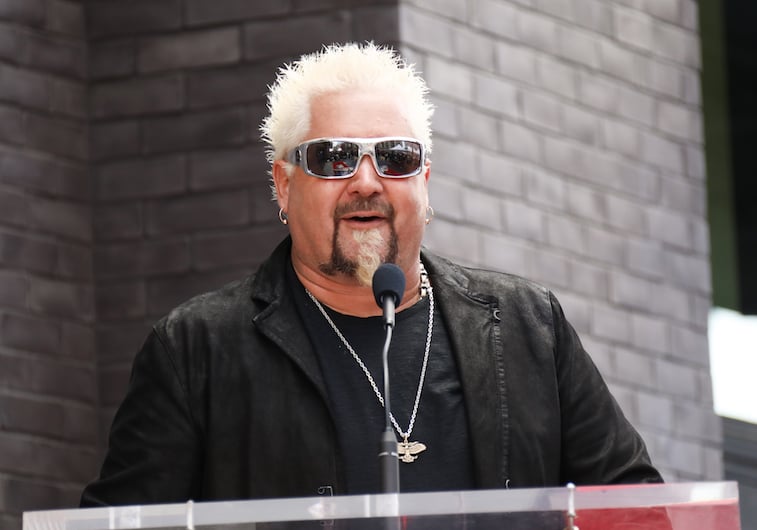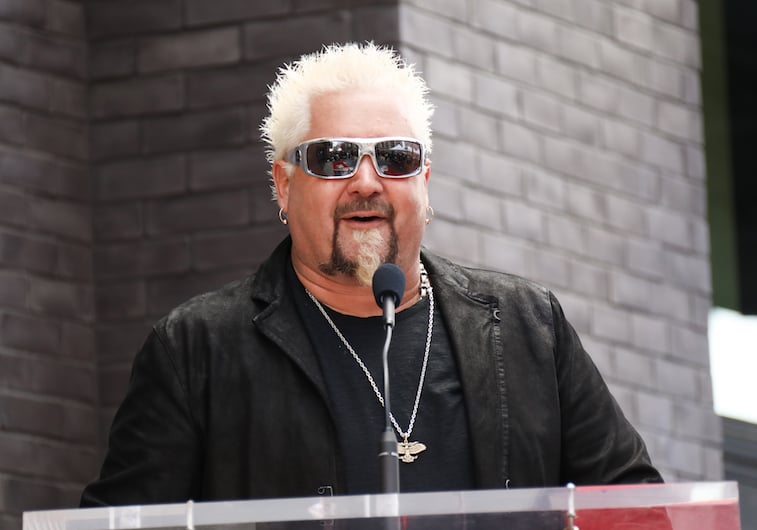 Although he majored in hotel management, not culinary arts, Fieri always loved food. After college, he got involved in the restaurant industry, where he learned his way around a kitchen. In 1996 he opened his first restaurant, Johnny Garlic's. It did well, and he soon opened two more locations. This was followed by a new concept, Tex Wasabi's, which opened in 2003.
In 2005 his friends urged him to send an audition tape in for Next Food Network Star. He landed a spot on the show, and in 2006 he won the competition, launching his television career.
This led to his cooking show, Guy's Big Bite, as well as Diners, Drive-Ins and Dives, which featured him traveling around the country to sample the kind of food you find along the way on a road trip. He quickly became famous, and within a few years, he started publishing cookbooks and developing a line of barbecue sauces and salsas.
Fieri is unique in the world of cooking
Unlike many Food Network stars, or chefs in general, Fieri never attended culinary school. For better or worse, this shows in his style of cooking. He's a huge fan of hearty, not-so-healthy meals, such as burgers and tacos.
His tastes seem to have been shaped in reaction to the food he was served as a child. He once said, "My parents were into macrobiotic cooking—vegetarian, nondairy, whole grains, no red meat. I started cooking when I was 10 because I just couldn't eat that stuff."
His fans love his wholehearted embrace of all things greasy and meaty, but others aren't so impressed. Many food lovers complain that his food is unoriginal and unhealthy. The late Anthony Bourdain, in particular, was a very harsh critic of Fieri.
He might have the secret to a happy marriage
Whether you love him or hate him, Fieri has an unusual distinction in the world of show business. He and his wife Lori have been married for almost 25 years. Part of the reason for the success of their relationship may very well be their kitchen.
The couple lives in the same house they bought 14 years ago, but Fieri has completely remodeled the kitchen. It's designed to meet his every need – and that includes separate space for his wife.
There's a counter that's made from reclaimed barn wood, that makes a handy spot for Lori to sit and chat with Fieri while he cooks for the family. He also had two refrigerators installed, one for each of them. This way her groceries, kid snacks, and white wine don't get in the way of his beer, beef jerky, and ingredients for trying out new recipes.
Anyone who has gotten frustrated with their spouse in the kitchen can appreciate the wisdom of having your own space to cook in. It just might be that Fieri, despite his brash style, has some important relationship insight to share.