Hannah Simone 'Risked [Her] Life' for the 'New Girl' Pilot: 'It Was the Most Terrifying Moment'
New Girl is a popular sitcom that ran on TV for almost seven years. The show, which caused a major career resurgence for actor Zooey Deschanel, featured a charming mix of humor, drama, and romance—as well as a star-studded cast.
One of the featured players in the show was Hannah Simone, who played Cece, a fashion model, and Jess's best friend. Simone and Deschanel bonded in real life as well, and in a brand-new podcast, the co-stars and friends sit down to discuss their time on the series. In a recent episode, Simone talked about her traumatizing experience filming the pilot episode of New Girl, where she claims she "risked" her life. 
When did 'New Girl' premiere on Fox?
New Girl debuted on TV in 2011. The show told the story of a teacher named Jess, played by Zooey Deschanel, who moves into a LA apartment with three men: Nick, Winston, and Schmidt. Over the years, the show details their romantic foibles and personal struggles, as well as the way that the roommates are able to forge a genuine connection. New Girl helped to solidify Deschanel's status as a major star, and to this day, it remains one of her best-known roles. 
New Girl received critical acclaim, and even though it went off the air in 2018, fans still turn to the show for a hefty dose of humor and fun. 
The 'Welcome to Our Show' podcast breaks down 'New Girl'
The cast of New Girl remained close even after the show went off the air. And in early 2022, Deschanel, Simone, and Lamorne Morris, who played Winston, reunited for a brand-new iHeartRadio podcast called Welcome to Our Show. The podcast includes interviews with producers and showrunners integral to the creation of New Girl, as well as lots of behind-the-scenes anecdotes and stories from the cast.
Although the podcast is only a few episodes deep, fans have already had the opportunity to learn about the making of the pilot episode—and a moment where Simone claims that she "risked her life" for the chance to make New Girl a success. 
What did Hannah Simone say about almost being attacked by a vulture?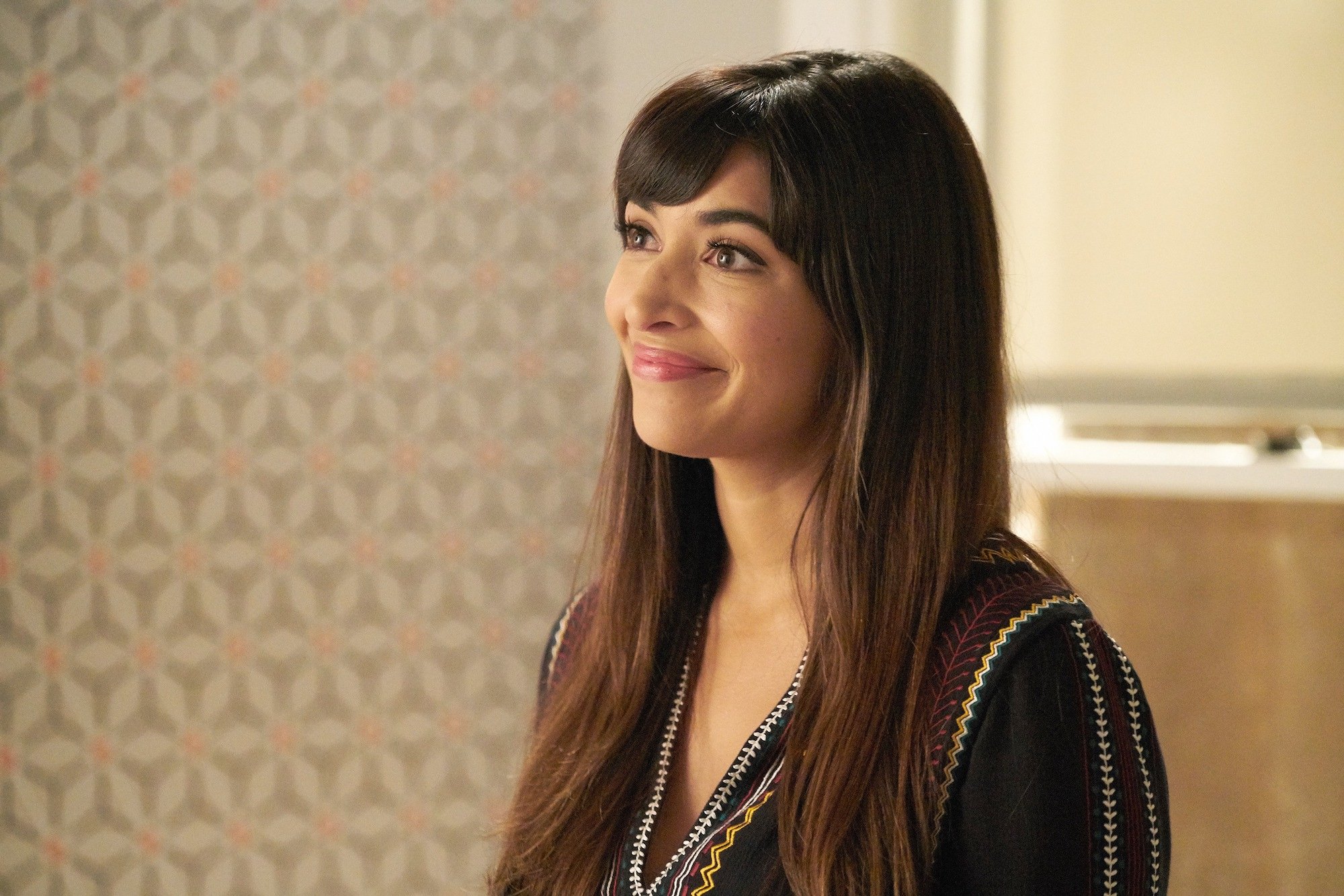 In a recent episode of the "Welcome to Our Show" podcast, Simone talked about the experience she had filming the New Girl pilot episode. "They did a series of photoshoots that we shot for the show… They had me dress up in this crazy dress that had real feathers. I looked like this huge ostrich, they put on this ginormous afro wig, and then said, 'Everybody has to be quiet on the set.'"
Simone went on to describe the incident. "There's like 50 people on the set and they were like, 'Nobody make a sound.' And then this person walked in with a vulture. I'm talking huge–this ginormous prey… they were like, 'Don't say a word,' to everyone else, 'because it will attack you,' and it was the most terrifying moment and I'm dressed like a bird… there's a photo of me in that dress."
Simone concluded her story by noting, "I just remember shooting that and I was like, 'This show is crazy.' It never made the show either and I was like, 'Are you kidding me? Risked my life!'" Notably, Simone has shared a photo of herself wearing the bird-like outfit in the past, posting the picture to her Twitter account in 2017. For fans, the anecdote is proof positive that the fun of New Girl extended to the behind-the-scenes action as well.