Hannah Waddingham and Lena Headey Met During Their Infamous 'Game of Thrones' Scene
Who can forget the famous 'shame' scene in 'Game of Thrones?' Cersei was naked. There was a nun. People were throwing food. Instead of remembering the scene for its nudity and shocking nature, Lena Headey and Hannah Waddingham think of the moment as the beginning of their friendship.
Game of Thrones has had its share of iconic moments. One of its most recognizable is the season 5, episode 10 scene, where a powerless Cersei Lannister is paraded around the streets of King's Landing naked. Ringing a bell behind her and shouting "Shame" was Septa Unella.
Six years later, Septa Unella and Cersei Lannister reunited. Well, their acting counterparts did, at least. Hannah Waddingham and Lena Headey (Septa Unella and Cersei Lannister, respectively) have kept in touch over the years. However, Entertainment Weekly publicly reconnected them in honor of Waddingham's Emmy nomination for Ted Lasso.
During their conversation, the two friends recalled their first impressions of each other and revealed how close they have become.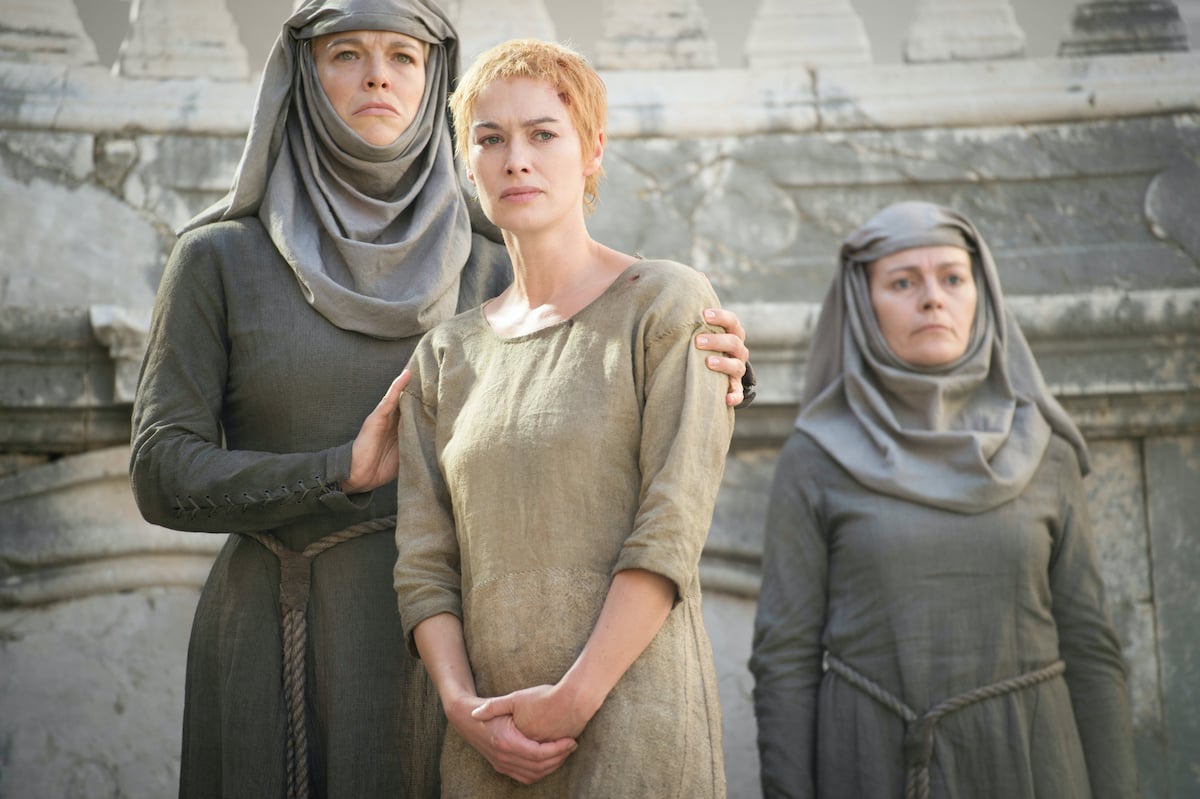 Hannah Waddingham and Lena Headey met on the set of "Game of Thrones" 
Septa Unella was famously bare-faced during her scenes. Waddingham recently revealed on Late Night With Seth Meyers that the makeup team on Game of Thrones added eyebrow and chin hair. "I looked like Jar-Jar Binks." However, that didn't stop Headey from noticing how beautiful Waddingham was. 
According to Headey, the pair met in the makeup chair. The actor immediately noticed Waddingham. 
"I think I got the measure of you on our first morning when you turned up looking ridiculously beautiful with a bare face at like 4 AM," Headey revealed early on in the conversation. She went on to explain she couldn't stop staring.
"I think we sat together in makeup that first morning. I just kept looking at you going, 'Oh, she's so beautiful.'" Without missing a beat, Waddingham joked. "And I was going 'You're a wanker. What are you talking about?'"
The 'Ted Lasso' star was impressed by Headey's composure on set
During the interview, Waddingham admitted that her first time being on the Game of Thrones set was overwhelming. She had just given birth and barely knew anyone on set. 
"My first day ever on Thrones was standing on the top of those stairs. My daughter had popped out maybe nine weeks previously, so I didn't even know what my name was that day. I said to you, 'Oh, my god! This is so epic.' [Director] David Nutter was doing his thing, and there were supporting artists everywhere looking crazy. I was like, 'Oh my god, do you ever get used to this?' You were so cool about it all, and I thought, 'I want to be like her when I grow up!'"
"I think I was probably terrified of being semi-naked for two days in front of 6,000 people," Headey laughed. 
Hannah Waddingham was nervous filming the 'Shame' scene 
While Headey was anxious about filming the scene naked, Waddingham was restless for an entirely different reason. She was intimidated by the Game of Thrones actor.
"I was really nervous. I was really nervous joining you on the [shame scene] because you were like Queen Lady of the Ladies and I was some little knobhead that popped a baby out nine weeks previously and was like 'Hello!'" Waddingham admitted.
Headey reassured her friend with, "Well, and then you met me and you realized that I was an equal knobhead. Totally fine."
Related: 'Game of Thrones': Did Lena Headey Really Film Cersei Lannister's Walk of Atonement