Has Haim Ever Won a Grammy?
This Sunday, March 14, is a big day for Haim. For starters, it's Este's birthday. It also happens to be the day of the 2021 Grammy Awards. As the three sisters prepare for music's biggest night, fans might be wondering: Has Haim ever won a Grammy?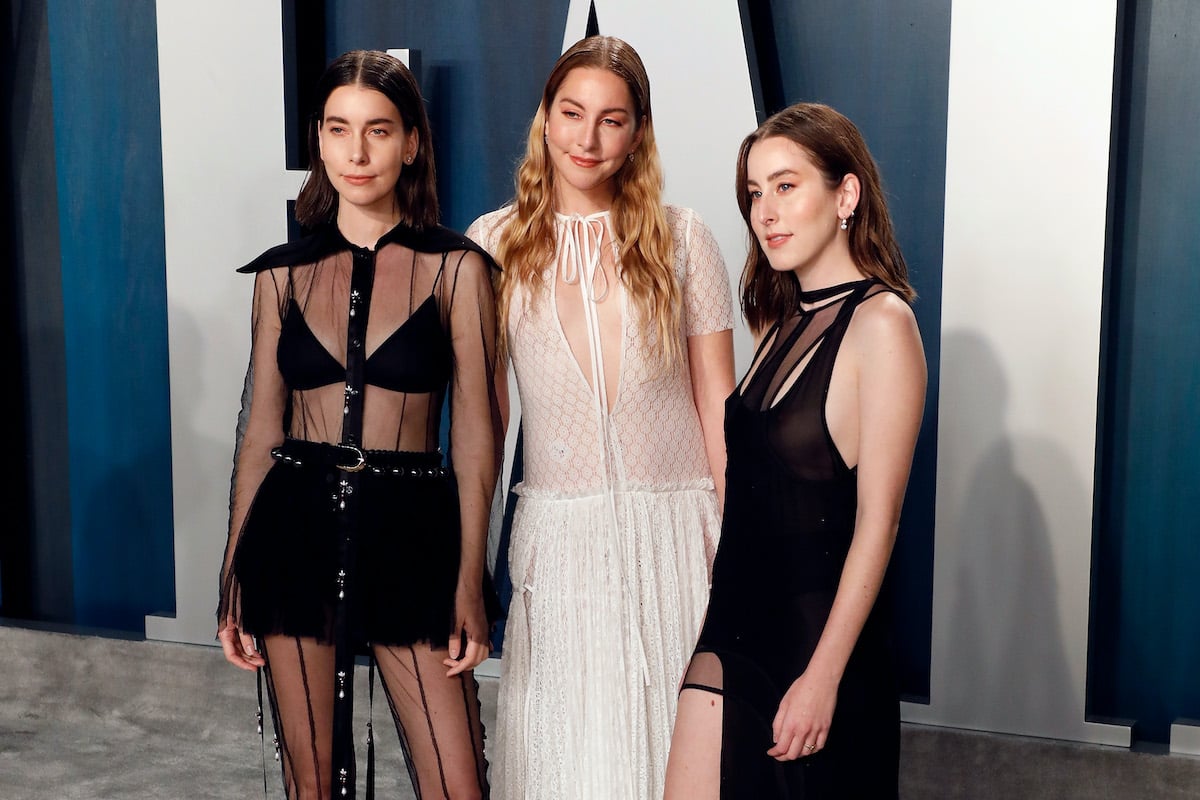 What does Haim stand for?
Haim is the last name of sisters Danielle, Este, and Alana. Este (bass and vocals) is the eldest at 35. Danielle (lead vocals and lead guitar) is 32. And Alana (rhythm guitar, keys, percussion, and vocals) is 29.
The trio released their debut album, Days Are Gone, in 2013. Their song "The Wire" was their first hit. Days Are Gone peaked at No. 6 on the Billboard 200 chart. Their second album, Something To Tell You, peaked at No. 7. And their third album, Women in Music Pt. III, peaked at No. 13.
On the Billboard Top Rock Albums chart, Women in Music Pt. III peaked at No. 1. Something To Tell You and Days Are Gone peaked at No. 2. Other popular Haim songs are "Want You Back," "Now I'm In It," and "The Steps." They released a remix of "Gasoline" featuring Taylor Swift on Feb. 18, 2021.
RELATED: Meryl Streep Just Got Closer To an EGOT With This Grammy Nomination
Where is Haim from?
The sisters grew up in the San Fernando Valley in California, and their music has a particularly California sound. They landed the sweet gig of opening for Swift for her 1989 tour, had Lizzo open for their Something To Tell You tour, and they've also become a staple of the big music festivals, like Coachella. But their climb to success wasn't an easy one.
In fact, Women In Music Pt. III is all about their struggle with sexism in the industry. It also documents the depression Danielle experienced when her partner, Ariel Rechtshaid, underwent cancer treatment. Rechtshaid is also the band's producer and co-produced the album with Danielle and Rostam Batmanglij.
"I don't know if you've ever been called a c*nt," Danielle told The Independent. "But it's intense. I've been called it after I stuck up for myself in this business for feeling like something was not right. A lot of women have been called it."
Later in the interview, they talked about the bold lyrics in "Man From The Magazine," revealing they're based on a true story. As Danielle sings:
Man from the magazine, what did you say?
'Do you make the same faces in bed?'
Hey man, what kind of question is that?
The "Do you make the same faces in bed" question was asked to Este, who is famous for her expressive faces while performing.
RELATED: Could Joe Alwyn Win a Grammy For 'Folklore'? Taylor Swift Confirmed He's Co-Writer William Bowery
Haim Grammy nominations
Este called out the sexist treatment, saying men do the same thing.
"I see men making faces on stage. And it's a reaction from feeling the music," she said. "I made the mistake early on of looking at comments on live performances, which I don't do anymore, and all these comments, mostly men, were like, 'Urgh, ugly, grotesque, get her off the f*cking stage, why is she making those faces?' I think some men have a problem with seeing a woman enjoying herself. That's threatening to them."
The many years of warding off sexist questions and treatment has culminated in their liberation. Instead of stressing over proving how well they can "shred" and focusing on getting their songs on rock radio stations, they've said to hell with the pressure and made the music that felt right to them.
And it paid off. Haim's Women In Music Pt. III is nominated for Album of the Year, and "The Steps" is nominated for Best Rock Performance. (Fiona Apple's "Shameika" won the category during the early Grammys broadcast.) They were nominated for Best New Artist in 2014, but have never won a Grammy.
Haim will be performing at the Grammys this year, which start at 8 pm EST on CBS.