'Hawkeye' Fans Need to Watch This 1 Hailee Steinfeld Show to Get to Know the Actor Prior to Kate Bishop
It's hard to believe that the end of 2021 is approaching, but it is and fast. That means, to any Marvel Cinematic Universe fan, that a load of content is also coming. With The Eternals and Spider-Man: No Way Home out before the end of the year and Hawkeye premiering in November as well, there's a lot of media to watch. And when it comes to Disney+'s upcoming series, it might be a little tough to get into the idea of Hailee Steinfeld's Hawkeye character, Kate Bishop. 
But if you need anything convincing to watch on her behalf (other than the trailer), then look no further than her show Dickinson. And there's definitely enough time to watch it before November. 
Hailee Steinfeld is playing Kate Bishop in 'Hawkeye'
The new trailer for Hawkeye answers a lot of the previous fan hypotheses for the series. It shows that Hawkeye will be about Clint Barton (Jeremy Renner) and his time post-Avengers: Endgame. He just got his family back and is with them in New York City, presumably making up for lost time. He also has a hearing aid, leaning into the comic-centric storyline of Clint losing his hearing and becoming deaf. 
The trailer also showed Steinfeld in action as Kate Bishop, who took over Hawkeye's Ronin persona he adapted during the Blip. In the comics, Echo (Alaqua Cox) is the one in the Ronin role first, but the series is obviously bending some things around here. Regardless, just like in the comics, Kate is a massive fan of Clint Barton which is why she's also an archer. And also like in the books, Clint becomes a mentor to her. 
While no one knows exactly how Hawkeye will end — Florence Pugh's Yelena Belova is set to appear and we all know her motives are deadly — Kate was a leader of the Young Avengers in the comics. That should mean Steinfeld will be around a bit. 
One of her most recent and highly-acclaimed roles was in 'Dickinson' and is a must-watch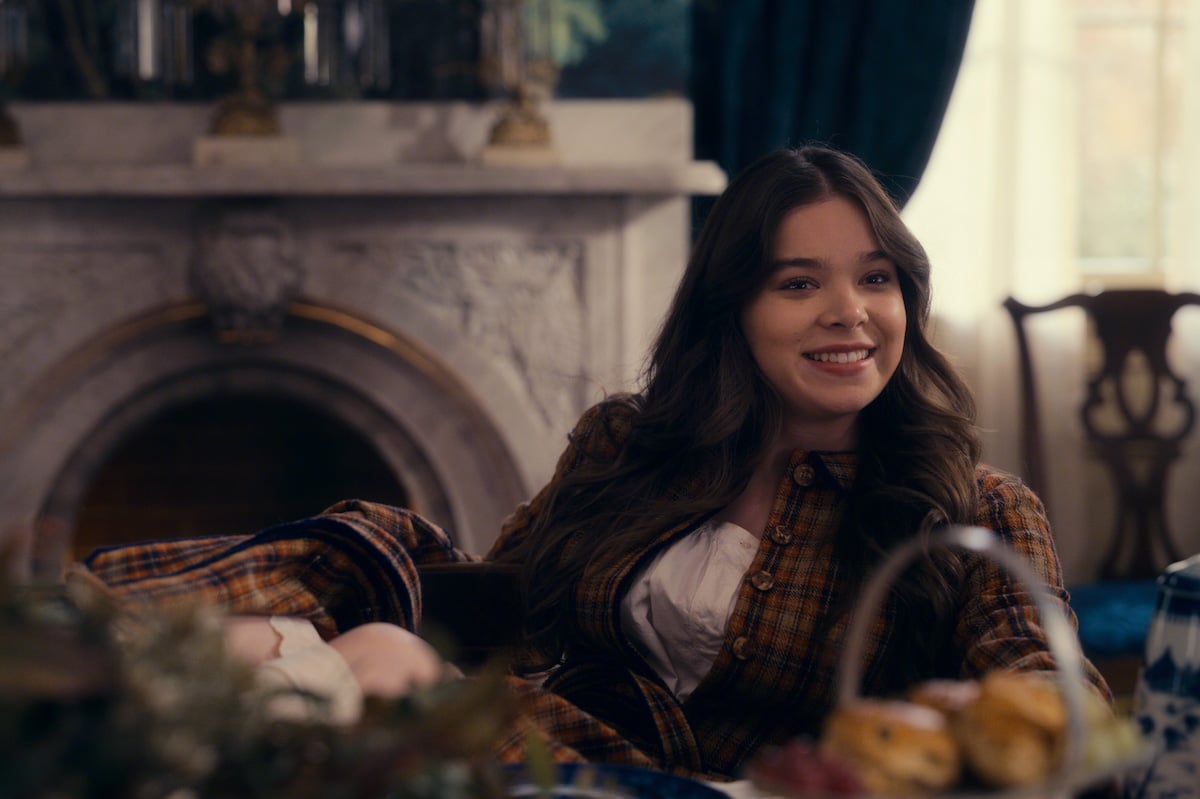 Again, if you've never seen anything she's been in, or are still really hesitant about the new Hawkeye actor, there are plenty of movies to get into that she's starred in. And they're entertaining. From The Edge of Seventeen to True Grit to Bumblee, there's a little something for everyone. And don't forget: she voices Gwen Stacy in Spider-Man: Into the Spider-Verse, another Marvel hero.
But Dickinson is a series you should watch prior to Hawkeye if you really want to see the range of Steinfeld's acting. Plus get a witty, fun, enticing show while you're at it. 
Dickinson follows the young adult life of poet Emily Dickinson, played by Steinfeld. And while it's set in the 1800s, it uses modern language and music. Themes and current logic are also used, but the gist and core of Emily's real-life story are pretty true. The biggest one being her queerness and love affair with her sister-in-law Sue Gilbert. The way the series shows her poetry and her creativity is also unique. Dickinson personifies death in Wiz Khalifa and it all just works so well. 
Emily Dickinson and Kate Bishop actually have a lot in common
Not to mention that while watching Dickinson, fans can probably spot a lot of similarities between Emily Dickinson and Kate Bishop. Of course, Hawkeye hasn't come out yet, but based on the brief trailer, the two seem like they're cut from the same cloth. 
Also, while speaking with Entertainment Tonight in December 2020, Steinfeld talked about how Kate is "such a bad***" and fans would definitely describe Emily on Dickinson as such too. 
"I can't wait for people just to see how we are interpreting this character through the comics and in her own sort of ways," Steinfeld said about Kate. "She's so smart and witty and quick and her physical ability to do so many things is through the roof."
Again, this could all be said about Emily. She's a poet who doesn't let the societal boundaries of her time keep her from learning and growing in her craft and beyond. She falters at times, but she knows what she wants and might be a drama queen to get it, but at least she goes for it. 
Plus, if you already have Apple TV+ thanks to your Ted Lasso binge, what better way to use it? Season 3 of Dickinson premieres in the same month as Hawkeye, on Nov. 5.