'Hawkeye' Star Hailee Steinfeld Reveals the Advice Jeremy Renner Gave Her the First Time They Met
Hailee Steinfeld was determined to become an expert archer by the time she started filming 'Hawkeye,' and co-star Jeremy Renner gave her some advice regarding the skill.
Jeremy Renner is considered a veteran in the Marvel Cinematic Universe. The actor first appeared as Clint Barton in the 2011 film Thor. And after that, he went on to star in four more Marvel movies. So it would make sense if Renner's relationship with Marvel newbie Hailee Steinfeld would reflect their fictional characters' mentor-like dynamic in Hawkeye. Weeks before the show's premiere, Steinfeld revealed the advice Renner gave her regarding her training.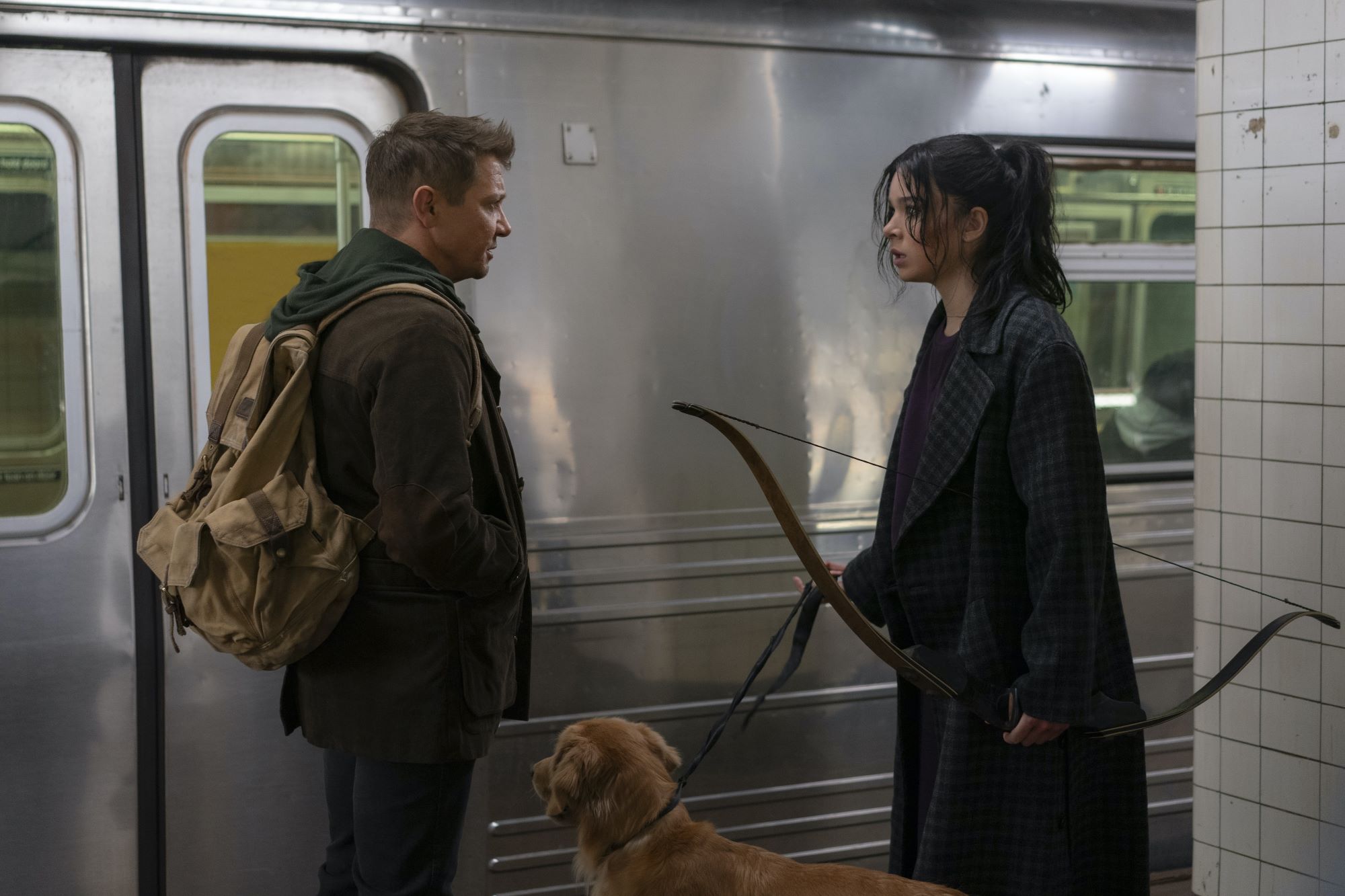 How Hailee Steinfeld prepared for 'Hawkeye'
During an interview with Entertainment Weekly, Hailee Steinfeld discussed getting cast for Hawkeye. She said, "It's very, very exciting to be in the MCU at all. I still haven't been able to get over that. Playing someone that people are in fact very excited to see — it makes me feel honored to be the one bringing her to life."
Steinfeld also talked about how she prepared for her role as Kate Bishop. Needless to say, her training included a lot of bows and arrows. She said, "I'd watched so many videos of actors and professional archers doing it, so by the time I got to the archery range for the very first time, I literally picked up the bow like I knew what the heck I was doing, loaded the arrow, and felt ready to go. My instructor looked at me and was just like, 'OK. We got work to do.'"
It makes sense that Hailee Steinfeld would sign-up for archery lessons to get ready to play Kate Bishop in Hawkeye. However, once she got to Atlanta to film and met Renner, his advice pretty much negated her training.
What advice did Jeremy Renner give Hailee Steinfeld before shooting 'Hawkeye'?
In the interview, Hawkeye star Hailee Steinfeld revealed what Jeremy Renner told her the first day they met.
She said, "I wanted [the archery] to be second nature by the time I got out to Atlanta to shoot, but the first time we met, Jeremy was like, 'Listen, you're going to get there, and you're not even shooting a real arrow, it's all CGI.' But I was still grateful to have the mechanics down."
Marvel fans would probably believe that Renner is an expert archer by now. Unfortunately, it sounds like his skills are a result of movie magic. At the very least, the actor could impart some of his Marvel wisdom onto his new co-star. After all, Jeremy Renner is probably passing down the Hawkeye mantle to Hailee Steinfeld.
'Hawkeye' premieres on Nov. 24
Hawkeye will consist of six episodes, and its synopsis reads, "While in New York City post-Blip, Clint Barton must work together with the young archer Kate Bishop to confront enemies from his past as Ronin in order to get back to his family in time for Christmas."
The cast of Hawkeye includes Jeremy Renner as Clint Barton, Hailee Steinfeld as Kate Bishop, Vera Farmiga as Eleanor Bishop, Fra Fee as Kazi, Tony Dalton as Jack Duquesne, Zahn McClarnon as William Lopez, Brian d'Arcy James as an unknown character, Alaqua Cox as Maya Lopez/Echo, and Florence Pugh as Yelena Belova. Also, Linda Cardellini, Ava Russo, Ben Sakamoto, and Cade Woodward reprise their respective roles as Clint's wife and children.
Hailee Steinfeld will make her debut as Kate Bishop when the first two episodes of Hawkeye premiere on Disney+ on Nov. 24.