Hayley Williams and Taylor Swift Just Had the Sweetest Exchange on Twitter About the 'Coolest Album Taylor's Ever Made'
Taylor Swift really knows how to leave her fans and the music scene in a state of disarray with her most recent announcements. First folklore, then a Disney+ concert sessions film, and now another album in the span of just five months? evermore just debuted and the praise is coming in left and right.
While Swift obviously seems happy with it, Hayley Williams of Paramore shared her thoughts on it as well. And it resulted in a very sweet exchange between the two singers on Twitter.
Hayley Williams called 'evermore' 'the f*ckin coolest album' of Taylor Swift's
RELATED: Taylor Swift's 'evermore' Is the Shortest Time Between Her Projects Ever; 'I've Never Done This Before'
Swift announced that she was dropping evermore on Dec. 10 at midnight that night, and of course, it was a major event that day. It was going to be a 15-track album with two bonus, digital tracks. "Willow" was going to be the lead single as well, and debut in a music video at the same time.
On Dec. 11, the morning evermore debuted and everyone's reactions were pouring in, Williams tweeted out her sincere thoughts.
"she's got so many incredible songs and her career speaks for itself but I am pretty sure 'evermore' is the f*ckin coolest album Taylor's ever made," the lead-singer of Paramore wrote.
A few hours later Swift responded on Twitter, thanking Williams in her own words.
"This made my heart race/double in size/turn into a confetti cloud of petals, thank you so much," Swift wrote. "You're incredible. And this was so nice to read."
Other than that tweet, Swift hasn't thanked anyone else on release-day. Matt Berninger tweeted about singing on the album with The National, to which Swift replied to and she also shared Rolling Stone's review of the album (which was pretty favorable). Dolly Parton also acknowledged Swift in an acceptance speech for Hitmaker Award at the Billboard Women in Music, and Swift Tweeted about that too. But Swift's exchange with Williams was definitely one of the sweetest moments.
Williams was a member of the 'Squad' during the '1989' era
It might be hard to remember anything other than 2020, because it's all-consuming at this point, but this isn't the first time Williams and Swift have publicly been connected. In fact, Williams was one of Swift's "Squad" members in her "Bad Blood" music video during the singer's 1989 era.
In 2015, Williams told MTV News that they met at a Grammys party and Andrea Swift, Taylor's mom, went up to Paramore and wanted to introduce them to Swift.
"I think we exchanged numbers, and we started hanging out in Nashville not too long after that," Williams said at the time. And Swift brought Williams out during one of her nights on the Speak Now tour as well to sing "That's What You Get."
In an interview with Stereogum in May 2020, touched on her time filming the "Bad Blood" video, which came out in 2014. It also starred Zendaya, Selena Gomez, Gigi Hadid, and others, and Williams reflected on it, saying that she didn't really fit in. But that's how it is with anything "mainstream." She felt like she was "in deep water" on set, but Swift "was so sweet" to Williams.
Williams called Swift 'just a good person'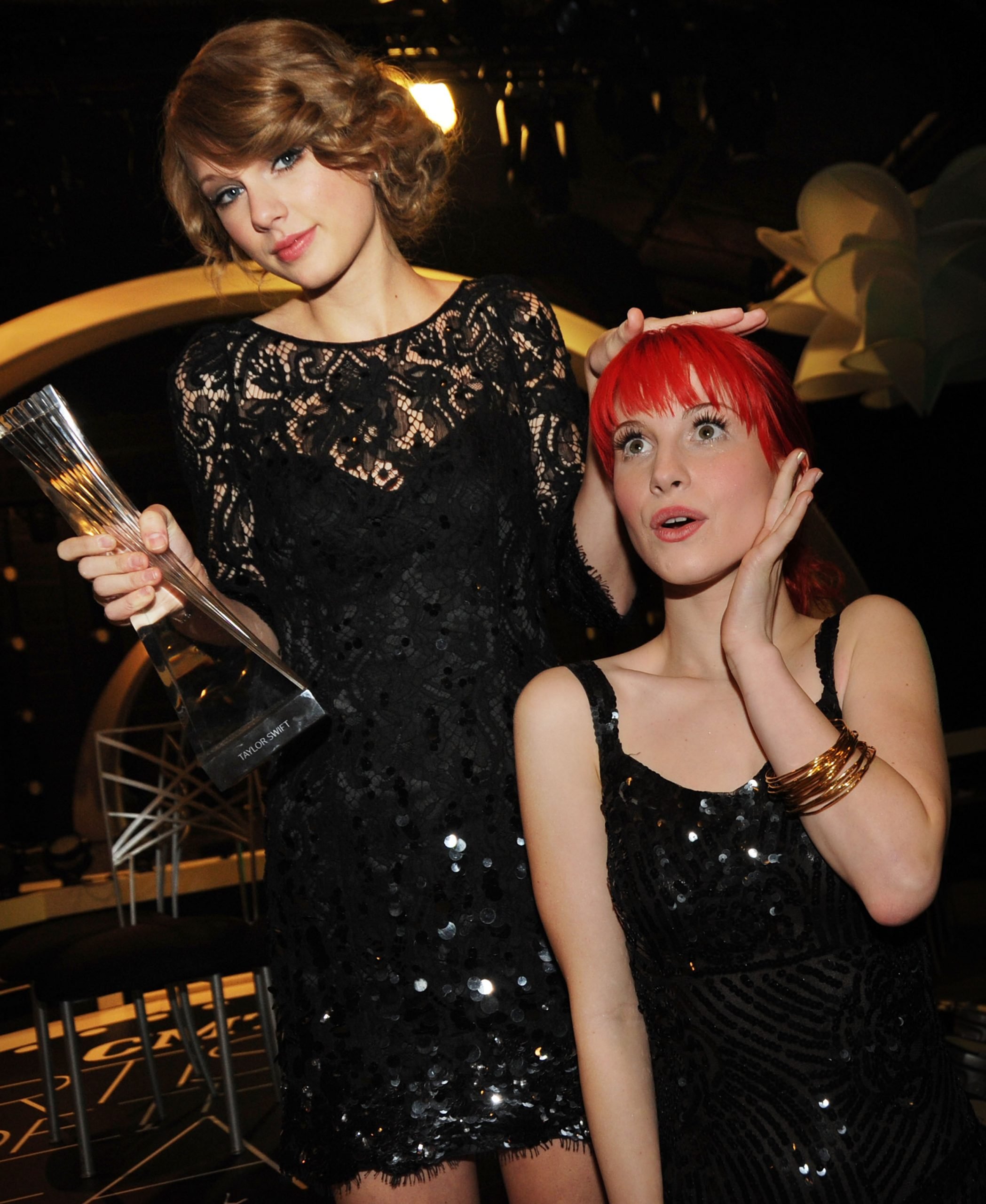 Williams remembered that she and Swift really started hanging out a ton after the Kanye West debacle happened at the 2009 VMAs.
"We don't really musically have a ton in common, but we're both in the same industry, which especially back then was a different world for women than it is even today," Williams told Stereogum. "And I'm still not saying it's perfect, but like I think that we were learning to find camaraderie with other female musicians."
Williams noted that the two don't know each other that well "anymore" but living in Nashville at the same time back in the day was a bonding experience, despite their different genres.
"It was just nice to know someone that did something similar to me," she said.
Williams went on to say that Swift is "really a sweet person" that has persevered through a "harsh music industry" that's tried their hardest to "chew her up and spit her out a thousand times."
It's no wonder she had good things to say about evermore, other than the fact that she genuinely liked the album.
"She's actually a great writer and a great artist," Williams said. "And I do think that she is just a good person, you know?"
RELATED: The Collaborators on Taylor Swift's 'evermore' Show That the Album Will Have Similarities To 'folklore'