Here's What 'The Incredible Dr. Pol' Is Most Thankful for in 2020
Judging by the success of The Incredible Dr. Pol, it's safe to say that many of the veteran veterinarian's fans are thankful for Dr. Jan Pol, his staff at Pol Veterinary Services, and the hit Nat Geo Wild reality show.
This Thanksgiving weekend, Dr. Pol shared what he's most thankful for in 2020. Here's what he had to say.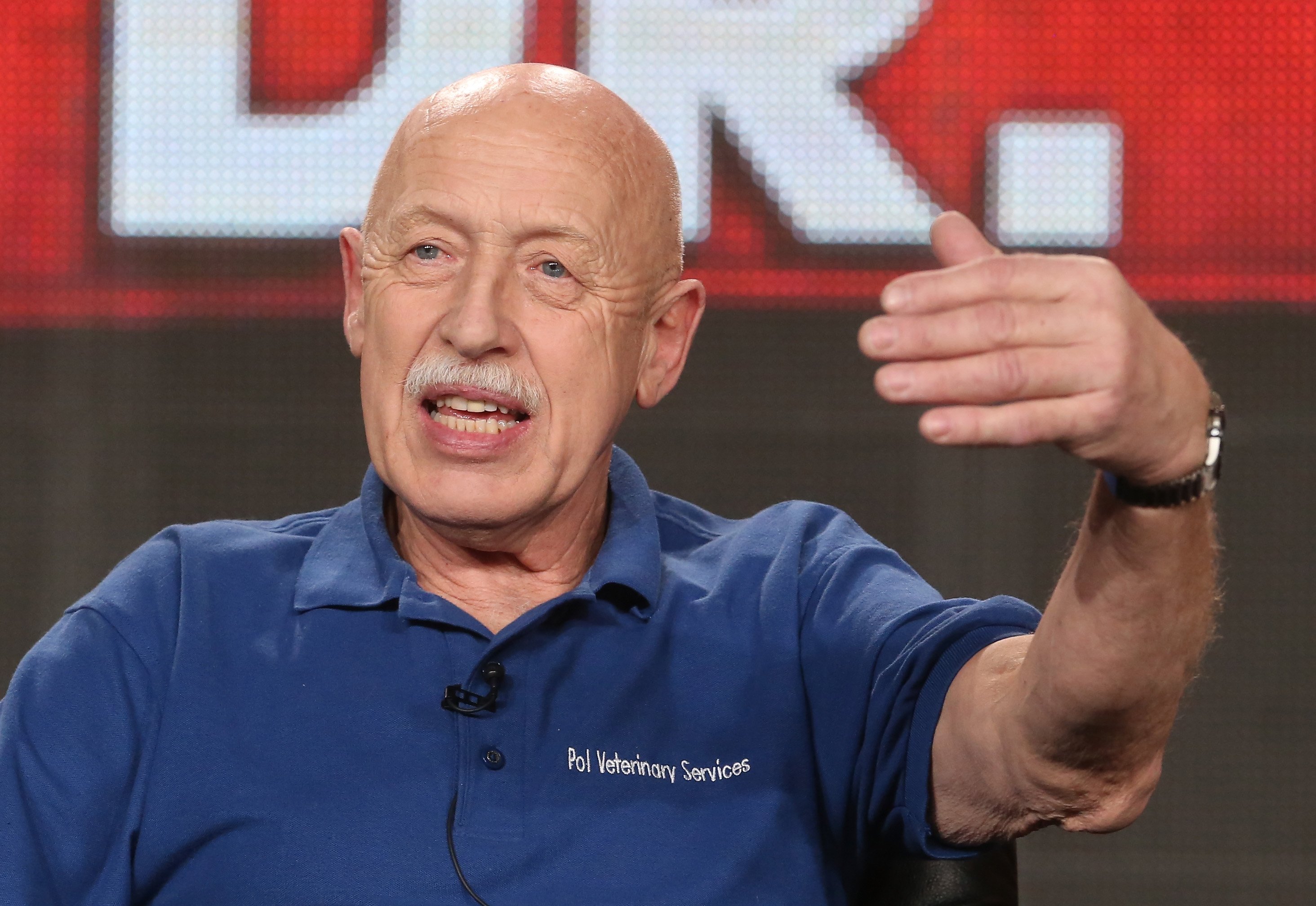 Dr. Jan Pol is thankful for 'Vetsgiving'
This past Thanksgiving weekend, Nat Geo Wild presented Vetsgiving, drawing attention to the extraordinary veterinarians who call the network home.
The Thanksgiving weekend presentation put the spotlight on television vets Heartland Docs, DVM; Dr. Oakley, Yukon Vet; Critter Fixers: Country Vets; Alaska Animal Rescue; and of course, The Incredible Dr. Pol.
Dr. Pol tweeted, "Happy VETsgiving! Make sure you watch Vetsgiving on @natgeowild Thanksgiving day to Sunday! Pull on your stretchy pants and settle in for a weekend of binge watching."
He's thankful for his family
Dr. Pol is grateful for his incredible family.
In September for his birthday, Dr. Pol's family urged his fans to like the Dr. Pol Facebook page. The social media account had over 800,000 followers at the time. The plan was to gift the birthday vet with 1 million Facebook followers.
His wife of 53 years, Diane, posted a video on the Facebook account, asking fans to follow their page if they hadn't already.
"Hi, this is Diane! And I have some exciting news," Mrs. Pol said. "We have almost a million followers on Facebook, so we would like to hit the million mark for Dr. Pol's birthday, which is Sept. 4. So, sign up, tell your friends, recruit them, help us to surprise Dr. Pol!"
Naturally, Dr. Pol's fans did not disappoint and the social media account reached 1 million followers and then some.
RELATED: 'The Incredible Dr. Pol': Here's Why Dr. Jan Pol Won't Watch His Own Show
But most of all, Dr. Pol is thankful for this
This Thanksgiving weekend, the veterinarian born in the Netherlands in 1942 explained what he's most grateful for.
"This year has been an incredibly stressful time for so many," he posted on Twitter. "More than ever, I am thankful 'fur' all of our furry friends that provide so much stress relief and comfort."
He especially gave thanks for the Pols' own beloved pets. Even though the couple is surrounded by animals daily, their pets are sweet company when it's time to head home.
"After a busy day's work, it is so nice to come home to our St. Bernard and Great Danes," Dr. Pol said. "I find it very relaxing to pet them as they bring a sense of peace and calm."
If you thought Dr. Pol went home and put his feet up, you would be wrong. He continues working even after he punches out for the day, and loves it.
"I'm also grateful for the time I have with the horses as I do my nighttime chores with them," he said. "Let's all be extra thankful this holiday season for our animals!"