Here's Who Has Played James Bond, From 1962 to Today
Hollywood is mourning the loss of a legend. Sean Connery died at the age of 90, according to a statement released by his family on Saturday, Oct. 31. The statement revealed that the Scottish-born actor died in his sleep surrounded by family in the Bahamas.
Connery had a long film career, his most memorable role being that of James Bond. He was the first actor to ever play 007 on the silver screen, his debut as the famous spy being in 1962's Dr. No. There have been a slew of Bond films in the years since Connery's first appearance, with a handful of actors being entrusted with the coveted role. So, what is the order of the actors who played James Bond?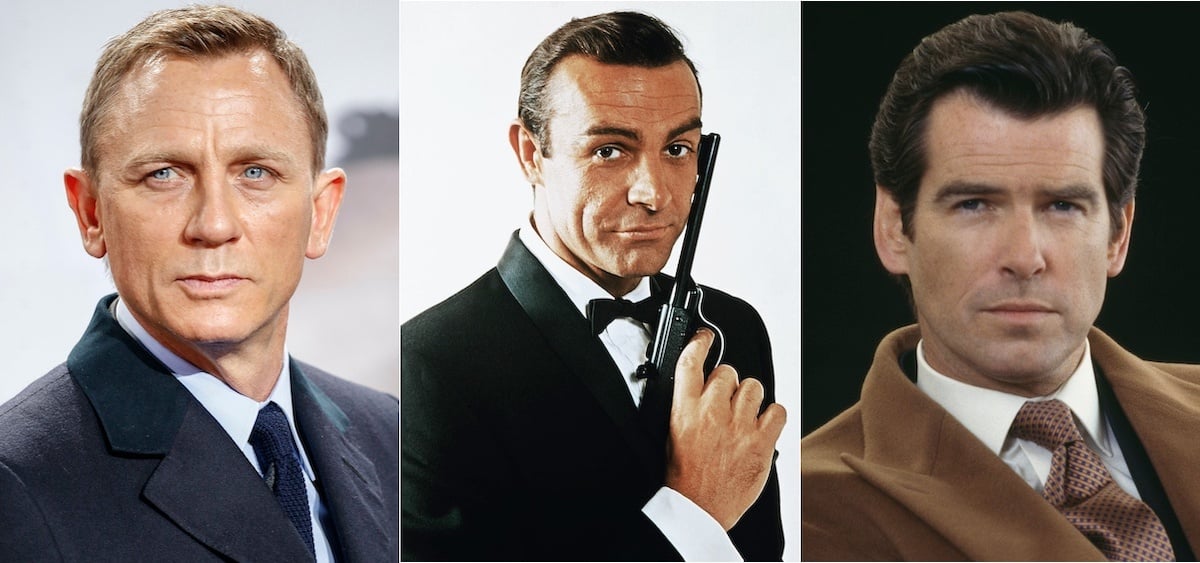 Sean Connery starred in the first James Bond movie, 1962's 'Dr. No'
In total, Connery appeared in six Bond films, but his appearances were staggered across the franchise.
He first played the famed spy in 1962's Dr. No. Before this film, the only portrayal of James Bond in pop culture was on the TV show Climax!, a CBS anthology series. The Casino Royale Bond novel was adapted for the series that aired in 1954, with American actor Barry Nelson playing 007. He's the only American actor who has taken on the role.
After Dr. No, Connery starred in the following consecutive Bond films:
From Russia with Love, 1963
Goldfinger, 1964
Thunderball, 1965
You Only Live Twice, 1967
RELATED: Sean Connery's James Bond Movies Ranked
Sean Connery took a break from James Bond in 1967
The next film introduced a new James Bond to the world. In 1969, George Lazenby starred as the MI6 agent in On Her Majesty's Secret Service.
This was Lazenby's only appearance as Bond, and it was also the only Bond movie in which the special agent marries the film's Bond girl, Contessa Teresa di Vicenzo, played by the late Diana Rigg.
Connery then returned for one more Bond film in 1971's Diamonds Are Forever.
RELATED: Could 'No Time to Die' Be Released on Streaming?
Roger Moore played James Bond the most, starring in seven films
The world didn't have to wait too long to see the next installment of the franchise with an all new star. Roger Moore debuted as the third film Bond in 1973's Live and Let Die.
He went on to star in more Bond films than any other actor, starring in the following films:
The Man with the Golden Gun, 1974
The Spy Who Loved Me, 1977
Moonraker, 1979
For Your Eyes Only, 1981
Octopussy, 1983
A View To A Kill, 1985
The '80s wouldn't conclude without another new Bond debut. Actor Timothy Dalton gave his first performance in the franchise in 1987's The Living Daylights, and his second and final performance in 1989's License to Kill.
RELATED: Pierce Brosnan Calls Sean Connery His 'Greatest James Bond' in Touching Tribute
Pierce Brosnan was the James Bond of the '90s
Pierce Brosnan debuted as 007 in 1995's GoldenEye, which also marked Dame Judi Dench's Bond debut. This 1989-1995 gap marked the longest time period between Bond films since 1962.
Brosnan would go on to star in three more installments of the franchise:
Tomorrow Never Dies, 1997
The World Is Not Enough, 1999
Die Another Day, 2002
RELATED: More Sean Connery Movies to Discover and Celebrate His Career
Daniel Craig became the 6th Bond in 2006's 'Casino Royale'
Daniel Craig became the first blonde-haired James Bond in 2006, when he debuted as 007 in Casino Royale, bringing back the Bond novel that was first adapted for any screen. His other Bond appearances include:
Quantum of Solace, 2008
Skyfall, 2012
Spectre, 2015
Craig will make his final appearance as James Bond in No Time To Die, coming out in April 2021.