Here's Why 'Dickinson' Is The Best Show To Move Onto After 'Bridgerton'
Odds are you've heard of Netflix's Bridgerton, and odds are you've already blazed the heck through it. It's a show that you can't just lightly watch, but rather you can't stop once it's started. 
It takes place in early 1800s England during the high season when debutantes come out and search for husbands. Daphne Bridgerton is the main character, for the most part, and her deal with the Duke of Hastings is the main plot point. 
There are fantastic balls, lavish outfits, and fun string versions of Ariana Grande and Shawn Mendes songs. It's very upfront with the sex scenes and doesn't shy away from messy storylines. While there are many shows that can be great to watch afterward — Harlots, Downton Abbey, Reign — Apple TV+'s Dickinson is definitely the show you want to go to next. 
Why? Even though it's far from the same thing, it's close enough to give you some of what you liked from the Netflix show, while also giving you so much more. [Spoilers alert: Mild spoilers ahead for Bridgerton Season 1].
'Bridgerton' is great if you love period piece dramas with a flair, making 'Dickinson' a great next show to binge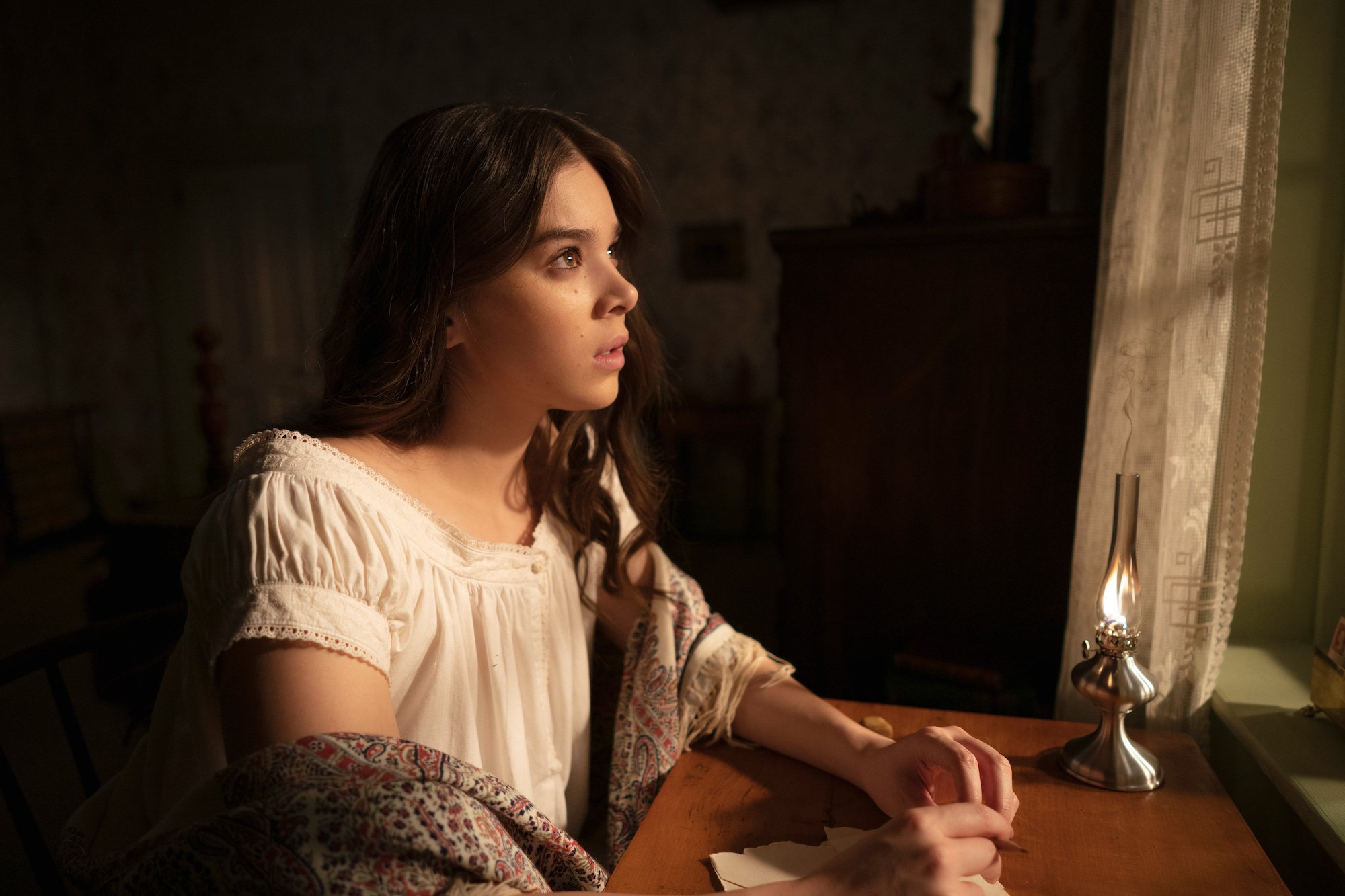 Bridgerton is a good show for people who like period pieces and for those that don't because it has added flair, like the aforementioned modern-day music set to classical themes. And it has the Regency era dresses (for the most part) with the corsets and the hair, with vibrant colors and dire fashion overall. 
It's essentially drama to a T, and over the top, in a way that something like Pride & Prejudice isn't. But still sticks to its 1813 timeline nicely. The wording and the way the characters speak is similar to how they would speak in that time period. And, of course, the added stakes thanks to Lady Whistledown and the modernness of using newer songs adds another little oomph. Not to mention, the sex scenes involved add a more scandalous nature to the show than (some) other period pieces have.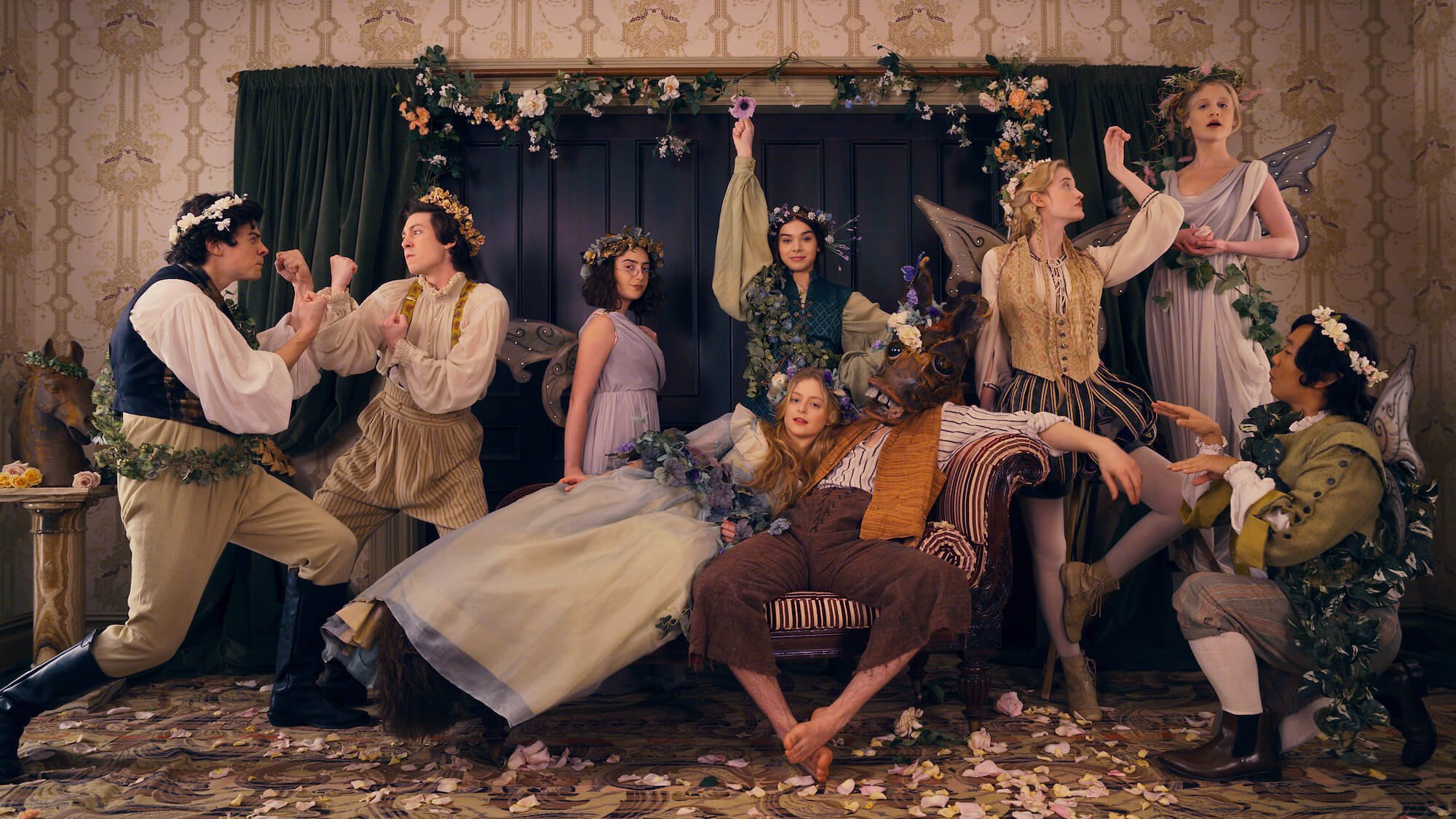 In that vein, Dickinson is the perfect show to hit up after you binge Bridgerton. It doesn't use 19th-century verbiage, and it takes place a few decades later in 1800s America, rather than Britain. But the modernity is felt in the ways the characters speak and the funny jokes put in there that poke fun at olden times from a 21st-century lens. 
Plus, it is more engaging with the historical aspect of the characters. The fact that the characters in Dickinson — Emily Dickinson (Hailee Steinfeld) and her family — were real people is a major plus for viewers who enjoy realistic period pieces. Now, again, because of the dialogue and a lot of modern aspects to the script and show, Dickinson isn't 100 percent accurate in that respect. But the gist of it is. 
Dickinson's superb writing and the characters make up for any differences in kind  
As stated above, Dickinson isn't as extravagant as Bridgerton. There are no balls, although there are parties and fancy dresses — especially in the first few episodes of Season 2 which just aired on Jan. 8 on Apple TV+. 
However, the writing on Dickinson surpasses that of the Netflix original. Bridgerton is fun for what it is; an adaptation of a book series that mostly focuses on the prospects of marriage in (somewhat) high society in early 1800s England. It has scandal and gasp-worthy moments and has characters that make poor choices for those exact moments. 
Dickinson is all about the long game of developing its characters. Even the characters that aren't the leads are more developed, but especially the main roles are more fleshed out. Their stories are a bit more meaningful, especially Emily's. 
Again, the show is about Dickinson, and the first season touches on her obsession with Death — who is perfectly portrayed by Wiz Khalifa — and her desire to gain an education and publish her poems in a world that doesn't allow women to do much of either. It shows her fight with her father on the latter and it also includes other famous writers like Louisa May Alcott (Zosia Mamet) and Henry David Thoreau (John Mulaney) who are hilariously portrayed. Again, it is comedic, and with writing so clever and good, it's impossible to stop watching once you've started. 
'Dickinson' has diversity with race and sexuality in ways that 'Bridgerton' does not
There's also the aspect of diversity, which Bridgerton was at first applauded for but then others criticized because of its handling of colorism and race in general. Dickinson does focus on a white family, although Steinfeld is half Filipino but plays a white character. But there are other characters throughout like Henry (Chinaza Uche) and Toshiaki (Kevin Yee) who are included in the cast and respected in ways that characters of color aren't in Bridgerton. 
Again, the way Dickinson's plotlines work in their characters is better. For instance, the fact that it's more historically accurate and able to tackle things like the impending Civil War is notable. In Season 2, Austin (Adrian Enscoe) gives money to fund Henry's efforts to bring other African Americans together as the Civil War comes closer. Plus, in the first season, the Dickinson's (or most of them) were against slavery and Southern politics. 
Dickinson doesn't have a ton of sex scenes or even nearly explicit sex scenes as Bridgerton does, but that's not really what makes a show great, is it? Don't get it twisted; Dickinson's first season looks at Emily's sexuality and her queerness that is often overlooked throughout history. Mostly in accordance with her relationship with her brother Austin's future wife Sue Gilbert (Ella Hunt). 
While, Bridgerton featured one tiny, brief look at a same-sex couple, in Dickinson Emily and Sue's relationship is a major pillar of the show. In exploring her sexuality, Emily and Sue do have a great storyline and it deepens Emily's poetry, which is her major passion. And in exploring her sexuality, there is a gorgeous intimate scene between her and Sue set to Mitski's  "Your Best American Girl."
Also, Dickinson has a great way of showing how Emily comes up with her poems, by scribbling them across the screen at perfect moments. Or sometimes not-so-perfect moments, like in Season 2, which deals more with her pursuit (or possible withdrawal) from fame.
Overall, both are binge-worthy shows for a reason that keep you hooked and offering you a lot of period piece fun to come back to each episode.