'Home Economics': Topher Grace Explains the TV Family's Undeniable Chemistry
Home Economics might be a new show, but the format remains the same. The show was a hit in its first season, and ABC, which cheekily marketed it as the umped versions of family-centered shows like Modern Family, gave it the green light for a new season. Now fans can breathe a sigh of relief knowing that they get a second chance to catch up with their favorite dysfunctional family. Part of the reason why the TV show works is the undeniable chemistry that the cast has, as actor Topher Grace explains.
'Home Economics' borrows from one of the showrunners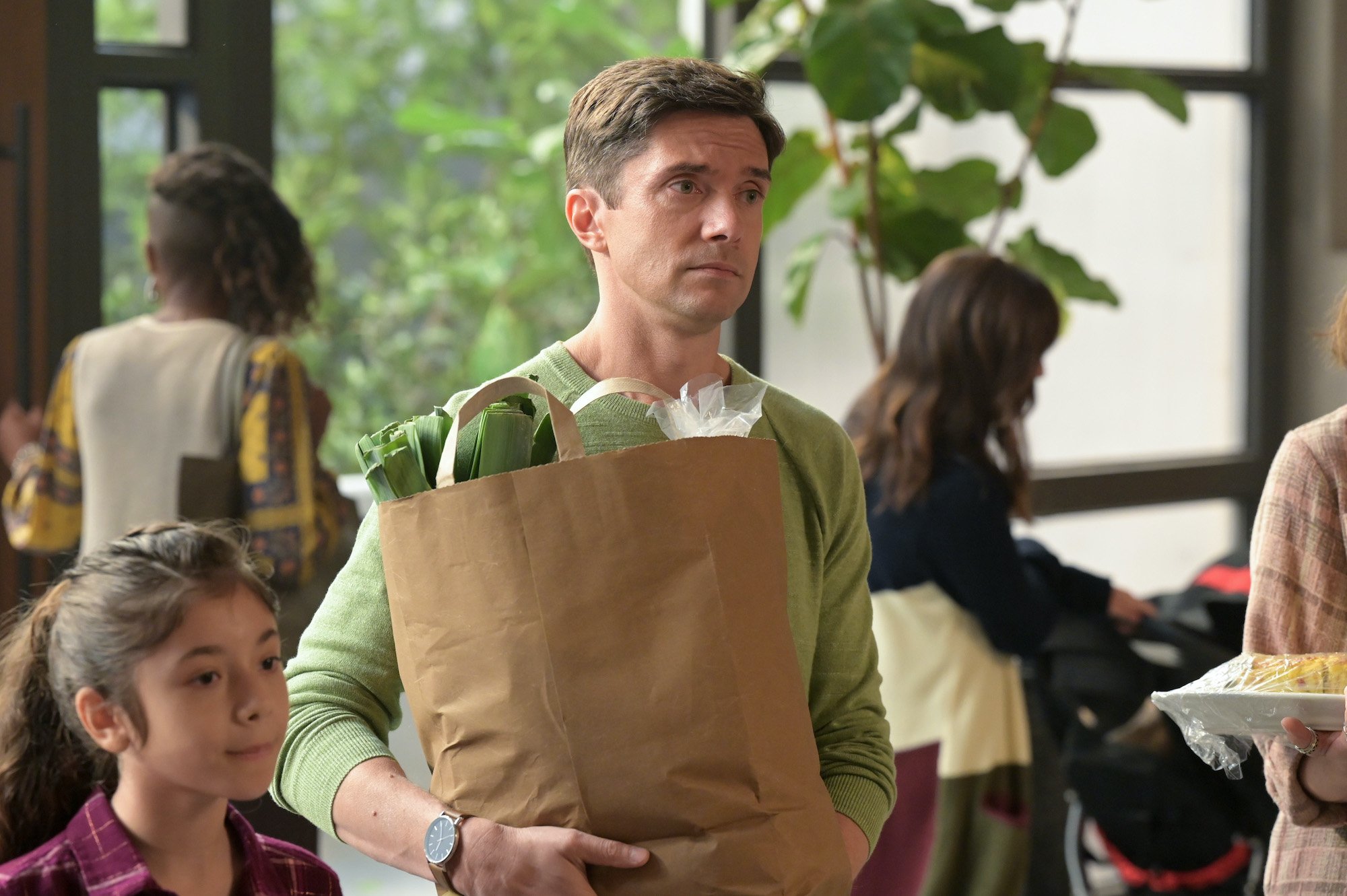 Home Economics follows the lives of three siblings in their different journeys in life. The oldest sibling, Tom, played by Grace, is a struggling social worker who's not moving forward with his career and his newfound authoring venture.
The middle child Sarah played by Caitlin McGee works as a child therapist and can barely keep her family afloat. When she informs her siblings of her financial state, they make fun of her and her occupation.
The last sibling Connor, played by Jimmy Tatro, is quite different from his older siblings. He runs his own private equity firm and is a mogul with immense wealth. He only has one daughter, whom he shares with his estranged wife.
Connor goes to extreme lengths to portray a happy life, but when his siblings become suspicious of his wife's loud absence, he comes clean and informs them that his wife left him and their daughter.
Tom and Sarah's families move in with Connor, who openly welcomes the company after realizing that they each are unable to make ends meet. The show follows the three siblings as they adjust to their new situation living together under one roof. The show borrowed from co-creator Michael Colton who took some aspects of his life and incorporated them into Home Economics.
Topher Grace says the cast has fantastic chemistry
Grace recently had a chat with GQ Magazine about Home Economics and what makes the show so great. In the interview, the topic of the Hayworth family chemistry came up. The interviewer asked Grace what part he played in ensuring that they found the perfect family for the hit show.
Grace said that he found the show to be diverse and the storyline about the family a great one. However, the actor admitted that he was nervous when he first showed up on the set, but by the time they had finished filming the second day, he "was overconfident."
He said, "you just know when it's clicking—but this group you get to really fan out every day because you just love everyone you're working with." In a separate interview with TV Insider, the actor said that the Home Economics cast usually has a lot of fun working together and even gave an example.
He said his favorite episode was episode 106, where they threw a party at Connor's house. Grace said they had fun shooting the episode and even likened it to "going to a party with your friends."
When does 'Home Economics' season 2 premiere?
Although Home Economics is still in its infancy, the show has proven to be a ratings goldmine and has resonated well with audiences. ABC renewed the beloved show for another season on May 14, 2021, even before the first season wrapped up. The first season had seven episodes airing from April 7 and ending on May 19, 2021.
Home Economics is looking at a September 22, 2021 debut with an unannounced number of episodes. The series will likely pick up from the last episode, which saw the Hayworth siblings fighting after Tom accidentally emailed Connor his tell-all book about the siblings. Tensions ran high in the season one finale of Home Economics, leaving fans clamoring for more.