'House of Gucci': Jared Leto Would Love to Do a Prequel With Al Pacino – He Has a Poetic Title in Mind
Jared Leto stars as Paolo Gucci in the Ridley Scott's 'House of Gucci.' He really wants to do a prequel alongside Al Pacino.
House of Gucci is one of the biggest titles of the year. It's on everybody's lips and is hitting the awards circuit particularly hard. House of Gucci star Jared Leto wants to do a prequel to the crime drama that would also bring Al Pacino back to the story. He even has a title for it that's particularly poetic in nature.
Jared Leto 'adored' working with Al Pacino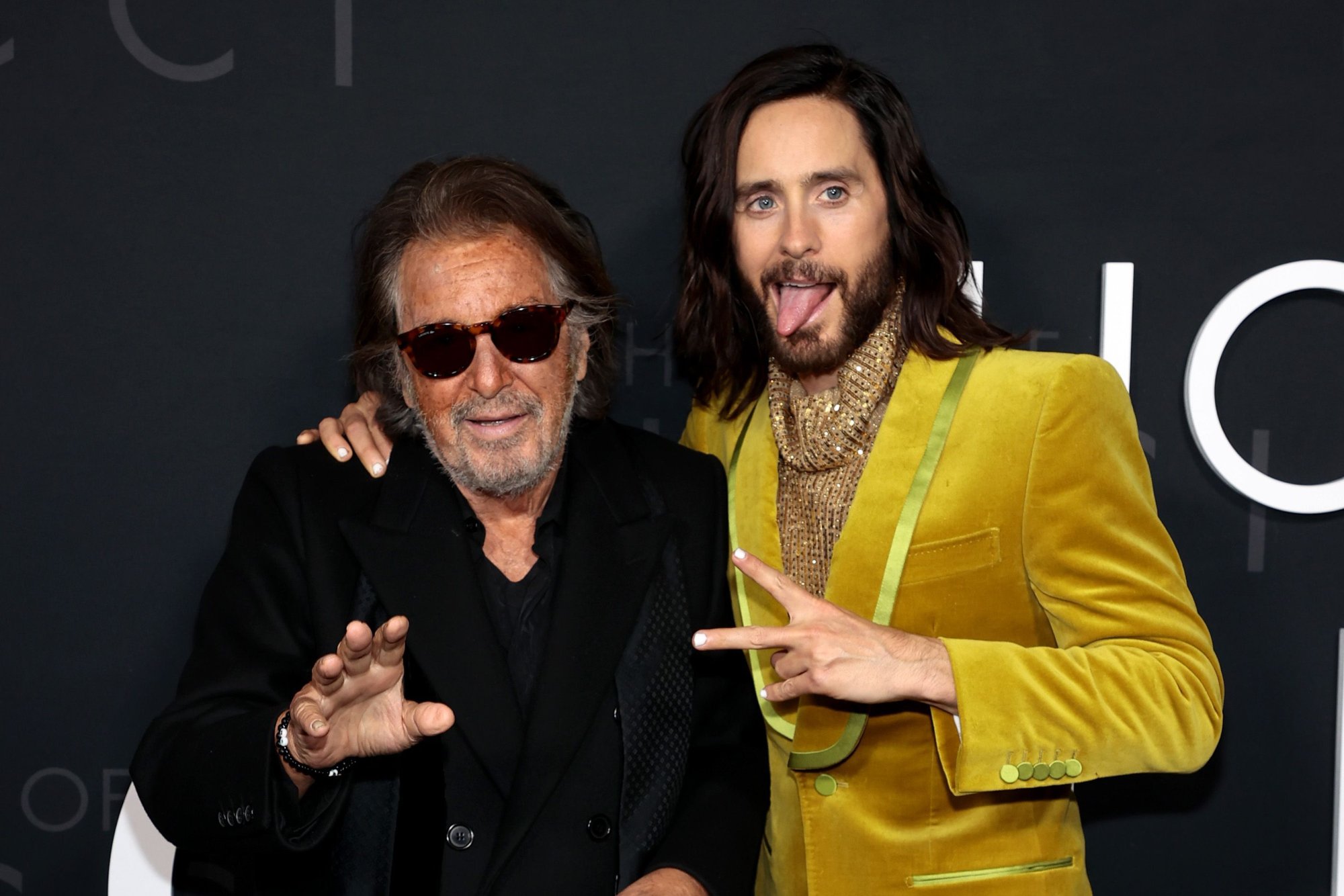 SiriusXM's The Jess Cagle Show (via Entertainment Weekly) interviewed Leto about his House of Gucci accolades. He discussed preparing for the movie and working with legendary actor Pacino. Leto had a wonderful experience working with the iconic star. However, Pacino didn't initially recognize him under the makeup and prosthetics.
"On the first day of set, he didn't know it was me, and I came up to him and said, you know, 'hello,'" Leto said. "And he just kind of brushed me off. He thought I was just an Italian weirdo that was trying to talk to him or get his autograph or something."
Leto continued: "I come up to him two or three times and someone finally whispered, 'That's Paolo, that's Jared under there.' And he was like, 'My son, my son,' and he fell to the floor. He was just astounded."
"Having that happen with one of the world's greatest actors was a beautiful gift and gave me the faith that if Al can believe in this guy, then we all can," Leto said. "It was a boost of confidence early on, and I adored working with him."
Jared Leto has a 'House of Gucci' prequel including Al Pacino
Leto already wants to work with Pacino again, but specifically within the world of House of Gucci. He believes that there's still more to tell in this story. It's not clear whether another movie will actually happen, but Leto would like to think that he could reprise his role as Paolo.
"I'd love to do a prequel to House of Gucci," Leto said on SiriusXM's The Jess Cagle Show (via Entertainment Weekly). "Just the Two of Us, we could call it."
This poetic title clearly refers to his on-screen relationship with Pacino's Aldo Gucci. The father-son dynamic wasn't so friendly like the two actors were on set. Aldo even refers to his son as "an idiot," but that he's "his idiot." Leto wants to tell more of that story between the father and son who eventually lost everything as a result of Patrizia Reggiani, who's played by Lady Gaga.
'Hosue of Gucci' is landing multiple awards nominations
Many audiences weren't sure how to initially classify House of Gucci. Is it a serious drama or a dark comedy? Perhaps something in between? Many folks claimed it to be a comedy as a result of Leto's over-the-top Italian performance. Gaga's accent earned some of the same criticisms, but to a lesser degree.
Nevertheless, Leto and Gaga are certainly leaving their mark this awards season. They are both nominated at the SAG Awards 2022. They're likely locked for Oscar nominations within their given categories. But, will their Gucci performances be enough to score them the Oscar gold?